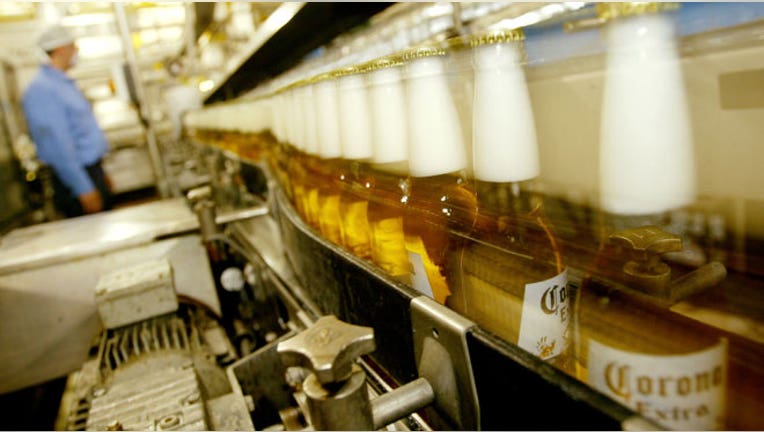 Anheuser-Busch InBev (NYSE:BUD) is on the verge of a $12 billion deal that could give the world's largest brewer control of Mexico's Grupo Modelo, The Wall Street Journal reported.
The potential marriage would call for Belgian brewer to buy the 50% of Corona maker Grupo Modelo that it doesn't already own.
According to the Journal, a deal could be reached as early as this week, though talks could still collapse.
AB InBev acknowledged the existence of discussions to "expand" the two companies' relationship, but said speculation on terms and conditions is "premature" because a deal may not happen.
"AB InBev routinely considers a variety of strategic options to create value for its shareholders," the Brussels-based brewer said in a statement. "There is a long history of partnership between Anheuser-Busch InBev and Grupo Modelo and AB InBev has great admiration for the Modelo business and its brands."
Likewise, Grupo Modelo said it is aware of speculation about a possible deal but warned discussions may or may not result in a deal.
Shares of Grupo Modelo surged 9.8% in Mexico Monday morning before being halted just 14 minutes into trading. Its U.S. listed shares were recently trading up 16.75% to $79.98. AB InBev's shares were up 0.68% to $70.77 before being halted.
It's not clear if regulators would give an AB InBev/Modelo tie-up the green light as it would further consolidate control of major beer brands.
Founded in 1925, family-owned Modelo brews Corona, the No. 1 import into the U.S., as well as fast-growing Modelo Especial, Corona Light, Pacifico and Victoria. The brewer trades on the Mexican Stock Exchange and is valued at about $23 billion.
AB InBev, which was formed by the 2008 mega deal worth $52 billion, brews Budweiser, Bud Light, Beck's and Stella Artois.
Anheuser reportedly tried to merge with Modelo to ward off the unsolicited 2008 bid from InBev.
There have been a slew of deals in the beer industry in recent years, including a $3.5 billion acquisition by Molson Coors (NYSE:TAP) of Eastern Europe's StarBev earlier this year and SABMiller's $10 billion takeover of Australia's Foster's last year.