Reasons to Say 'I Do' to the Wedding Business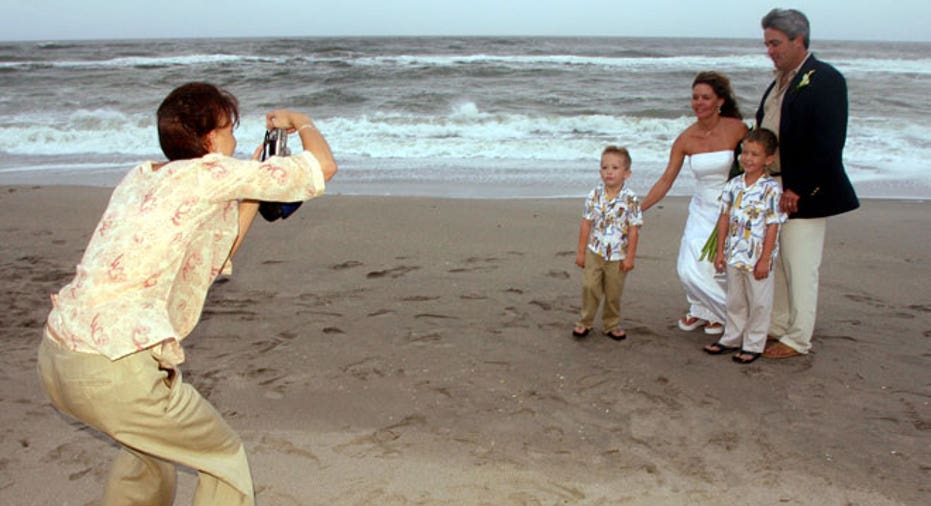 Looking to start (or grow) a business in an industry that's already huge and destined to grow even larger? Welcome to the wedding business—already a $79 billion industry, according to the recently released 2014 Real Wedding Study, an annual survey from The Knot.
Just look at these stats:
About 1.7 million weddings were held in 2014.
The average (average!) wedding costs $31, 213—and that doesn't include the honeymoon. In Manhattan that cost skyrockets to more than $76,000, while Utahns only spend $15,257.
Want to be in the wedding dress business? The average cost of a bridal gown is $1,357, plus, when you add in four to five bridesmaids per wedding—that's  a lot of dresses you can sell. And in the New York metro that average skyrockets to $2,914 (Manhattan) and $2,137 (Long Island). In all, $5.3 billion is spent on wedding day attire.
Of course there are many niche industries that make up the wedding industry. And they all generate a lot of sales. The wedding "event" itself brings in more then $43 billion. In the jewelry business? You can grab your share of $13.5 billion spent on wedding jewelry alone. Registry gifts bring in $9.6 billion; $6.2 billion is spent on honeymoons and the cost of making everyone beautiful generates $901 million in sales.
The wedding boom is benefitting from millions of Millennials getting closer to the average age of getting married. The Knot survey shows the average age women get married is 29; for men it's 31. Other surveys (from Pew and the federal government) put the age of first marriage at 27 for women and 30 for men. The birthrate started increasing in the late 1980s, hitting 4 million (an official "baby boom" number) in 1990, which means for at least the next two decades millions of Millennials (and Gen Zers) will be planning weddings—every year. Those demographics are why the wedding business is booming.
Others who benefit from being in the wedding business include photographers (they make an average $2,556 per wedding); wedding planners ($1,973); florists ($2,141); videographers ($1,794) and caterers, who charge an average of $68 per wedding guest. (Obviously these prices vary from state to state.) Even entrepreneurial musicians can cash in, with bands bringing in an average of $3,587 and DJs making a little over $1,000 per wedding.
Millennials aren't necessarily embracing traditional aspects of weddings either. The Knot says personalization is on the rise, with couples choosing "unexpected places" to get married. This means you don't have to own a catering hall to cash in on this trend. More weddings are being held in historic homes and buildings and on farms. In fact the study shows about "40 percent [of couples] are looking for unusual venues that better reflect their personalities."
One other factor that stood out in the study was the rapidly increasing usage of smartphones to plan weddings. Rebecca Dolgin, The Knot's editor in chief, calls this "perhaps the biggest change we've seen." The Knot study shows the number of brides using smartphones for wedding planning has doubled in the past three years. Last year 61 percent of couples did much of their wedding planning from their phones. If you want to grab your share of the burgeoning wedding pie, your website must be mobile-friendly.
Rieva Lesonsky is CEO of GrowBiz Media, a media and custom content company focusing on small business and entrepreneurship. Email Rieva atrieva@smallbizdaily.com
, follow her on Google+  
and Twitter.com/Riev
a
, and visit her website, SmallBizDaily.com
, to get the scoop on business trends and sign up for Rieva's free TrendCast reports.