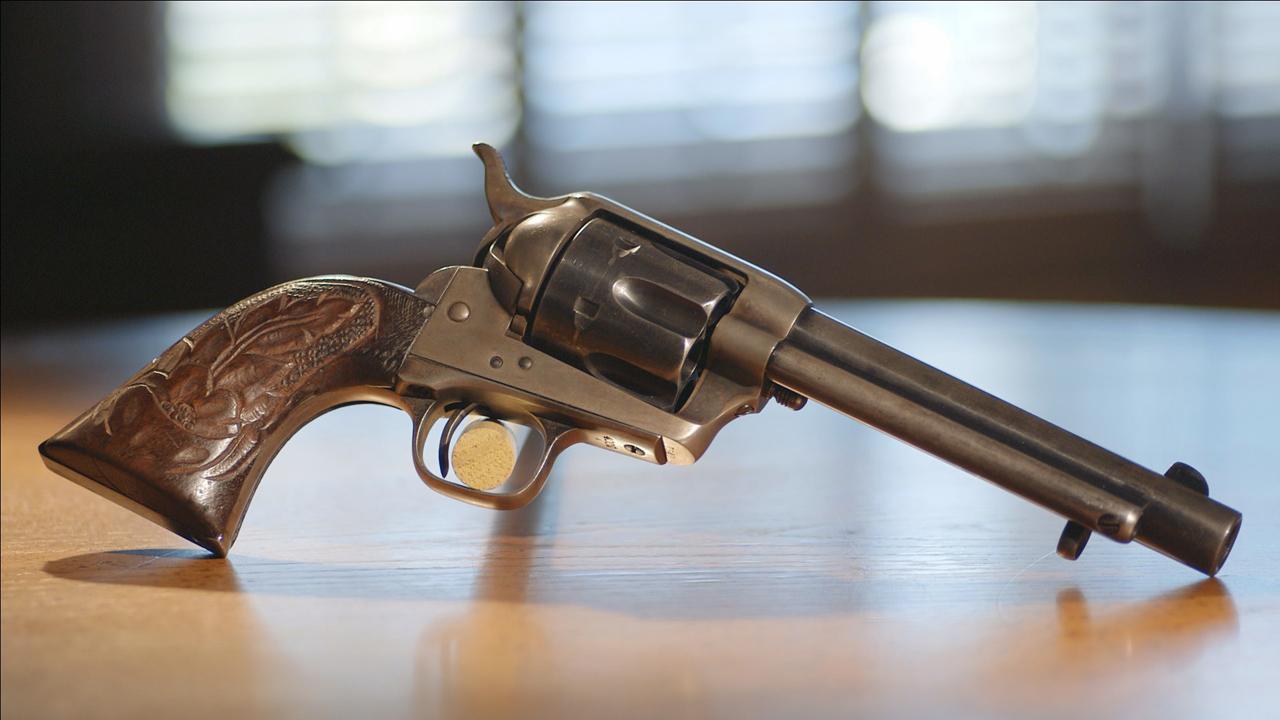 When gun collectors started taking potshots at Melissa Guy's rare Colt revolver, she had to fire back. A lot of money was at stake.
Guy believed her gun – a legendary Buntline Special with a 16-inch barrel – was one of only 11 manufactured. She inherited it from her father Mel, a long-time collector of Colt six-shooters. It was the pride of his collection, but after he died, firearms experts whispered that Mel may have been fooled by a clever fake.
Guy tells her story on the latest episode of Strange Inheritance with Jamie Colby, which airs on the Fox Business Network on Monday, February 5 at 9 p.m. ET.
Mel Guy collected more than 300 antique Colt six-shooters – known as the guns that tamed the Wild West. He had searched for decades for a super-rare Buntline with a 16-inch barrel.
The name Buntline came courtesy of author Edward Judson, best known for his popular dime novels about Buffalo Bill. Judson wrote them under the pen name Ned Buntline.
In 1876, Judson ordered five Colts with long barrels and gave them to famous lawmen, such as Wyatt Earp and Bat Masterson, who shared their Wild West stories with him.
When Mel Guy finally got a 16-inch Buntline in his sights, the price was steep at $32,000. But he didn't hesitate to pull the trigger, his daughter said.
"He didn't care," she tells Colby in the program. "He was going to buy that gun."
Before he died, he told his daughter he wanted her to sell the collection. He said it was worth well over $1 million, and the Buntline accounted for most of that. Its appeal to collectors was underscored the first time she displayed it at a Las Vegas gun show.
"People wanted to take pictures of it," she said. "They wanted to touch it. The wanted to hold it." Then came the rumors that her strange inheritance was not the real McCoy.
"Somebody put the word out that the Buntline was not right because it didn't have a number on the cylinder," she told Colby.
Guy reached out to antique gun expert Greg Martin, who says he's aware of bogus Buntlines in the collecting world.
"Lots of fakes," Martin explained. "You can take an ordinary single action, put a long barrel on it, take off the serial numbers, re-stamp the numbers. Just like there are good artists that fake paintings, there are good artists that fake guns."
But Martin was able to dig through old Colt factory records and confirm that a number of Colt Buntlines were indeed manufactured without serial numbers on the cylinders. More than that, he was able to identify Melissa Guy's gun as the last of the first generation of Buntlines that Colt shipped.
That, if anything, makes Guy's strange inheritance even more valuable than thought.
Martin estimates it would fetch $600,000 to $800,000 at auction. But for now, Guy's holding out for more.