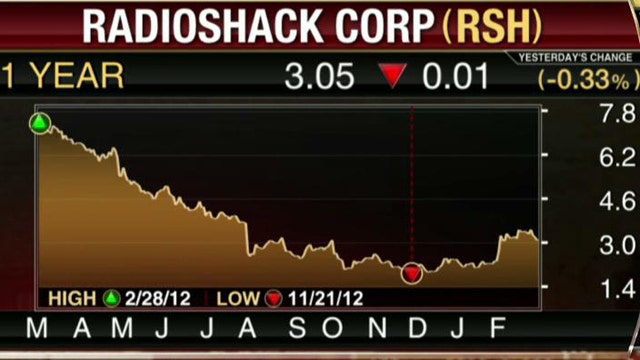 RadioShack (NYSE:RSH) posted its fourth consecutive quarterly loss amid falling sales at the electronics retail chain.
The company reported on Tuesday a loss of $63.3 million, or 63 cents a share, compared to a profit of $11.9 million, or 12 cents a share, in the same period a year earlier.
RadioShack, which incurred a $67 million one-time charge related to deferred tax assets during the latest period, registered an income from continuing operations before tax of $2.6 million versus $17.8 million.
Net sales dropped 6.5% to $1.3 billion.
Wall Street expected the company to report a per-share loss of five cents and revenue of $1.36 billion.
Comparable-store sales fell 7% on a significant decline in revenue from mobile device and consumer electronics sales. RadioShack said its gross margin narrowed to 34.5% from 34.8% given that sales of less profitable smartphones made up a bigger share of the top line.
The Fort Worth, Texas-based retailer announced last month it was ending its partnership with Target (NYSE:TGT). In the latest quarter, a kiosk business that sold mobile phones inside Target stores had an operating loss of $37.5 million. According to RadioShack, the business posted losses since its inception.
"Overall, the fourth quarter continued to be impacted by challenges similar to those of the first three quarters of the year," Dorvin D. Lively, RadioShack's chief financial officer, said in a statement.
Shares of RadioShack were down four cents to $3.01 in early trading Tuesday.