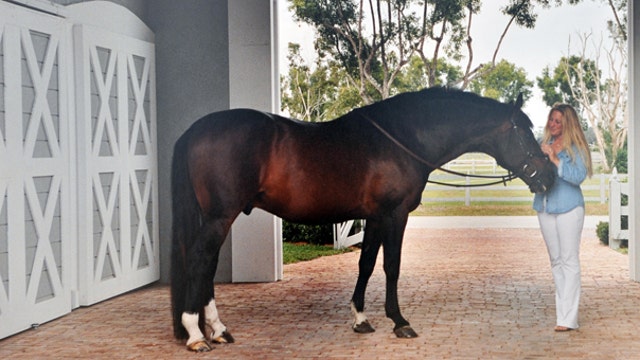 Victoria McCullough is making it in a man's world.
As the owner and CEO of Chesapeake Petroleum, one of the largest private petroleum products companies in the U.S., McCullough was raised in the energy industry boy's club, and as an avid equine advocate, she's very active on Capitol Hill.
But she's never let the stereotypical environments of the energy world and political arena deter her from being a part of it.
Born to Lead
You could say McCullough was somewhat destined to lead Chesapeake. It's a family business founded 53 years ago.
But it was an industry she wanted nothing do with. Instead, she went to Ohio State University with dreams of pursuing a degree and a career in industrial aerospace engineering– hoping to break into a completely different kind of boy's club.
I like adversity, I'm okay with it if you're on the right side of things.
In the late 1980s, McCullough was living her life exactly the way she wanted. She held internships in the engineering industry that were helping to prepare her for life after college, and she even had employment lined up to fill her time after graduation.
"I had no expectations of working within (my family's) company," she said. "But when my father died, my life quickly changed."
In 1988 the man who founded her family business, her father, died unexpectedly and McCullough's world was turned upside down. She said she was not prepared to take over, but knew it was something she needed to do both for herself and for her father's legacy.
"It's terrible when you leave something you're proficient in and then go to something you know nothing about," she said. "Most engineers are poor at business and it took a lot of lessons and mistakes."
What many might think an easy transition, despite the circumstances, becoming the person responsible for Chesapeake Petroleum was anything but simple and quick for McCullough, who said a kind of war broke out between the trustees who tried to take over the company instead of her.
"The trustee felt I was very comfortable (where I was) and the company would be better off in his hands. So, there was a move for a forced takeover in the company, but there were no stockholders other than me," McCullough said.
She said she eventually had to prove mal intent, which eventually led to the trustee's resignation and departure from the firm, which then gave McCullough the control she had fought to win.
Her father-in-law became the chairman of the board of trustees of the company, but more importantly, he also became her mentor and confidant.
"He brought a lot of knowledge to the company and it was his direction that took it to the 21st century," she said. "We learned (to run the company well) together. He died in 2007, but I use everything he taught me…I was beautifully molded by two fathers."
Looking back on the entire experience and the unexpected transition in her life, McCullough said she believes, though it took tragic circumstances, it lead her to exactly the place she was always supposed to be.
"You have a total positive direction, poised beautifully to partake in that aspect of my life (in the engineering world), and then a total right turn, you're unprepared for what ends up being the greatest move of your life. It's all about how you handle the flexibility – especially since there was a lot of opposition given my lack of background in sales, and business, and taking hold of the company," she said.
A Lifelong Commitment to Save
Growing up around Thoroughbreds, horses have long been a part of McCullough's life – at a young age she played with them on a Virginia farm, and bet on the ones with not-so-good odds at Belmont.
So, when in 2007 while she was sitting at an airport waiting for her flight, she discovered the animals she's grown to love were used for human consumption in the United States, she was mortified. Once back home, she delved deeper into the issue, becoming more horrified by the practice, and pledging then to stop it.
"I found a whole industry that lives in the darkness," she said. "There are regulations regarding petroleum and tankers and other things in the industry I work in. I live in a world of regulation. It totally angers me that this so-called industry had no regulation whatsoever."
To make a ban on the practice in America, McCullough took the issue to Congress and knew that she needed to use the science behind it to support her argument that not only was the practice unethical, it was also illegal.
"We proved that…every horse out there has had some type of injection either of a vaccine, a wormer, an anti-inflammatory, or any antibiotic," she said. "Any of those things are really restricted in protocols for other animals for human consumption."
And that begged the question: If it's not allowed in cows, or chickens, or fish…why would it be safe for human consumption if it's in horse meat?
After working closely with lawmakers including Vice President Joe Biden, McCullough saw success when the fiscal year 2014 Appropriations bill passed with a provision that prohibits the USDA from using federal dollars to inspect horse meat for human consumption – essentially banning horse slaughter.
It wasn't an easy fight for McCullough and was a years-long process that continues as she works to permanently end the horse slaughter in the U.S.
"I like adversity, I'm okay with it. If you're on the right side of things," she said. "This particular fight doesn't hurt anyone, it helps. In all frames, in all facets of the fight, it just helps people."
For her work to help end the practice in the U.S., this year, the Thoroughbred Retirement Foundation awarded McCullough with its Earle Mack Thoroughbred Champion Award given annually to someone who shows effort to influence Thoroughbred racehorse welfare, safety, and retirement.
McCullough said she doesn't do the work for the accolades, and she doesn't put much stock in the pomp and circumstances surrounding it. But this award, she said, "means the world" to her.
"Through her own resources, she's lobbied and laid out her own money to buy 4,000 horses," Mack told FOX Business at the awards ceremony in New York Thursday night. "It's been nothing short of a miracle."
As McCullough continues her fight for equines across America, she's reminded often of her successes with the thousands of horses she's saved from the slaughterhouses who now live happy lives on her farms and those of other horse communities across the U.S.
"We all have these expensive show horses in our barns, but it's really great to have one you saved in your barn, too," she said. "It changes the whole chemistry…because you have one very grateful little animal in your barn."