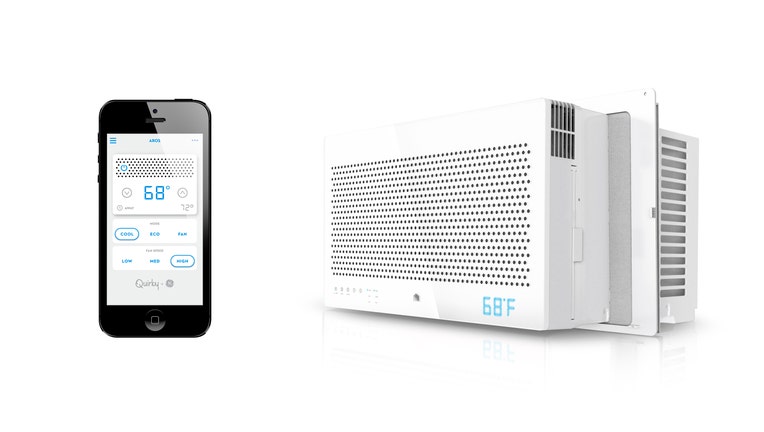 Air conditioners just got a little bit, well, cooler.
On Thursday, Quirky and GE introduced the Aros, an 8000-BTU smart air conditioner. The sleek white unit, available for preorder on Amazon for $300, looks more like an iPod than a traditional AC unit. According to the companies, the Aros can be programmed to turn off and on based on user schedules, and can be controlled via a smartphone app.
Users can also set a budget using the app, and the Aros unit will program itself accordingly, according to its makers.
"AC units are usually ugly beige boxes that are pretty nasty," says Quirky CEO Ben Kaufman. "We wanted to make something you'd be proud to have on the wall."
New York-based Quirky is an innovation platform that allows community members to submit ideas, which are then developed by the crowd. The members who work on a product receive a percentage of sales in the event Quirky decides to put the idea into production. Quirky has raised a reported $175 million, most recently landing a $79 million Series D round in November. Kaufman says $30 million of that round came from GE.
Kaufman says Quirky found the idea for Aros in early December. It was submitted initially by Garthen Leslie, a Department of Energy vet who wanted to create a predictive AC unit.
A lot of the most important Aros features came directly from Leslie, says Kaufman, including Aros's air-flow design. Generally speaking, AC units both release cold air and suck in warm air through their front-facing vents, which Kaufman says isn't an ideal setup.
"You lose a lot of efficiency, because a lot of cold air is sucked right back into the unit," says Kaufman.
Kaufman says the Quirky community was able to perfect the rest of the design, with GE providing reliability testing and insight into the regulatory approval process.
Leslie and the other Quirky members who contributed to the Aros design will split 10% of the sales revenue. Kaufman declined to share details of how GE and Quirky will split the remaining 90%.
"The Quirky and GE relationship is a bit less transparent, because GE is invested in Quirky and is incentivized to make Quirky successful," says Kaufman.
The first round of Aros units is expected to be delivered to customers in late April or early May.