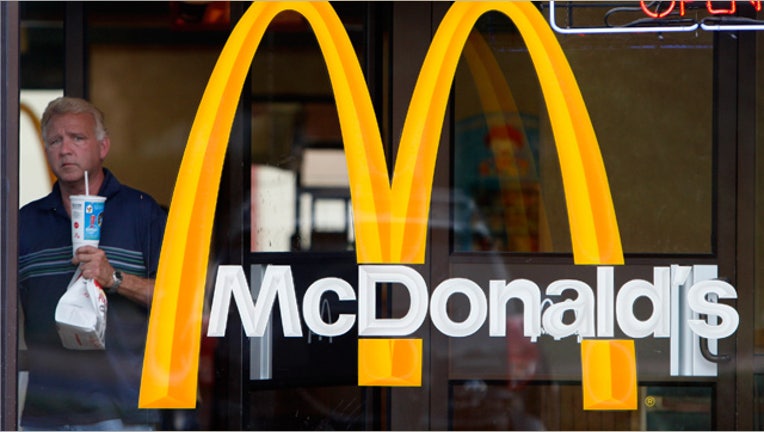 McDonald's (NYSE:MCD) served up an in-line 4.8% rise in first-quarter profits on Friday as the world's largest burger chain enjoyed healthy sales growth that continued in March.
Shares of the blue-chip company rallied almost 2% in the wake of the results.
McDonald's said it earned $1.27 billion, or $1.23 a share, last quarter, compared with a profit of $1.21 billion, or $1.15 a share, the year before. Last quarter's EPS matched Wall Street's expectations.
Revenue rose 7.1% to $6.55 billion, narrowly topping the Street's view of $6.54 billion. Operating margins nudged higher to 30% from 29.9%.
"McDonald's continued momentum in first quarter drove market share gains and profitability across all geographic segments," CEO Jim Skinner said in a statement. "The ongoing strength of McDonald's results, amidst persistent economic headwinds, is a testament to our customer-focused plans and our proven business model.
For the first quarter, McDonald's posted global same-store sales growth of 7.3%, highlighted by an 8.9% leap in the U.S. amid solid demand for the company's core favorites and new items like Chicken McBites.
Same-store sales rose by 5% in Europe, but were slowed in February by "ongoing economic challenges" and bad weather. Led by strength in China, Australia and Japan, same-store sales in the company's Asia/Pacific, Middle East and Africa segment climbed 5.5%.
McDonald's also said its global same-store sales climbed 7.7% in March, including 8% in the   U.S.
Looking ahead, Skinner projected April global same-store sales will slow to about 4%.
Shares of Oak Brook, Ill.-based McDonald's jumped 1.89% to $97.08 ahead of Friday's open. The company's shares have underperformed the broader markets in 2012, slumping 5% as of Thursday's close.
Last month Skinner disclosed plans to retire after eight years on the job, leaving the keys to the $100 billion iconic company to Don Thompson, its chief operating officer.
"I wish all McDonald's stakeholders the very best knowing the brightest days for McDonald's still lie ahead," Skinner said on Friday.