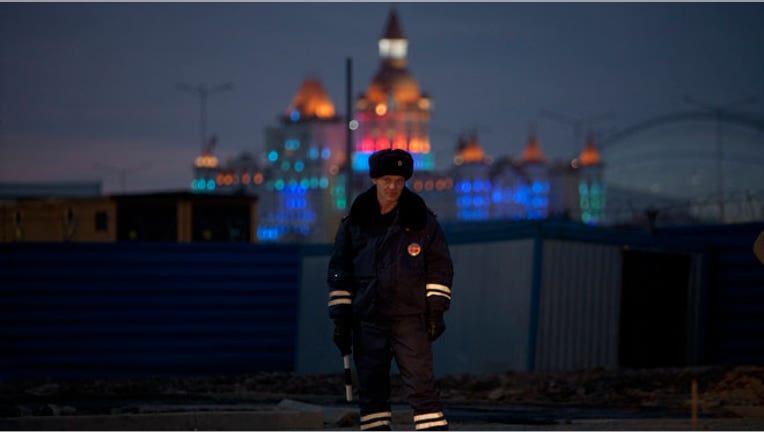 Private cyber security and evacuation firms are being tapped this Winter Olympics to ensure the safety of the U.S. delegation following a series of bombings near Sochi that killed dozens of people.
While Russian authorities are using high-tech methods like drones to detect potential threats and deploying tens of thousands of troops to the region, the U.S. issued a travel alert for Sochi on Friday, reminding travelers that major events like the Olympics tend to be an "attractive target for terrorists" and warning visitors should "remain attentive regarding their personal security at all times."
Travelers are being encouraged to buy private medical evacuation and/or repatriation insurance, which can cover injury, evacuation costs or death in the event of an accident while traveling overseas.
The U.S. Olympic Committee (USOC) has held calls regarding security with the State Dept., and says it is working in tandem with local organizers and relevant law enforcement agencies to ensure the U.S. delegation and other Americans traveling to Sochi are safe.
"The safety and security of Team USA is our top priority and we will share the new alert with our delegation members," USOC spokesperson Patrick Sandusky said.
Hiring Private Security
The anxiety surrounding the games has U.S. sports teams tapping the expertise of private security companies.
In November, the USSA once again brought on private crisis, rescue and evacuation team Global Rescue for its third consecutive Winter Olympics to boost security for athletes on and off the mountain. They have worked together since 2006, with Boston, Mass.-based Global Rescue conducting dozens of missions for USSA throughout their training efforts and at the Winter Games in Turin, Italy and Vancouver.
These Winter Games are being taken with extra precaution.
"This will be one of our larger deployments [for USSA] given the scale and the location," said Global Rescue CEO Dan Richards. "Our planning with them began months ago."
Among the preparation has been coordinating communication in the event of an emergency, identifying rally locations, putting into place a command and control plan, finding shelter-in-place locations and ensuring plans to evacuate athletes and their families can be executed effectively in crisis mode.
Global Rescue has had a hand in a number of major events over the past decade, including evacuating clients from Tahirir Square in Egypt during the Arab Spring uprising. It has more than 100 aircraft on contract around the world at any given time to assist with evacuations as well as personnel both on and off the ground with teams ready to deploy when necessary.
It's not the only company of this type, but it is the only confirmed private firm working directly with a U.S. Olympic team at Sochi.
"We are crafting protocols and strategies they can use to deal with events that might occur while they're in Sochi," Richards said of USSA.
USSA wouldn't comment specifically on its security detail, but a spokesperson said it maintains "close contact" with the USOC and "other agencies" on security.
Cyber Fortifications
Meanwhile, cyber intelligence officials are expected to continue working with private security firms to keep tabs on the record number of text, email, phone call and social media activity during the two-week games to try and intercept any potential plots that could endanger U.S. visitors.
Of course, their work likely began months if not years ago.
"As the saying goes, it's better to be 'safe than sorry,'" said Dr. Lance Larson, CEO of security consulting firm Larson Corp. and an adjunct professor at San Diego State University. "Safeguards, cyber defenses put in place before an event, are much cheaper and more quickly implemented."
Larson, who has worked with counterterrorism training at the FBI Laboratory and sat on a law enforcement intelligence and Department of Homeland Security Fusion Center task force, said the best opportunity for upcoming cyber security firms will be social media monitoring and analyses.
Scouring feeds from Twitter (NYSE:TWTR), Facebook (NASDAQ:FB), Google+ (NASDAQ:GOOG), Instagram, Foursquare and Yahoo's (NASDAQ:YHOO) Tumblr for special keyboards like #Sochi plus an expletive may give "defensive personnel pre-warning to a potential real-world terrorist plot," he said.
Geofencing, which allows cyber professionals to setup a virtual fence to monitor all social media posts from a specific geographic region, might also serve as a useful tool during the Winter Games.
Sponsors Quiet on Security
The Sochi Olympics' biggest global sponsors have not said whether they are boosting security or taking extra protocols ahead of the game to ensure the safety of their customers and employees, though it would be highly unusual if they weren't already in contact with the State Dept.
None of the top ten sponsors, including Coca-Cola (NYSE:KO), McDonald's (NYSE:MCD), Procter & Gamble (NYSE:PG), Dow Chemical (NYSE:DOW), General Electric (NYSE:GE), Panasonic, Samsung, Visa (NYSE:V) and IT firm Atos, responded to requests for comment regarding security at Sochi.
However, Erich Joachimsthaler, CEO of global brand strategy consulting firm Vivaldi Partners, said he isn't surprised.
"My recommendation for brands is to not run any messaging or communications before Sochi," Joachimsthaler said. "If the inherent negative information (the risk of safety) can be framed positively, then it would have a positive effect, but I don't know how to achieve that practically."