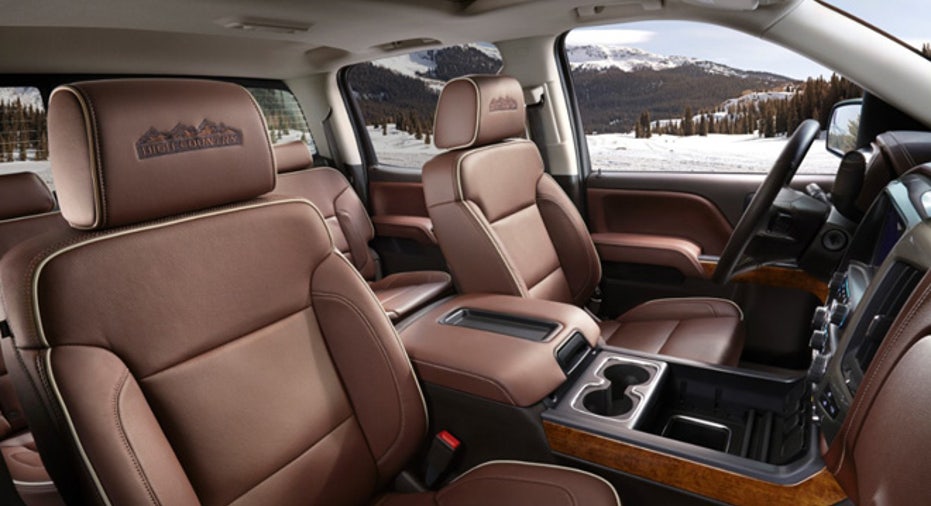 There was a time when leather seats, sunroofs and wood trim were exclusive to luxury cars. Now a growing portion of U.S. truck sales come from high-end pickups that offer the same upscale amenities.
When gas prices topped $4 per gallon nationwide in 2008, consumers abandoned trucks and sport-utility vehicles in search of better gas mileage. May 2008 marked the first time in 16 years that several mid-size cars outsold Ford Motor Co.'s (NYSE:F) F-series trucks.
But demand for pickup trucks has only strengthened in recent years. Improvements in performance, features and fuel efficiency won back American consumers, and sales continue to show gains.
"What you're seeing is the truck has evolved from just being used for work to more of a family transportation vehicle," said John Fitzpatrick, Chevrolet's marketing manager for the Silverado. "They're looking for all of the creature comforts. Leather, touchscreen entertainment, navigation, an A/C system that lets you control climate zones and an Internet connection all play a big part in trucks."
Over the first eight months of the year, General Motors (NYSE:GM) has sold a combined 462,503 of its Chevrolet Silverado and GMC Sierra pickups, up 2.7% compared to the same period in 2013. Sales of Toyota's (NYSE:TM) full-size truck, the Tundra, are up 10.1%.
Ram pickup truck sales have grown the most this year, rising 21% to 283,256 units. With a new F-150 due out later this year, Ford has seen F-series sales edge 0.4% lower to 497,174.
Industry insiders say more buyers are showing an appetite for pricier trim levels. As a result, the truck segment is moving further upscale.
Ram 1500 pickup trucks with price tags of at least $50,000--mostly Laramie trims--accounted for just 1% of overall sales in 2009, Ram president and chief executive Bob Hegbloom said in an interview. Today, premium half-ton pickups generate more than 10% of Ram 1500 sales.
Chrysler Group's Ram has also seen growth in the popularity of its premium heavy-duty trucks. Since 2009, the percentage of Ram 3500 sales over $60,000 has grown from 2% to over 40%.
"It's been interesting to watch this. Going back to 2009, look at what happened at that time, and look where we are today," Hegbloom remarked. "The question is how much higher can we go? I don't think we've hit the top."
Fitzpatrick said the Chevrolet Silverado High Country, a western-themed pickup that was introduced for model-year 2014, "came out of the gate very hot." Roughly half of Silverado buyers go for the top LTZ trim or the High Country.
The Silverado LTZ adds 18-inch aluminum wheels, remote start and a rear vision camera, among other items. The High Country substitutes 20-inch chrome wheels. Heated and cooled leather seats, navigation and park assist are part of the package as well.
"Each week we get more demand than we can fulfill," Fitzpatrick said of the High Country. "People love the feel of the truck. Having that High Country badge outside and that great look has been a home run with customers."
The 2015 Chevrolet Silverado 1500 LTZ in crew cab form is offered for $41,970 with two-wheel drive. A similar Silverado in High Country trim costs at least $47,575. The GMC Sierra, the Silverado's pricier sibling, is available in a Denali edition for a starting price of $48,315.
Ford's Bet on Aluminum
For Ford, whose F-150 has been the best-selling truck in America for 37 consecutive years, big-ticket pickups make up approximately 20% of sales, F-150 marketing manager Eric Peterson estimated.
The 2015 F-150 will be the first pickup truck to use a body constructed of aluminum rather than steel. By using aluminum, Ford cut 700 pounds of weight out of the truck and expects fuel economy numbers to set new highs for the F-150.
Peterson said the switch to aluminum will benefit Ford's entire lineup of F-150s by boosting performance capabilities. On top of that, the new F-150 will provide added creature comforts like heated front and rear seats, a 360-degree camera and a remote release tailgate, he added.
"There's demand for the latest and greatest in terms of features in trucks," Peterson said. "If you don't provide that as a manufacturer, you're missing an opportunity."
Ford's 2015 F-150 Lariat, which includes features like blind-spot monitoring and a digital instrument panel, will have a starting price of $39,880.
The F-150 King Ranch, Ford's competitor to the Silverado High Country and Ram Laramie Longhorn, will start at $49,460, while Platinum models will have a minimum price tag of $52,155.
According to Kelley Blue Book, average transaction prices for F-series trucks checked in at $45,000 in August, up $2,000 versus the year-ago month. The share of F-series trucks that were sold for more than $40,000 jumped to 67% from 64%.
Going for Chrome
The Big Three offered this consensus: first and foremost, trucks are built to be workhorses. At the same time, they see a growing need to serve customers who are interested in premium interiors as much as towing capacity.
With pickup trucks a popular and often necessary choice for daily driving, the market is demanding pickup trucks that are more refined.
"Light-duty trucks are sold now to families who use trucks as their primary mode of transportation. They are looking for all of the comfort features," including an upgraded suspension, park assist and a lower step-in height, Hegbloom said.
In luxury pickup trucks, higher-income households have an option that wasn't widely available just five years ago, Kelley Blue Book senior analyst Alec Gutierrez said.
"Manufacturers are now offering trucks that are more outfitted than ever before," Gutierrez added. "If you look at the entire industry, luxury is a category that's growing faster than traditional cars. I'm not surprised to see that in the truck segment."
Geographic trends also help explain the rapid growth for luxury trucks. Yes, trucks are most popular in Texas and some other states, but automakers are broadly seeing pickup trucks make inroads in suburban areas.
"Three out of every 10 trucks are sold in Texas. That really hasn't changed. But we're seeing it more and more becoming part of the suburban lifestyle," Fitzpatrick said.
Diesel engines have played a key role in putting more of Ram's luxury trucks on the road. Its EcoDiesel V6 engine, which offers 28 miles per gallon on the highway, gets a greater percentage of premium-oriented buyers than gas-operated Ram 1500s, according to Hegbloom.
Ram, whose 2014 Laramie trucks have starting prices of $38,775 to $48,680, is exploring even more upscale amenities, such as an airplane-style footrest. It even made a demonstration truck with a refrigerator.
Hegbloom highlighted Ram's camera system that gives drivers a view of the truck bed and behind the vehicle. He said customers have referred to the backup camera as "the marriage saver" since their spouses no longer have to guide them when hooking up a trailer.