Paying for College With an Ice Cream Truck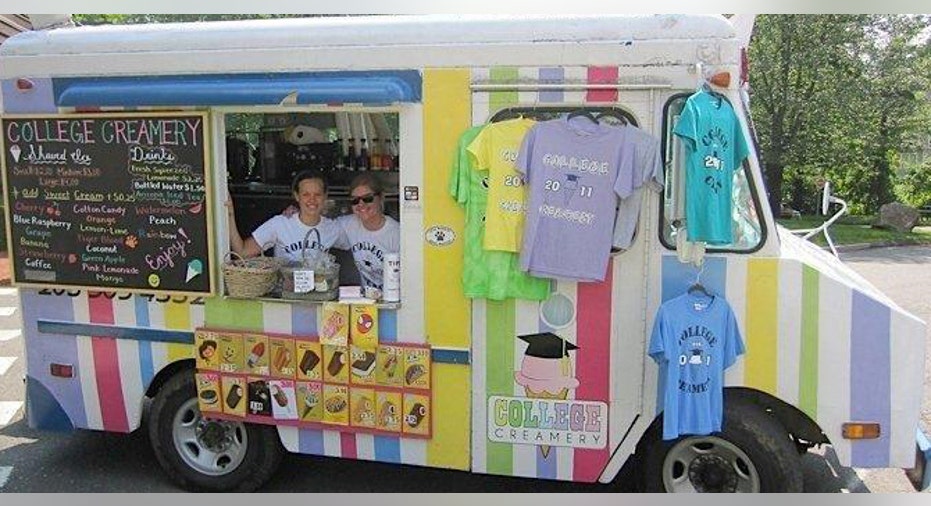 While scooping ice cream is a classic summer job, how about creating your own ice cream business on wheels? Not so much.
For the past three years, Taylor Toll, Lindsay Wheeler and Steph Fricke have been running College Creamery, an ice cream truck they operate in Wilton, Connecticut.
Toll says the idea was born during her freshman year at Bucknell University when Wheeler, a lifelong friend studying at Middlebury College, called her to discuss the idea of opening an ice cream truck.
"She knew it would be a lot of work, but she wanted to start it," says Toll, who notes that both of Wheelers' parents are entrepreneurs. The third co-founder, Fricke, is another childhood friend studying at the University of Vermont.
After a lengthy search on Craigslist for an ice cream truck that would fit the bill, the girls purchased a basic white truck from a seller in York, Pennsylvania, with a personal loan from Wheelers' parents.
With a fresh coat of brightly painted stripes, College Creamery was open for business the summer after the students' freshman year – and has been a major success every summer since.
"We have a permit in Wilton, and we do private parties, birthdays, weddings and corporate events," says Toll, in addition to driving around the Connecticut town looking for hungry customers. The truck sells Good Humor bars as well as its specialty shaved ices.
Entrepreneurship 101 Having paid back the personal loan to Wheelers' parents, Toll says the threesome works seven days a week each summer, up to 12 hours a day, to help pay for college expenses. While the profits don't quite cover tuitions, Toll says it's a huge help in paying for books and other expenses.
She says the truck can rake in up to $1,000 on a good day.
While none of the three young women study business, running College Creamery has taught them plenty, from applying for permits to doing taxes. "We actually have the tax prices baked into the price of the shaved ice," says Toll, with round numbers making it easy to conduct business from the truck.
While College Creamery has undoubtedly been a success, Toll says she wondered early on if it would be wiser to take an unpaid internship, like many college students.
"I think we all had our moments when our friends were getting internships … But looking back, being able to say we stuck through this and started this business – we think it will be very valuable for us in the future," explains Toll.
Paying It Forward As Toll heads into her senior year next fall, she's already thinking about what will become of the College Creamery truck.
"Eventually we'll sell the truck, and we would love to sell it to somebody in the area. It's been such a great experience for us, and we would love to share what we've learned with somebody else," says Toll. She says the community has been very supportive of the business, and she intends to help out other college entrepreneurs down the line.
Already, Toll says College Creamery gets letters from budding young entrepreneurs from around the country, asking how they got their start.
"We've gotten emails from kids – one from a kid in Wisconsin and another one in North Carolina – who wrote to us and would love to start their own businesses," says Toll.
"It's been so exciting to talk to them. All you want to do is tell them how awesome it's been!"