Oscar Blunder or Marketing Genius?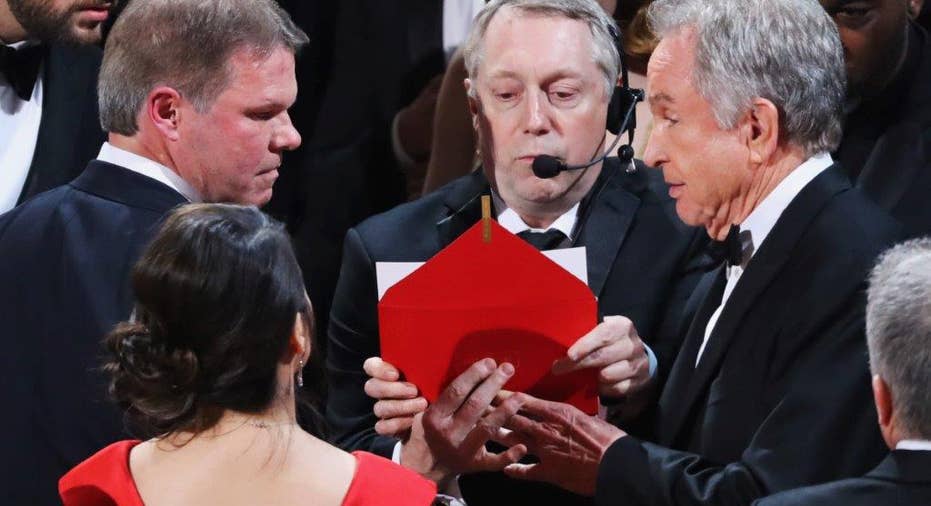 The Oscar for Best Picture at the 89th Academy Awards ceremony may go down as one of the biggest blunders in live television history or maybe one of the best shock-awe marketing stunts ever.
As Warren Beatty and Faye Dunaway delivered the Oscar for Best Picture, they were given the wrong envelope, announcing "La La Land" instead of "Moonlight." As chaos ensued on stage between the two casts and on social media, brand experts saw something different.
"This was clearly a planned event, not an accident. If you look at the big picture, this bears all the tell-tale markings of planted publicity taken out of the pages of election year media tactics, designed to boost the Oscar ratings, nothing more," Rob Frankel, branding strategist at Frankel & Anderson, tells FOX Business.
Despite Frankel's allegations, PricewaterhouseCoopers, the accounting firm that has overseen the counting of Oscar ballots for 83 years, openly took the blame, telling FOX Business in a statement; "We are currently investigating how this could have happened, and deeply regret that this occurred." Even so, any outcome won't erase the moment.
34.43 million viewers witnessed the gaffe on Disney's ABC Network (NYSE:DIS), according to early numbers from Nielsen, and that number could rise in additional video hits as a media frenzy continues to dissect what really happened. The ABC Network declined to comment.
"You'll see lots of memes now, along with late night comedy monologues, and everyone will get his 15 minutes of media hype. Next year, expect Oscar ratings, which have been tanking of late, to rise, because people love a train wreck and hope to see another," adds Frankel.
Oscar ratings have been on the decline according to Nielsen. Last year 34.3 million viewers tuned in, down from 37.3 in 2015 and 43.7 million in 2014.
However, live TV shock and awe moments doesn't always guarantee future ratings. Just ask comedian Steve Harvey.
He made headlines in December of 2015 during the Miss Universe pageant when he inadvertently crowned Miss Colombia, Ariadna Gutierrez-Arevalo, as the winner instead of Miss Phillippines, Pia Alonzo Wurztbach.
Although Harvey and the Miss Universe Organization offered to help Beatty and Oscar organizers via tweets recover from the blunder, they didn't see a bump from their own.
Miss Universe Organization invited Harvey to host again the following year, however pageant didn't see an uptick in ratings they hoped for. Harvey says while the incident was tough to get through, especially because he received several death threats from Columbia, he hopes to eventually do business there.
"I'm a comedian, I have to laugh about it now and keep moving. Colombia is not laughing so hard, that's why I would love to do coffee from Colombia. You know, open up a farm down there or something," Harvey told FOX Business during an interview in March of 2016 about his business empire.
Turkel Brands CEO, Bruce Turkel, says the Oscar incident is just a "great example of poor attention to detail" rather than a planned stunt and will not likely affect anyone's brand longer term.
"From a customer service perspective, you might question PWC's attention to detail in other areas of their work. Now, I don't think anyone will make that leap but it's a glaring error that should never have happened — and probably hasn't in the history of the show. So, from that perspective, it's low percentage error. But glaring nonetheless," Turkel told FOX Business.