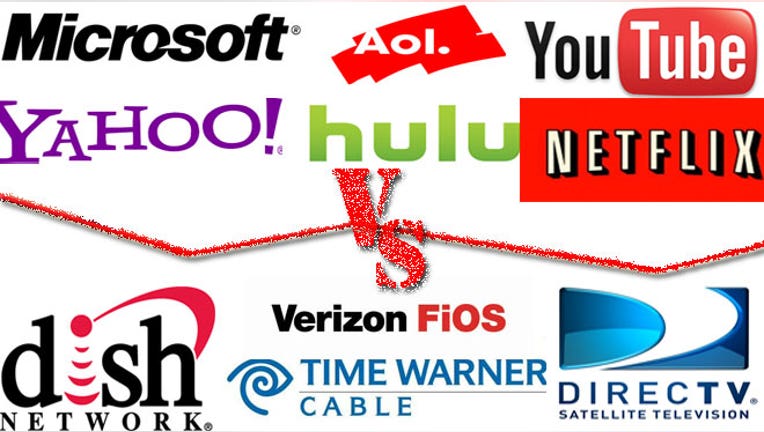 In the latest battle in what has become a lengthy war against traditional television powerhouses, online media groups like Hulu and YouTube are trying to nab more advertising as they continue their attempted takeover of the video market.
But advertising is only half the battle, and some are questioning whether online media companies will ever be able to compete on the same level as television's traditional superstars as they also adapt their businesses to changing tastes, and become more tech savvy.
A group of online media companies, including Hulu, Google's (NASDAQ:GOOG) YouTube, Microsoft (NASDAQ:MSFT), AOL (NYSE:AOL) and Yahoo (NASDAQ:YHOO), will host a two-week event this April in New York that copycats networks' glitzy "upfront" week, a showcase of new shows aimed at wooing potential advertisers.
During the event dubbed "Digital Content New Fronts," which will run just before cable's big pledge week, each online company will get a chance to impress marketers with upcoming original video programming -- a blunt attempt to snag some of the billions of dollars advertisers spend on fall-season commercials each year.
The event highlights how online video has started to carve out a niche in advertising budgets, but also how fierce the competition between online and pay-TV has become.
Hopping on the 'Next Digital Takeover'
The new online approach to watching television has "improved significantly" but has historically been under-marketed, said Rob Enderle, principle analyst at the Enderle Group.
The advertising gap between traditional media and digital companies appears to be narrowing, with advertisers expected to dedicate 12% of their total budgets to traditional TV compared with 8.6% for digital in 2012, according to media and advertising expert Jack Meyers.
While pay-TV is still preferred, with Americans watching an average of 33 hours of pay-TV a week, compared with just 4 hours of online video, that's up 22% from three years ago, according to Nielsen.
Advertisers are hot to jump on the "next digital takeover," according to Jon Rettinger, president of prominent tech blog TechnoBuffalo. "Without a doubt, this is the way we are going to consume media in the next five to ten years," he said.
Advertisers are projected to increase overall spending on online video by 48% to $11 billion over the next four years, with online media companies including Vimeo and Grab Media getting more than $3.7 billion in ad revenues for original content in 2015, an annual increase of 64%, according to Meyers.
That will help satisfy a growing 37% of consumers who are watching some sort of broadband video, whether it's television or movies downloaded or streamed from the Internet, according to NPD Connected Intelligence's bi-annual Content Adoption Study.
YouTube plans to develop more than 100 new professional content streams with partners to keep visitors on its site longer, according to a report in the New Yorker, a move it hopes will drive more advertising dollars its way and put it more directly in line with the networks.
Other companies in the space are also working on original made-for-the-web content that could help draw attention from some of the world's biggest advertisers, including Procter & Gamble (NYSE:PG), Coca-Cola (NYSE:KO), Pepsi (NYSE:PEP), Ford (NYSE:F), General Electric (NYSE:GE) and American Express (NYSE:AXP).
But traditional television companies are still expected to dominate even in the new digital landscape, with broadcast and cable companies including FOX and ABC getting half of advertisers' online budgets by 2015, according to Meyers.
The networks will generate nearly $2 billion in incremental digital revenues this year, a 50% increase over 2011, and that is only projected to grow over the next few years, according to Meyers.
"For some traditional media categories, digital pennies are evolving into digital dollars," he said.
Taking Out the Middle Guys
Yet, securing more money through advertising is only one part of a much more complex challenge as smaller online media companies try to chip away at pay-TV.
As broadcast companies become more tech-savvy, the intermediaries, both cable companies like Cablevision (NYSE:CVC) and streamers such as Hulu, which is owned by Walt Disney (NYSE:DIS), Providence Equity Partners, Comcast's NBCUniversal, and News Corp. (NYSE:NWS), which is also the parent of FOX Business, face a threat of being driven out of the market as customers go directly to broadcasters' web pages to watch shows.
"If users can get content directly, it could take intermediaries completely out of the market," Rettinger said.
Why would a customer pay $7.99 for Hulu Plus when he or she can go to straight to ABC.com and watch the next episode of Revenge for free with only a few two-minute commercial interruptions?
"Unless there's a value add for going to Hulu, Netflix or whatever Comcast comes up with, it's going to be a very tough sell," Rettinger said.
At the same time, companies that allow customers to stream older seasons of shows and movies to their mobile devices or computers have an advantage in that they serve as a one-stop-shop for viewers offering a consortium of movies and shows from a variety of studios, while broadcasters are likely to show only their own programs.
Streaming is already the most popular way to watch video online, according to NPD.
That edge requires big broadcast and cable conglomerates to alter their business models, similar to how Comcast (NASDAQ:CMCSA) launched a streaming program this week that threatens to unhook Netflix from its virtual monopoly on the streaming market.
"We're starting to see large conglomerates adopting their model," Rettinger said. "Networks are going to be forced to change their models very quickly."
However, one long-term advantage for cable companies such as Verizon's (NYSE:VZ) Fios and Time Warner (NYSE:TWC) is their ability to lock customers into voice, data and TV packages.
Even with Comcast's new streaming service, called Xfinity Streampix, videos are free for certain top-tier customers and only $4.99 for other Comcast video customers, offering yet another incentive to buy bundled packages.
"To really get these [online media companies'] services to fly, they have to find a way around the bundled pricing that locks cable and DSL customers into bundled services," Enderle said.
While the "New Fronts" week in April is a "good first step," he said the "existing entrenched companies" will continue to have the advantage until online media companies can lure customers away from their commitment to bundled packages, which can be pricey to untangle.