Offering Breast Cancer Survivors 'What They Deserve'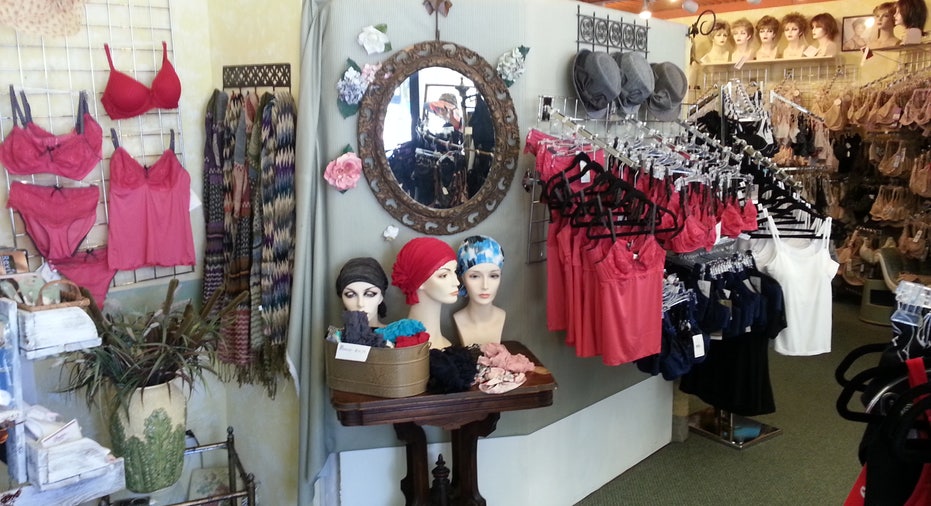 Small Business Spotlight: Intimate Image, @Intimate_Image 
Who: Beth Higgins, breast prosthesis specialist
What: Personalized services for fitness and fashion
Where: Woodland Hills and Santa Monica, CA
When: 1994
Related: 5 Entrepreneurs Making Breast-Cancer Fight Their Business
How: When Beth Higgins launched a career in the lingerie business 30 years ago, people weren't having discussions about breast cancer. After some years in the industry, in 1994, she decided to focus on breast cancer patients, and offer them a place "where they could keep things personal and not only get good fashion advice, but also a good fit from a certified fitter."
What started as a shop to purchase breast prostheses and the required specialized bras for women post-surgery is now a "full-service cancer boutique and one-stop shop," says Higgins. Clients can buy swimsuits, active sportswear, lingerie, wigs, hats and head scarves that help women through chemotherapy and compression wear or arm cuffs to ease the discomfort of lymphedema.
Higgins credits the expansion of breast cancer treatments that prolong life as evolving her business. For example, women have suffered with lymphedema for a long time, but for years compression sleeves were limited to heavy fabrics and available only at medical supply stores, she says. Today, she offers fashionable sleeves in different colos. And as chemo became an option used in fighting the disease, Higgins says she expanded her product line and brought in wigs in natural looking textures and colors, and she now offers an array of hats and head scarves.
Employees comprise the face of the business, says Higgins. They are the first people clients talk to in the store or on the phone, and their initial responsibility is to put clients at ease. Each of Higgins' sx staff members has her own specialty: accounting, wigs or fitting garments. Two employees are breast cancer survivors and have undergone mastectomy or lumpectomy, which enables them to share common ground with customers.
"I'm a huge believer in options," says Higgins, but notes the challenge in offering choice when insurance companies, which drive a large part of her business, typically "don't give much thought to how women feel about themselves."  Bras and prostheses are typically covered by insurance, but this is not the case with all items.
"There is always the question of what insurance will pay for, especially now in a market with tighter benefits and higher deductibles," Higgins says.
"Sometime women don't want to get what they deserve," or what they need for their self-image, she says. So the shop focuses on the educational, as much as it does the enjoyable.
"We spend a good chunk of time talking," says Higgins, who also understands the interplay between whether or not an item will be covered or reimbursed by insurance and price. She says the goal is to keep prices manageable, which can dictate whether she chooses a domestic or overseas manufacturer.
To develop her business, Higgins builds relationships with doctors and nurse navigators. She also holds information in-service events and seminars. Still, Higgins acknowledges it's a challenging business.
"For me, the bottom line is passion. No matter what happens [in the marketplace], you've got to fight the fight. If you don't love it that much you won't go to the lengths needed to keep the business going," she says.