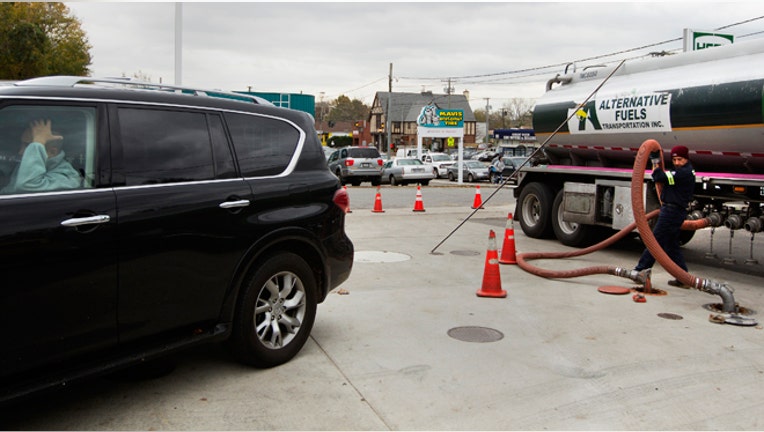 The New York Harbor energy network edged toward recovery on Monday, a week after powerful storm Sandy struck, and fuel terminals came back to life once power was restored over the weekend.
Supplies were arriving in the New York and New Jersey region aboard barges and restarted pipelines. The long lines at gasoline stations shortened, even as some retail locations struggled with depleted inventories and power outages.
Along New Jersey's busy Route 3 corridor, which feeds into Manhattan, several brand-name service stations remained shut, while a Hess Corp outlet that held ample supplies in recent days had a line of about 30 cars - down from more than 100 last week.
Still, the full extent of the damage Sandy wrought on the energy network was just emerging.
The U.S. Coast Guard said Phillips 66's Bayway refinery in Linden, New Jersey leaked about 7,770 gallons (185 barrels) of fuel after the storm struck.
The 238,000-barrels-per-day refinery was shut ahead of Sandy's arrival and remained idle over the weekend while the company assessed the damage. Phillips 66 did not immediately return requests for comment on Monday.
The Coast Guard was helping clean up a leak on the Arthur Kill waterway, which separates Staten Island in New York City from New Jersey. Tankers damaged by Sandy at Motiva Enterprises' Sewaren, New Jersey terminal spilled diesel fuel into the waterway last week and crews were still pumping contaminated water on Sunday afternoon.
Yet another clean-up effort was under way a few miles (km) south on the waterway, near Kinder Morgan's Perth Amboy, New Jersey terminal, where the Coast Guard said it had recovered 780,000 gallons of an oil-and-water mixture.
Kinder Morgan, however, said there was no spill from its Perth Amboy facility.
The Coast Guard opened the Arthur Kill waterway to vessels on Monday so long as they move slowly along its waters. New York Harbor is also open to vessels so long as they can find safe harbor in one of the coastal terminals.
One tanker, Glory Express, was on the waterway on Sunday afternoon, headed to Kinder Morgan's Carteret terminal in New Jersey, according to Reuters shipping data.
Suppliers in Linden, a major fuel hub that serves New York and northern New Jersey, were revving up after mainline power returned on Sunday. Colonial Pipeline started delivering to a third of its customer terminals out of its Linden facility on Sunday, a spokesman said.
Nustar Energy LP hoped to restart deliveries out of Linden "very soon", a spokesman said, with the actual timings still unclear.
Buckeye Pipeline said it had restarted pipelines that service New York City, northern New York state and New Jersey on Saturday.
Hess on Sunday took the unusual step of publishing inventory levels - normally considered a commercial secret - at all of its East Coast stations to help motorists find gasoline. Many gasoline stands in eastern New Jersey were depleted or at low levels.
The company said on Sunday night that it was expecting its first barge and pipeline shipments at its Port Reading, New Jersey terminal. Power was partly restored to the 70,000-bpd Port Reading refinery on Saturday.