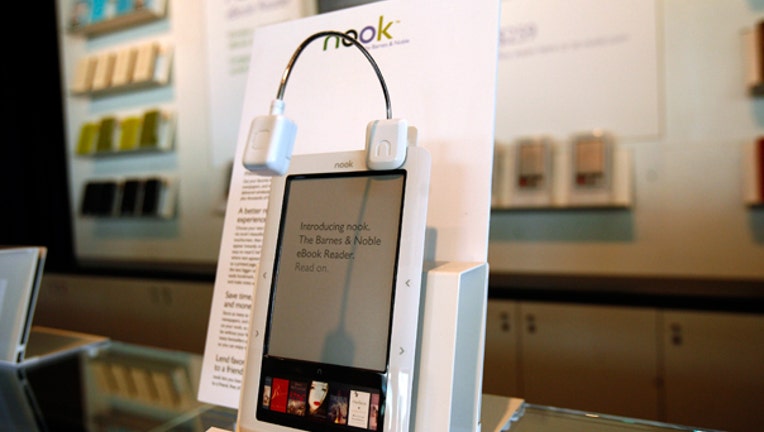 Barnes & Noble (NYSE:BKS), whose chairman is looking to buy the retail assets of the struggling bookseller and distance it from the Nook, reported a third-quarter loss on Thursday amid weak Nook sales and a slowdown in its retail stores.
However, its shares climbed more than 8% after Barnes & Noble CEO William Lynch said there are ongoing discussions between founder Leonard Riggio and the board's strategic committee regarding a separation from Nook.
He confirmed plans for Nook Media to be self sufficient financially by managing costs and generating cash flow in the Barnes & Noble college business and said the company has already taken steps to significantly reduce the costs and overhead of the digital consumer business. Barnes & Noble is working to have Nook digital content and retailing service in about 10 countries by this summer, he said.
The comments came as the New York-based bookstore chain reported a third-quarter loss of $6.1 million, or 18 cents a share, compared with a year-earlier profit of $52 million, or 71 cents, weighed down by weaknesses in its Nook division.
Barnes & Noble founder and chairman Riggio earlier this week announced intentions to buy all of the company's retail assets, which include its 700 bookstores and website, in a move that would separate the bookstore from its digital Nook arm.
Sales of Nook, its suite of e-readers that face fierce competition from Amazon's (NASDAQ:AMZN) Kindle, declined 25.9%, while same-store sales, a measurement of sales at stores open longer than a year, slumped 7.3%.
Barnes & Noble's total revenue for the three months ended Jan. 26 fell 8.8% to $2.2 billion from $2.44 billion a year ago, missing the Street's view of $2.40 billion.
For fiscal 2013, the bookseller said it continues to expect retail same-store bookstore sales to decline in the low- to mid-single digit range, with Nook Media losses comparable with the year-earlier period.