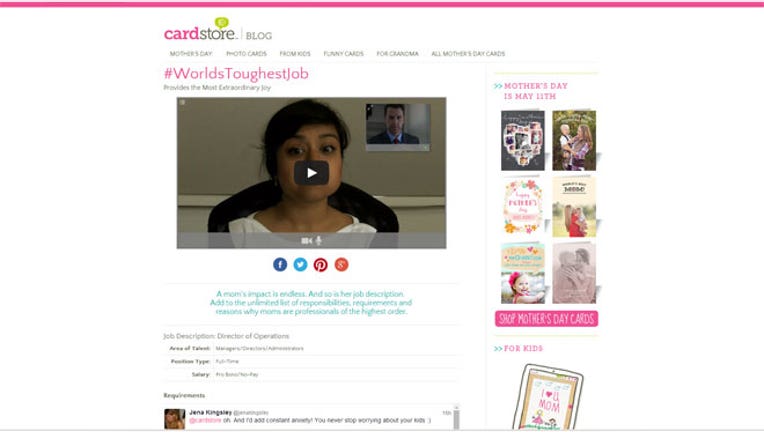 Unlimited work weeks. No vacations. Must have degrees in medicine, finance and culinary arts. And you won't get paid.
Twenty-four people responded to a job listing with those very details, but it wasn't describing the kind of job with an office and water cooler.
The interviews, conducted through an Internet video chat, turned into a Mother's Day advertisement for card company American Greetings, and the video has become wildly popular since appearing online Monday.
By Wednesday afternoon, the ad -- titled "World's Toughest Job" -- amassed more than 7.1 million views on Google's (NASDAQ:GOOG) YouTube.
American Greetings expects to get a bigger response to the ad than they've ever seen for Mother's Day. As part of the campaign, the Cleveland company is asking moms on Twitter (NASDAQ:TWTR) and elsewhere to add to the list of unending job requirements.
"A mom's impact is endless. And so is her job description," the company's website reads.
The ad, created by Boston-based agency Mullen for American Greetings' CardStore.com, quickly created buzz around Mother's Day and American Greetings, according to company spokesperson Patrice Sadd.
"We told Mullen we wanted to come out with something to stand out on Mother's Day," she said. "It really touches at people's hearts. We're hearing from moms who are saying, 'That's me.' "
The people featured in the Mother's Day ad believed they were responding to a job opening from the fictional Rehtom Inc., which was seeking a Director of Operations. Applicants were then filmed as they participated in what they thought was a focus group related to the position, expressing shock at the extensive list of responsibilities.
"What if I told you there's someone that actually currently holds this position right now? Billions of people, actually," the interviewer asked the puzzled job seekers before revealing the true nature of the listing.
Dave Weist, executive creative director at Mullen, said the firm got some unexpected results when filming, calling the ad "fully authentic."
Mullen, which was listed at No. 2 on Ad Age's Agency A-List this year, stuck to its client's own mission of having meaningful one-to-one connections, he added.
"It's effective because it's true," Weist explained. "We wanted to get out of the way on this one. It's one thing to manipulate someone on film. It's another thing to have an epiphany. That's exactly what we were looking for."
Jaclyn Ruelle, Mullen's account director of PR and social influence, said the response has been "through the roof."
"You can't keep up with the rate of social media comments," Ruelle noted.
The American Greetings ad is the latest example of an Internet video gone viral, as YouTube and social media users quickly spread the word. What did catch Mullen by surprise is the number of people who were moved to give mothers, grandmothers and aunts a call.
"We wanted to create the kind of thing that could be shared," Weist said. "You know you've got something in today's pop culture when you hear from your aunt in Florida."