Nike's Shares Retreat Despite 1Q Beat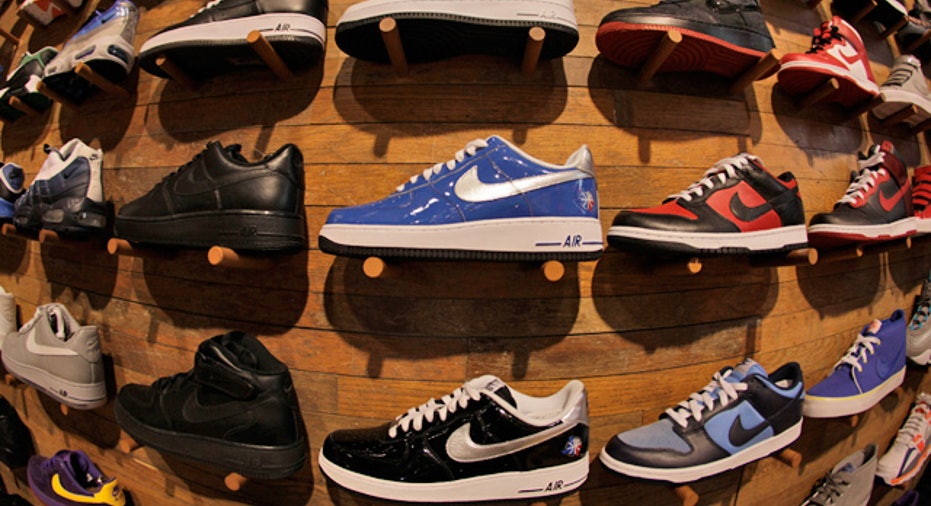 Nike (NYSE:NKE) disclosed a 12% contraction in fiscal first-quarter net income on Thursday despite accelerating sales, but the apparel and footwear maker's results surpassed analysts' expectations.
Despite the earnings and sales beats, shares of Nike dropped almost 4% in after-hours trading due to disappointment over the company's future orders.
Nike said it earned $567 million, or $1.23 a share, last quarter, compared with $645 million, or $1.36 a share, a year earlier. Analysts had been expecting EPS of $1.12.
Revenue rose up 10% to $6.7 billion, topping the Street's view of $6.42 billion.
However, Nike said its global futures orders for footwear and apparel scheduled for delivery through January totaled $8.9 billion, up 6% year-over-year. That marks the smallest increase for this key metric in almost three years and is well off the year-earlier period's 16% leap, according to Dow Jones Newswires.
"We had a strong first quarter and a great start to the fiscal year. Nike, Inc. delivered an amazing array of innovation across some of the biggest moments in sport," CEO Mark Parker said in a statement.
Despite the weak economic recovery, Nike said its North American revenue jumped 23% to $2.71 billion, driven by a 44% surge in equipment sales to $179 million.
On the other hand, revenue in Western Europe slid 5% to $1.17 billion amid the eurozone's sovereign debt crisis. Nike said its Central and Western European revenue gained 2% to $342 million.
In Greater China, where Nike gets about 30% of its sales, revenue rose 8% to $672 million. Emerging market sales also grew 8% to $867 million.
Wall Street expressed disappointment with Nike's numbers, driving the company's shares 3.71% lower to $92.44. The shares had been down about 1% on the year as of Thursday's close.