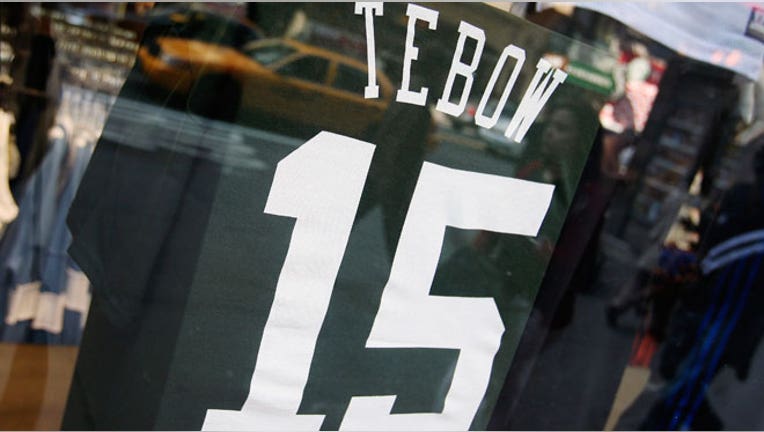 Nike (NYSE:NKE) stretched its lead in a battle with Reebok on Wednesday as a federal judge reportedly extended an injunction prohibiting the Adidas unit from manufacturing and selling Tim Tebow-related New York Jets apparel.
Nike, which replaced Reebok as the official NFL apparel maker on Monday, last week accused Reebok of improperly using the name and presumed number of the new Jets quarterback. Nike, which also has an endorsement deal with Tebow, expressed concern the sales by Reebok will unfairly eat into its ability to capitalize on Tebow-mania.
According to The Wall Street Journal, U.S. District Judge P. Kevin Castel said in a hearing in Manhattan federal court that Nike has shown "a probability of success on the merits" in its lawsuit against Reebok.
If Reebok is allowed to sell Jets apparel with Tebow's name, "Nike loses the opportunity to associate itself" with Tebow among Jets fans and nationally, Castel said, the Journal reported.
News of the decision broke just minutes before U.S. markets closed Wednesday afternoon. Shares of Nike closed down just 0.35% at $109.49, bouncing off session lows of $108.68 and outperforming a 1.02% decline on the S&P 500.
Reebok's exclusive deal with the National Football League Players Association to market franchise with player names and numbers expired at the end of February, while the company's 10-year deal reportedly worth $250 million with the NFL lapsed on March 31.
Tebow, a former Heisman Trophy winner, has shown an enormous ability to draw national attention even among casual fans. His games have been ratings coups for the networks and last year his jersey was the No. 2 seller in the NFL.
"Tebow's high-profile trade to the New York Jets has garnered around-the-clock national news media coverage, and generated an immediate and short-lived intense consumer demand for" Tebow-branded Jets apparel, the lawsuit that was filed last week said.
Nike's five-year deal with the NFL is reportedly worth $1.1 billion.