New Year to Bring New Car Tech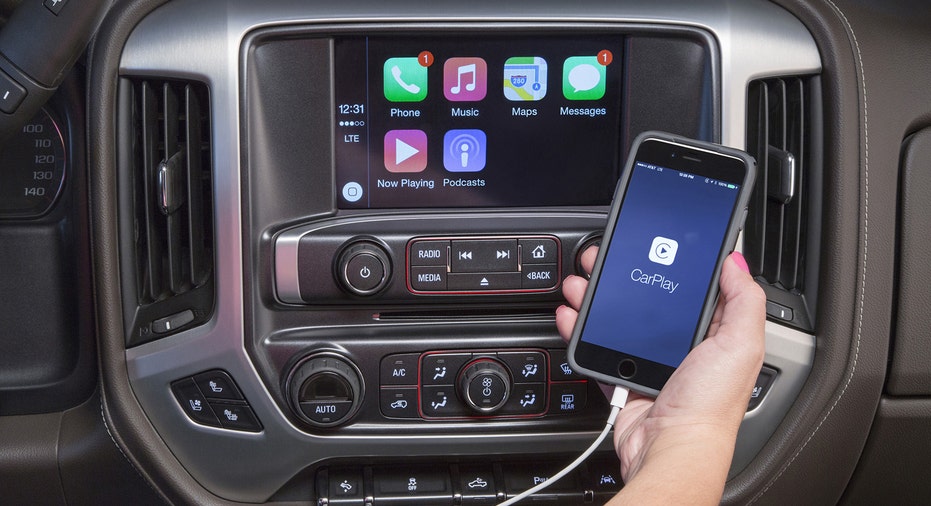 Autonomous vehicles are in the spotlight, but car technology will change in more ways than one in 2016.
Apple and Google Inside the Car
As consumers seek closer integration between their smartphones and vehicles, Apple (NASDAQ:AAPL) and Alphabet's (NASDAQ:GOOGL) Google are taking center stage. The tech giants are increasing their footprint in the automotive world heading into the new year.
Jack Nerad, executive editorial director and executive market analyst at Kelley Blue Book, said advanced infotainment systems are major selling points for automakers.
"I think it's a differentiator for people. For an individual who's on the brink of buying a new car, if one of the vehicles they're looking at has it and one doesn't, I'd be reluctant to buy that car," Nerad said, noting how many consumers are tied to their mobile devices.
"If you don't have your smartphone with you, it's like your soul is gone," he joked. "You left your soul in another pair of pants."
Apple and Google are partnering with major automakers like General Motors (NYSE:GM) to enhance their infotainment systems. GM is rolling out both Apple CarPlay and Android Auto across its four brands, including Chevrolet, which will get the smartphone-like software in at least a dozen 2016 models. CarPlay and Android Auto will exist alongside GM's current systems, such as Chevy MyLink.
Honda (NYSE:HMC) is also jumping on board, while rival Toyota (NYSE:TM) chose to go with a separate system, Scout GPS Link, developed by Telenav (NASDAQ:TNAV). Although it hasn't adopted CarPlay or Android Auto, Ford (NYSE:F) recently sent out a software update for its Sync 3 platform that added Apple's Siri Eyes Free service, which connects to iPhones.
More Options for More Power
Under the hood, automakers continue to explore new ways to increase the efficiency of gasoline-powered engines. In recent years, companies have tried new strategies such as adding turbochargers to four-cylinder engines, combining the fuel savings of a smaller engine with greater horsepower.
"I think there's more to squeeze out of the internal combustion engine," Nerad said.
Mazda is one automaker that has made strides. Its Skyactiv engines employ higher compression ratios, thus improving efficiency. Nerad expects the industry to work on more sophisticated transmissions as well.
Alternative fuel should also be a hot topic in 2016. Ford is redoubling its efforts to sell electric vehicles, saying it will add 13 electrified cars to its portfolio by 2020. Honda will join Hyundai and Toyota when it launches the new hydrogen-powered Clarity sedan next year, starting in California.
Could You Spare a Ride?
The growing popularity of Uber and Lyft, particularly in urban areas, has pushed automakers to explore opportunities in car sharing.
Ford partnered with Getaround to launch a test program called Peer-2-Peer Car Sharing that allows car owners to connect with users online who are looking for a ride. The program was opened to 14,000 Ford customers in six U.S. cities. Ford is testing a similar service in London, too.
"I think we will see more consumer demand for alternative ownership in 2016," said Thilo Koslowski, vice president and automotive practice leader at Gartner
Car-sharing has certainly grabbed Detroit's attention. In a post on LinkedIn (NYSE:LNKD), GM CEO Mary Barra said the nation's top seller of cars and trucks will launch a car-sharing program in 2016.
"Customers in crowded cities may be re-evaluating vehicle ownership, but they still want to go places," Barra wrote. "We're testing shared mobility programs around the world that use smartphone apps — based on our 20 years of connectivity expertise with OnStar — to connect communities of customers with transportation, and we're getting ready to launch our citywide car sharing programs in the U.S. next year.
Tech that Helps You Drive
High-tech driver assists are making their way to more mainstream vehicles. As an example, Nerad noted that new cars are equipped with lane-keeping technology, as opposed to just warning lights when a car begins to drift out of its lane. Active cruise control is another feature that is making its way into more models.
"All automated driving technology is going to be very important next year, and we're going to see more sophisticated systems," Nerad said.
GM is taking another step toward driverless cars with the 2016 Cadillac CT6, which will combine lane-keeping technology and active cruise control. The company's creation, called Super Cruise, will enable the CT6 to virtually drive itself on highways.
According to Koslowski, consumers can expect to see advanced automated features trickle down to mainstream segments.
"A lot of these technologies are being democratized," he said. "Consumers will start to see more self-driving capabilities in the cars they can buy."
Koslowski mentioned automated parking as one feature that is spreading to more cars. The 2016 BMW 7-series will be the first production car that can park itself without anyone in the driver's seat. Owners will be able to use their key fob to help direct the new BMW into a garage or parking spot.
Look, No Hands!
Driver assists are leading the industry closer to building vehicles that are fully autonomous. While cars that can drive themselves are still some years away, automakers are beginning to go beyond the testing phase.
Koslowski believes car makers will bring more self-driving technology directly to consumers in the coming year, many of whom are uncomfortable with the idea of an autonomous vehicle.
A survey conducted by the University of Michigan Transportation Research Institute earlier this year found that 43.8% of drivers do not want any self-driving capabilities. Just 15.6% said they want fully autonomous cars.
"It's not just about testing. It's about exposing consumers to this technology, which is an important next step," Koslowski said. "That will be a big focus for automotive and technology companies in 2016."
Ford has joined the group of automakers approved by California to test self-driving cars on public roads. The other testers include Honda, Mercedes-Benz and Tesla (NASDAQ:TSLA). Meanwhile, Google will reportedly turn its driverless car unit into a separate Alphabet company, a sign that the Silicon Valley icon may be ramping up its research.