New Medical FICO Score Sparks Controversy, Questions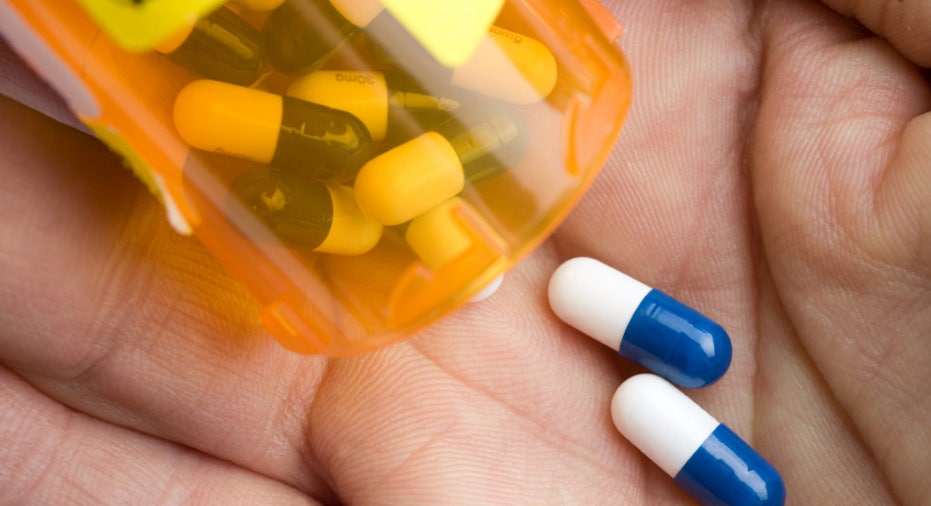 Within the next 12 months, whether you like it or not, about 10 million Americans are expected to be scored -- much like a credit score -- on how likely they are to fill a prescription and take all the pills the doctor ordered, on schedule.
FICO, creator of the widely used credit score that predicts whether you'll borrow responsibly, is now rolling out its new Medication Adherence Score.
FICO based its score on a formula that predicts whether you will take your prescription drugs. FICO says that since correct use of medication is important for patients, medical providers, insurers and pharmaceutical companies, the Medication Adherence Score will help achieve that goal. They predict it will improve therapy effectiveness and reduce health care costs.
The company says those who score low can be targeted for extra reminders and educational efforts, with the goal of making patients more likely to complete their prescribed regimens.
"It's very important to identify those people who may need that additional education and that additional help," says Dave Shellenberger, senior principal consultant in FICO's health care division.
Critics aren't so sure. Since the score uses information on patients' employment, homeownership and living situations, they say that in the current economic environment, the Medication Adherence Score may unfairly target people who have found themselves in challenging financial situations. It could also, they say, open the door for a new way for insurance companies to discriminate against those who score low,  as happened in recent years to consumers buying auto insurance: The cost of those policies are now likely based on an auto insurance credit score.
What's in the score?
FICO launched the Medication Adherence Score on June 23, 2011. To create the scoring algorithm, FICO looked at data from a random sample of several million anonymous patients provided by a large pharmacy benefits manager. FICO observed patients who filled (or refilled) their prescriptions and patients who failed to, with the company then identifying those variables that best predicted medication adherence. For the Medication Adherence Score, those variables include age, gender, family size and asset information -- such as the likelihood of car ownership -- data also used by direct marketing companies. FICO says that with only a patient's name and address, it can pull the remainder of the necessary information from publicly available sources.
The scores range from 1 to 500. "The higher the score, the higher the likelihood a patient will be adherent to a drug regimen," FICO's Shellenberger says. FICO says patients who score 400 or higher are likely to take medication as prescribed, while those who score below 200 are at high risk of not taking medication. According to FICO, patients who earn a low score may receive a medication reminder in the form of an email, letter or phone call from their doctor -- tactics that would be too costly to apply across the board.
FICO says those who wouldn't want to receive notices should contact their health care providers and ask about their opt-out policies. High scorers who appear likely to take all their meds probably won't be contacted. 
FICO: No insurance implications
What won't happen, FICO says, is your insurance taking a hit because of a low score. "No decision is being made as to whether someone is getting access to health care," says Shellenberger. That's because companies can't use the Medication Adherence Score when deciding whether to provide health insurance and how much to charge for it. "The score was not designed, tested or validated to serve as an underwriting tool. And, underwriting is not an allowable use of the score under the terms of our client contracts," Shellenberger says.
FICO declined a request for a copy of the contract. FICO says consumers can find out if they have scores by asking their health care providers.
Age, gender taken into account
Who's likely to score low? Shellenberger notes that older patients are typically better about taking their medication than younger patients -- until those older patients begin to reach their 80s and 90s -- and men typically are a little better about taking medication than women. "One hypothesis is that women tend to be caregivers and take care of others rather than care for themselves to the extent that they should," he says.
It's against the law for FICO to factor some information into its more-familiar credit scoring formula. It's forbidden from considering, for example, your race, religion, national origin or sex. In addition, it voluntarily does not consider your age or salary. But gender and age are two factors in the Medical Adherence Score. FICO says that's because the score only results in communication with a patient and only uses "publicly available third-party data sources, such as the U.S. Census," Shellenberger says. None of your personal credit information -- the data used to determine your FICO credit score, which is regulated by the Fair Credit Reporting Act -- is used in the medical score, he says.
Whatever it includes, your own personal Medication Adherence Score is coming. FICO estimates that by the end of 2011, 2 million to 3 million patients will have been given a FICO Medication Adherence Score, with a total of 10 million patients expected to be scored during the next 12 months. As a patient, you probably won't be informed of your actual score, however.
A very real problem ...
FICO and medical industry experts both say that medication noncompliance warranted the creation of the new scoring system. According to FICO's press release, medical industry estimates show that up to half of the 3.2 billion prescriptions in the United States annually aren't taken as prescribed, with nonadherence "cited as the primary cause for 10 percent of hospital admissions and 23 percent of nursing home admissions each year." It's also costly. According to a company fact sheet, the cost of medication nonadherence to the U.S. health care system totals an estimated $290 billion a year.
Pharmacists agree that nonadherence represents a challenge. "We recognize that adherence to medication has been a problem for 40 or 50 years. And the ability to identify people who would most benefit from interventions would provide pharmacists and others an advantage in their ability to target services to where they are needed the most. No one would argue about that," says Lucinda Maine, chief executive of the American Association of Colleges of Pharmacy (AACP) in Alexandria, Va.
Patients are unreliable medicine-takers for a variety of reasons. "Some people don't understand the condition that they have. Some people might have high blood pressure but they're not experiencing symptoms every day," says Anne Burns, senior vice president of professional affairs with the American Pharmacists Association in Washington, D.C. Such a lack of symptoms could discourage patients from consistently taking their medication, causing their health problems to return.
As a result, "programs like this are starting to appear in the marketplace," Burns says.
... But is the score the answer?
While there's general agreement about the problem, not everyone thinks FICO has the solution. "There are many programs and assessments for patient adherence currently available and whether this algorithm is better than any others has yet to be seen," says Dr. Richard Perry, an assistant professor of pharmacy practice at Long Island University.
Experts stress that medication adherence is a complex issue, with many factors -- some tied to a patient's finances, culture or attitude -- contributing to failures to take medicine.
For example, Dave deBronkart, also known as "e-Patient Dave," a personal health data rights advocate based in Nashua, N.H., says financial problems once kept him from buying a prescribed medication.
When deBronkart left his last full-time job -- but before his COBRA insurance kicked in to provide continued health benefits -- he went to refill his prescription for generic blood pressure medication. "I was very short on cash," deBronkart says. His prescription, which cost just $4 with insurance, nearly tripled in cost to $11. "All of a sudden, I don't have insurance and the price goes up," deBronkart says. Due to that jump in price, "I didn't buy it," he says, instead delaying the purchase until his COBRA took effect.
Those types of situations may be increasingly common as more patients find themselves unemployed in the tough economy. That could mean low Medication Adherence Scores for otherwise responsible patients. "Apparently under this scoring model, you are at higher risk for not taking your medication and thus have a low score if you, among other things, don't have a job, don't own a home or a car and live alone," says Tena Friery, research director with the nonprofit consumer group Privacy Rights Clearinghouse.
A lthough some critics have voiced concerns over the Medication Adherence Score and possible privacy issues, other experts say that privacy isn't the problem. "Health plans already have information on what drugs you're on and which ones you went to the drugstore and picked up or got through mail order. The third step, the piece they don't know, is whether you took the drugs," says Deven McGraw, director of Health Privacy Project at the Center for Democracy & Technology.
"I think it's far less of a privacy concern than an age-old concern about how people can use health data to discriminate against people in the insurance marketplace or employment," McGraw says.
What's next?
Looking ahead, FICO says the Medication Adherence Score -- like any of its scoring models -- can be updated about every 18 to 24 months to make it work better. Just don't expect too many details when the company does. FICO guards all its algorithms closely as proprietary information. "I don't know whether they will ever allow researchers to look behind that green curtain of Oz to know what their analytic model is," says the AACP's Maine.
And FICO also isn't identifying additional scoring formulas it could create to predict other areas of everyday life. If it were to do that, however, Privacy Rights Clearinghouse's Friery guesses that it could be some sort of "lifestyle" score. Since poor lifestyle choices can result in high health care costs, the score could be used to target individuals about health initiatives, such as weight loss or smoking cessation.
"Reports are that people of low income or those who live in certain areas are more likely to be overweight, to smoke, to be inactive. I assume that any future scoring, like the Medication Adherence Score, would not be based on an individual's past behavior but rather certain factors that would put them into the high-risk category," says Friery.
Although the "objective of lowering health care costs is certainly a good thing," Friery says that with such a score, consumers may receive unwanted phone calls or other contact about services that don't apply to them. "I can only hope that users of such scores would use caution in initiating these contacts. As a minimum, consumers should be given the right to opt out, to stop future contact, whether or not the targeted behavior applies to them," she says.
More from CreditCards.com: