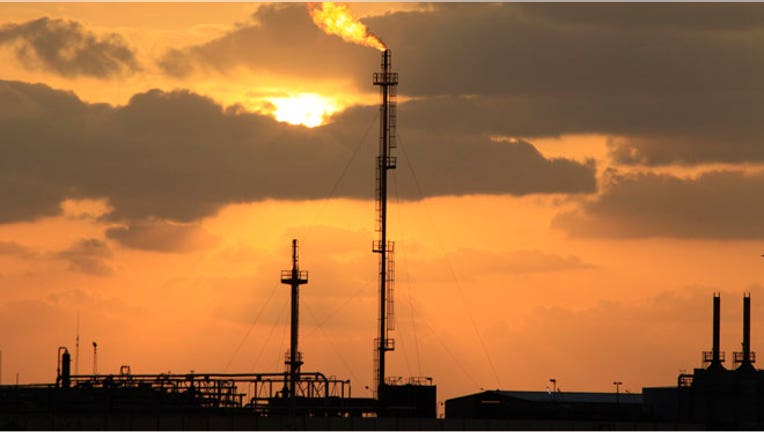 U.S. natural gas companies are succumbing to low prices by cutting output from the record levels that have taken a toll on drillers' bottom lines during this mild winter.
With gas prices at their lowest in 10 years, Chesapeake Energy, the No. 2 U.S. gas producer, announced a production cut of 8 percent, or 0.5 billion cubic feet per day.
The company said it was prepared to double that cut, which comes with a reduction in drilling rigs in fields that produce only natural gas.
Other energy companies also are moving operations away from natural gas production, which has soared to record highs this year thanks to the prolific development of shale deposits through fracking and horizontal drilling.
Oil Services Company Halliburton said it was shifting eight hydraulic fracturing, or fracking, crews to work on liquids-rich basins that produce more attractively priced oil and natural gas liquids such as propane, butane or ethane rather than the "dry gas" areas that produce natural gas alone.
"An exceptionally mild winter to date has pressured U.S. natural gas prices to levels below our prior expectations and below levels that are economically attractive for developing dry gas plays in the U.S., shale or otherwise," Chief Executive Officer Aubrey McClendon said in a statement.
Talisman Energy, Canada's fifth-largest independent oil explorer, said last week that it has moved rigs away from the gas-rich Marcellus shale deposit in favour of liquids plays elsewhere.
U.S. natural gas prices on the NYMEX rose nearly 5 percent to $2.47 per million British thermal units on Monday. Last week, natural gas had fallen to its lowest level since February 2002 last week.
Chesapeake said it would drop the number of rigs drilling at dry gas fields to about 24 by the second quarter from 47 currently, or about one-third the number it averaged last year.
Its production cuts in Louisiana's Haynesville and Texas' Barnett shale should mean lower overall U.S. natural gas production in 2012 than in 2011, Chesapeake said.
Those two fields have together accounted for virtually all of the 14 bcf increase in U.S. production over the past five years, the company said. (Reporting By Edward McAllister; Editing by David Gregorio)