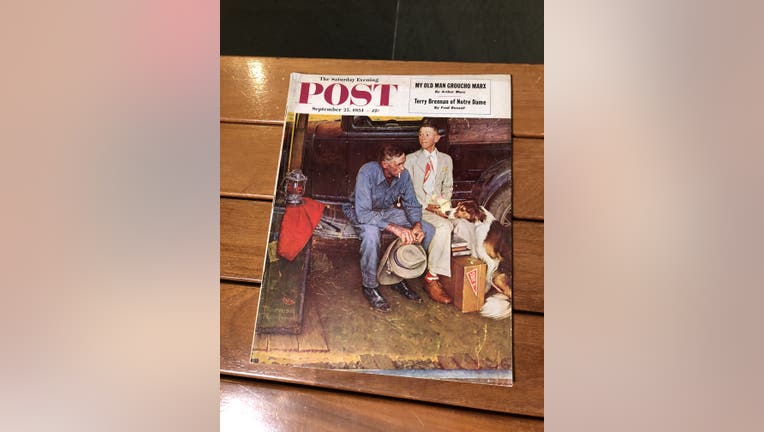 A phony Norman Rockwell painting that was at the center of an art mystery is now on its own museum tour.
The fake – a copy of Rockwell's "Breaking Home Ties" – had hung for years in the Norman Rockwell Museum in Stockbridge, Massachusetts.
The bizarre story is documented in the latest episode of the FOX Business Network series "Strange Inheritance" with Jamie Colby. It airs Monday, April 2 at 9 p.m. ET.
The main character in the puzzling tale is Donald Trachte, a cartoonist who for decades drew a comic strip titled "Henry." Trachte was a neighbor, friend and sometimes model for Rockwell.
Trachte purchased "Breaking Home Ties" – a Rockwell oil on canvas that poignantly depicted a rancher sending his boy off to college – from a Vermont art gallery in 1962. Painted in 1954, it became one of Rockwell's most popular Saturday Evening Post covers.
Trachte paid $900 for the work. Two years later, he turned down a $35,000 offer for it. Rockwell told him he was crazy.
Hardly. The value of Rockwell's paintings kept climbing – into the millions by 2001, when Trachte, elderly and ailing, moved in with his children. Looking for a safe place for the painting, they told their dad they wanted to loan it to the Rockwell Museum.
Soon after it went on public display they heard whispers that the painting had subtle differences from the Saturday Evening Post cover, and might not be authentic.
"There were some doubts. One art expert walked in and said it was a fake," Trachte's son Don Jr. tells Colby in the program. "I was concerned. What is going on?"
More from 'Strange Inheritance'
The museum assumed that at some point in the previous 45 years the painting was subjected to a sub-par touch-up job. Whatever the case, the rumors didn't seem to hurt its value. After Trachte died in 2005, his children decided to auction it off. Sotheby's told them they could expect $3 million to $5 million.
But before the Trachte heirs tested the market, they tested the painting itself. Don Jr. understood they were risking a fortune by subjecting their inheritance to a scientific analysis.
"We were adamant. We had to understand what is wrong with this painting," he tells Colby. "My hope was we'd find out it was the original painting, but someone had painted over parts it."
Instead, the test revealed the painting was indeed a fake. The results shook the art world.
Don Jr. and his brother David searched their father's studio looking for answers. Eventually they discovered a fake wall, and carefully took it apart. Behind it was the original "Breaking Home Ties."
In 2006, it sold for a $15.4 million – then a record for a Rockwell.
As for the fake, it became clear that Don Sr. painted it himself then hid the original. Why? That's a mystery his son doesn't ever expect to solve.
"People come up to me with all the what-ifs," Don Jr. says. "What if the house burned down? What if it got bulldozed? What if we sold it with the Rockwell still in there? I don't have answers."
And why did Don Trachte Sr. let his kids unwittingly hang his copy in the museum? Did the syndicated cartoonist just wish he were Norman Rockwell?"I don't think he wanted to be Norman Rockwell," his son tells Colby. "I think he just wanted to be, perhaps, as great as Norman Rockwell in his own right."
If that is so, Don Jr. is getting his father a bit of such recognition by exhibiting in museums around the country the Rockwell fake that fooled the Rockwell Museum itself.