Motivate Your Team Like a Final Four Coach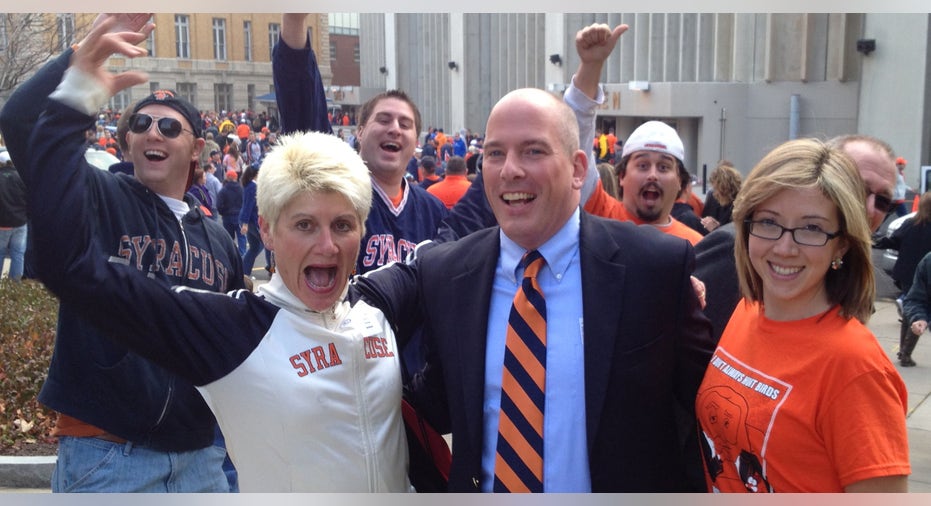 As a fiercly proud Syracuse University alumna, I am on Cloud 9 these days. Our men's basketball team has applied the full Orange Crush mode to earn a slot in the NCAA Final Four Tournament this weekend in Atlanta.
Toppling the competition is the dream of sports teams — and companies — alike. Success hinges on many factors: individual talent, equipment and work practices, to name a few.
Paramount, however, is teamwork — the harmonious blending of personalities, experience and expertise into a collective, indominable force locked in focus on a common, shared goal.
In college basketball, head coaches are the leaders who own that job. In the workplace, it's the responsibility of managers.
What is the recipe for coaching success that has catapulted my alma mater, along with Michigan, Louisville and Witchita State, into trophy contention? Here are four tips from the March Madness locker rooms that can net victories in your workplace:
Stifle adversity.
Final Four dreams could have been quickly extinguished for Louisville players in last Sunday's game against Duke. The devastating, open-fracture leg injury suffered by Sophomore standout Kevin Ware during the game's first half was emotionally paralyzing for his team members (and all who stood witness, regardless of team allegiance).  Play was halted for nearly 10 minutes. Tears and anguish overcame Ware's teammates, coaches and fans.  Stunned silence prevailed as Ware was lifted onto a stretcher and rushed to a nearby Indianapolis hospital for surgery.
Louisville Coach Rick Pitino, himself overcome with grief, had to rally his team as play resumed. He did so with a chant that became the motivating mantra for his players during every timeout and huddle: "Bring Kevin Home." Ware played high school basketball in the Atlanta area—and Atlanta is home to this weekend's Final Four Tournament. Explained Pitino during a post-game press conference, "We wanted to win this for him. We wanted to get back to Atlanta."  The rally cry stimulated a romp for Pitino's team that cemented a 22-point margin of victory.  Find your rallying cry to uplift your team to one extra degree of greatness when adversity prevails.
Make some memories fleeting.
Less than a month ago, my alma mater, Syracuse, imploded in its final Big East game of the regular season. The location was DC's Verizon Center, home court of rival and game victor (by 22 points) Georgetown. Flash forward to last weekend and the Orange found itself on the same hardwood.
This time, Syracuse emerged victorious against Marquette and advanced to the Final Four. Forget déjà vu all over again! Physical environment can be daunting and easily taunt team performance. But Syracuse head coach Jim Boeheim kept his team looking forward.  "These guys have come a long ways from three weeks ago," Boeheim explained in post game interviews. "I'm just happy for the players just to get back to believing in themselves."
After the Georgetown rout, Boeheim set new milestones for the team to focus on, starting with the approaching Big East Tournament last month.  Syracuse earned its way into the finals (alas, only to lose by a large margin to Louisville). In short order, March Madness selections were announced and the Orange netted the fourth-seed slot in the East Regionals. Eyes were now cast on a new prize in Atlanta! Reinforcing the focus has been the team's adherence to a core work practice: the zone defense. The zone and Syracuse have been synonymous throughout Boeheim's 37 seasons as head coach. It is the glue that binds team members. "Your Identity," sums up former Orangeman and current Syracuse assistant coach Adrian Autry.
Get everyone all in. 
Super stars need not apply at Wichita State. It was a collective and determined effort that landed the Shockers' first return to the Final Four since 1965. An array of Wichita State players — many with limited highlights prior to the weekend —contributed in big ways, both offensively and defensively, to upset heavily favored Ohio State.
As ESPN analyst Jay Bilas described, "Coach (Gregg Marshall) can walk into the locker room and look at every player and say we could have not done this without you. That's what make this so special." Marshall achieved what my firm calls a "Spectator-Free Workplace," where every team member is engaged, whether they are on the court or on the bench. They are all in the game.
Openly discuss how to get better.
That's exactly what Michigan head coach John Beilein has done in his communication with players.  As his team has advanced through each round of the tournament, Beilein injects improvement opportunities into post-game discussions.  Beilein calls it the "get-better" section of team discussions.
Continuous learning paves the way to greatness. Indeed victories deserve celebration, but don't get locked on the fanfare for too long. Winners can fall fast and furiously. Last year's NCAA men's basketball champion Kentucky never qualified for this year's tournament.
Madness?  Hardly. What's the big trophy your team is chasing? Get your game face on and try out some of the plays that the nation's best college coaches are using to motivate their teams to adapt, adjust and advance to the winner's circle.
Linda Dulye bleeds Orange as a graduate of Syracuse University (the third in her family to do so), an advisor to Syracuse University Athletics  and founder of the Dulye Leadership Experience at Syracuse University. A former communications leader for GE and Allied Signal, Linda established Dulye & Co. in 1998 with a practical, process-driven approach for improving communications and collaboration through an engaged workforce— a formidable competitive advantage, that she calls a Spectator-Free Workplace™.