Mossberg: Apple May Have 'Moved Goal Posts Again' With iPad 2; Jobs Had 'Good Energy'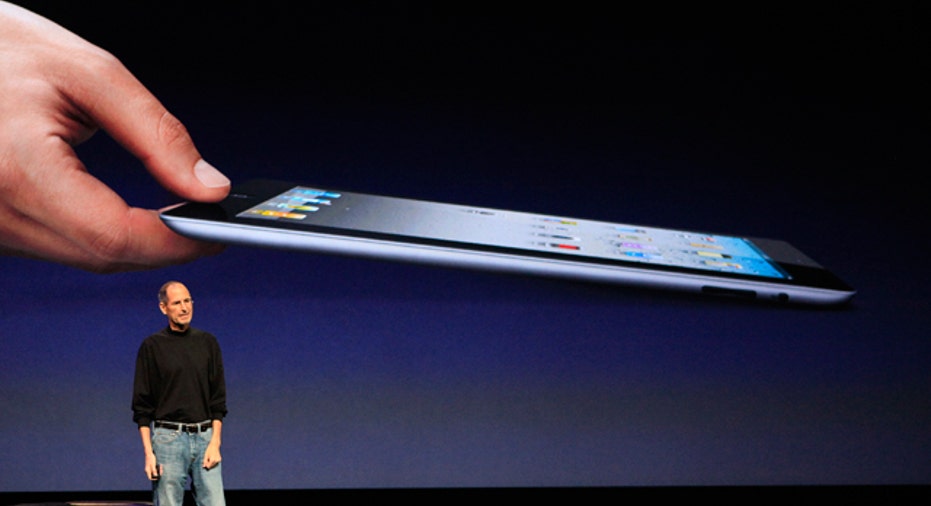 Apple may have done it again.
"They've moved the goal posts again," Wall Street Journal Personal Technology Columnist Walt Mossberg told FOX Business--that is, if all Apple (NASDAQ:AAPL) says about its soon-to-be-released iPad 2 holds up when it's released March 11.
As the tablet wars heat up, with several Google (NASDAQ:GOOG) Android tablets on the way, as well as Hewlett-Packard's (NYSE:HPQ) webOS-based TouchPad coming this summer, Apple has, surprisingly, come out as the "low-priced guys," Mossberg said.
Check out more tech reviews by Walt Mossberg on FOX Business
"The [tablet devices] that have come out so far have not been able to meet [Apple's] price points at the same screen size, which is unusual for Apple because they're usually high-priced," he said.
This week, Apple unveiled its iPad 2 tablet, which maintains a starting price of $499. Apple said compared to the original, the new tablet has double the processing power, nine-times faster graphics, front- and rear-facing cameras and cuts its thickness by a third, among other improvements.
Mossberg compared the new tablet to the first Android Honeycomb-powered tablet, the Motorola Xoom, which he recently reviewed on FOX Business. The Xoom, which he called impressive on the software side, but expensive, starts at $600 with a two-year mobile data contract ($800 without).
He pointed out that the Xoom, in his tests, had four hours less battery life than the original iPad's ten hours -- and costs more.
Though he hasn't had the opportunity to test the iPad 2's battery life yet, he said, if all the announced new features and the still-claimed ten-hour battery life are "true, and it's the same price, they've moved the goal posts again."
Mossberg also commented on Apple CEO Steve Jobs, saying "he had very good energy," of how he looked during his surprise appearance at the company's iPad 2 media event Wednesday. Jobs is currently on sick leave, which has led to more rumors and media speculation about his health.
"The big deal was that Steve Jobs did it -- and he really did it ... he didn't come on for just five minutes and kind of retire," Mossberg said.  "He's very thin, but he's been very thin for about a year and a half.  He had very good energy.  And so I thought that was a good thing."