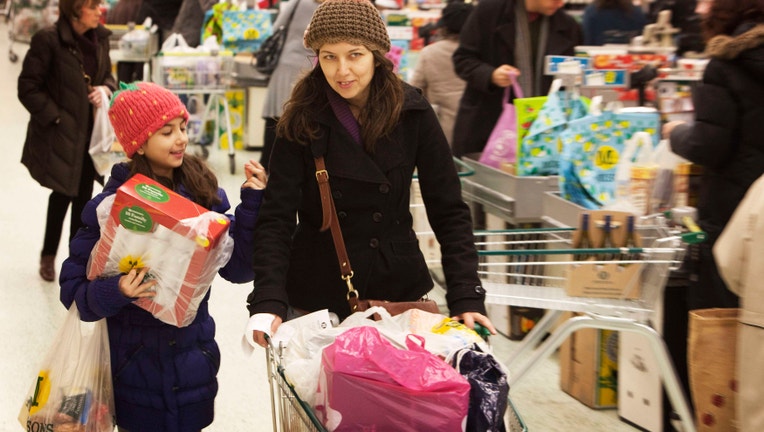 Even before you've had time to pass out candy corn to tiny ghouls and goblins knocking at your door, retailers are asking you to start thinking about the holiday season. Not just what toys and gifts you'll buy, but how you'll pay for them.
This holiday season, many big-name retailers including Wal-Mart (NYSE:WMT), Toys R Us, and Kmart, are rolling out revamped layaway plans in an effort to help consumers more easily pay for the gifts they'll put under the tree. But these new plans differ from layaway plans of the past – this time, retailers are offering-up their stock room space free of extra charge. Meaning, consumers won't have to pay an initial fee to open-up a layaway plan – instead, the only payments they'll make are ones toward the price of the goods they want to take home.
Jai Holtz, Vice President of Financial Services for Sears Holdings (NASDAQ:SHLD), said his stores, which include both Sears and Kmart, have made two major changes to their layaway policies this holiday season.  Kmart will offer "no-fee" layaway plans through November 17, and Sears, through early December. In addition, on November 7, the stores will begin offering ship-to-home service for online layaway. That means, instead of coming into the store, finding a product you love, and putting it in layaway, Sears and Kmart will offer consumers the opportunity to initiate a layaway contract online, pay online, and have the products shipped once the contract is paid in full. Holtz said the reason for the added benefits is to make holiday shopping easier in a less-than-stellar economy. "The economy continues to be the No. 1 worry on consumers' minds," he said. "And as we go through the holiday season, we looked at features and values we could add that consumers could benefit from. Layaway, at this time, is a huge benefit because it allows them to buy merchandise and pay it off over time." But not everyone sees an advantage to the popular program. Louis Hyman, a professor at Cornell University's School of Industrial and Labor Relations, is perhaps one of layaway's biggest critics, arguing there's only one instance consumers should use layaway. He advises families to think about what's best for their bottom lines before heading out to the stores to get a head-start on holiday shopping. "It's better economically for a family to put money in a coffee can, or go to a bank and open a savings account for gifts," he said. "The only reason layaway makes sense is if you think a store will run out of things to sell you for Christmas. But for most people, (stores) won't run out of things to sell." Hyman explains that's because, in terms of money and math, it's more costly for consumers to take advantage of layaway policies most retailers offer. That's because of the fees to open a policy, the money that a consumer must put forward as a down payment, and the potential risk to initiate a cancelation fee if a consumer decides he or she doesn't want the product anymore, or if the layaway policy can't be paid off in time. "While credit cards might charge you a fee, at least you get the stuff today. With layaway, you are charged a fee but you have to wait to get the stuff until you pay it off. You are always better off saving that money under the mattress and waiting than using layaway," he said. Hyman tells consumers to think of it in terms of a credit card, since that's the best alternative, pointing to this scenario. If a shopper wants to buy $100 worth of Christmas gifts, but can't afford to pay in-full today, she puts it on layaway with a store. To do that, in many stores, she'll pay a 20% down payment, which is higher than in previous years, and in some stores, pay a $5 service fee to begin the contract. Hyman said that fee replaces an interest rate that would be enacted on the plan, and the store uses the gifts as collateral until the contract is paid off. He said when the interest to generate the fee is calculated, it ends up with a 99% APR – a level far higher than if the consumer would have used a credit card to make the purchase.   While the fees will vary from store to store, Hyman said the example still holds true because he believes in every buying situation there's a better alternative to layaway. He added, in the long run, layaway policies give an advantage to the stores, not the consumers. "You're supposed to go every two weeks to pay (off your plan). The goal is to get you to buy more things. For the business, it makes a lot of sense because they lock up your dollars ahead of time and you'll be penalized if you don't finish the contract. And you'll also be coming back into the store (during those weeks to pay). So for them, it works," he said. Still, Holtz argues layaway is simply a good budgeting tool for cash-strapped families during the holidays, or people looking to make an extra purchase, but who need extra time to pay for it. "Unlike credit cards, there's no interest charges (for layaway)," he said. "So, if you want to pay over eight to 12 weeks, you have no interest, especially since Sears and Kmart are offering layaway for free. For the most part, there's no penalty if you choose not to complete the contract. With layaway, if something happens and you need to cancel the contract, you have the ability to do that." Layaway continues to be a significant part of business for Sears and Kmart , as the store sees the biggest use during October and November when holiday shopping peaks. In addition, both stores have already seen a boost in the number of customers taking advantage of the new layaway plans. Holtz said consumers are responding as predicted, and said with the value the stores have given customers, the demand for similar programs has increased "dramatically" year-over-year.