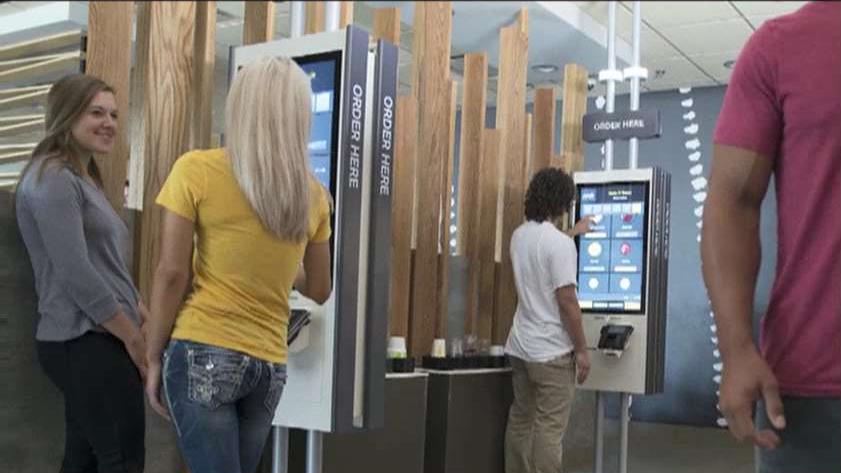 A high-tech, futuristic McDonald's has opened in St. Joseph, Missouri. Franchise owner Chris Habiger described the technology integrated throughout the restaurant and its impact on jobs.
"When you walk into the restaurant you have interactive kiosks … you can customize the burger of your dreams. Then you go over to our refill stations and you can customize your Coca-Cola with flavor shots. In our party room for kids, you can rediscover your creativity on many light board tables and interactive games. So we've really integrated technology throughout the entire experience," Habiger told the FOX Business Network's Maria Bartiromo.
Habiger said the strategy was based on changing consumer tastes.
"I think it's important that we blend the lines between quick service and fast casual. The consumer that we're after, and I think consumers in general, are seeking a higher quality food in a more inviting atmosphere in their dining experience," he said.
More from FOXBusiness.com…
But, he said, despite potentially facing a minimum wage hike, for now the tech would not replace staff. In fact, the franchise is currently growing its headcount.
"I don't envision a time, anytime soon, when we'll replace our wonderful staff with robots."
"I've never met a robot that can do what our amazing staff can do at our restaurant. So the kiosks, it's kind of a misnomer, people think of the kiosks as job killers but it's really just the opposite. It's really more for personalization and customization for our customers. We're hiring at our McDonald's, in fact we hired over 100 people for this particular restaurant and we're continuing to hire so there are fantastic opportunities," he said.