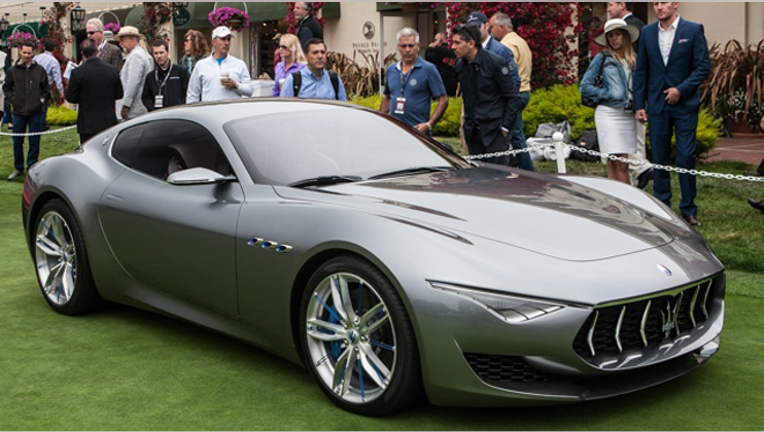 Maserati and Alfa Romeo are quickly expanding their dealer networks in the U.S., as the Fiat-owned brands race to meet ambitious sales targets.
The automaker, which expects to complete its merger with Chrysler Group by year's end, is looking for the upscale Italian brands to play a critical role in boosting global sales. In its 100th year, Maserati is reinventing itself as a competitor to high-end brands like BMW, Mercedes-Benz and Audi.
Maserati hopes an Italian flair for design and performance—and its past as an exotic niche brand—can steer car shoppers away from its German rivals.
"The key to the brand is we're Italian," said Peter Grady, president and CEO of Maserati North America and Chrysler Group's vice president of dealer network development. "When you start the engine and hear that exhaust note, you know it's a Maserati."
Maserati's worldwide sales are expected to reach 75,000 vehicles in five years, up from 15,400 in 2013. The luxury brand says it will continue to widen its lineup after introducing a fourth model, the Ghibli mid-size sedan, about a year ago. Maserati is developing a new sport-utility vehicle, the Levante, as well as coupe and convertible versions of the upcoming Alfieri.
A concept version of the sporty Alfieri coupe made its North American debut last week at Monterey Car Week in California. The Alfieri will compete in the high-performance coupe segment, according to Maserati.
The Ghibli has been pitted against the Mercedes CLS-class, BMW 6-series and Audi A7. It's already gained traction in North America, where Maserati booked record July sales of 1,172 total vehicles compared to just 282 units in the year-ago month.
Ivan Drury, an analyst at Edmunds.com, said the car shopping website saw an uptick in the number of users searching for Maserati after a 90-second commercial featuring the Ghibli aired during last year's Super Bowl.
The Ghibli has made Maserati more accessible, especially for younger buyers, according to Grady. At a starting price of $66,900, the Ghibli is Maserati's lone offering below $100,000.
"The Ghibli is crucial to the brand over the next few years," Grady said, noting how the car brings more drivers into the Maserati family at a time when more models are on the horizon.
Grady also said Maserati has a "unique selling proposition" in the style and performance of its vehicles. "I don't see that in any other brand, unless you step up to a Ferrari." Ferrari is also under the ownership of Fiat.
Maserati knows it will need a bigger presence in the U.S. to meet its long-term sales goals. Five new dealerships were added last month, bringing Maserati's total to 97. It had just 65 dealers as of December. The brand wants to have a dealer base of 120 locations by the end of 2014.
"It's been our stated objective that we have to increase our footprint," Grady commented.
For Alfa Romeo, Fiat is allocating $7 billion to invest in the brand's re-launch. The maker of sporty automobiles will make its return to America late in the third quarter, when the two-seater 4C arrives in showrooms.
Alfa Romeo, which last sold vehicles in the U.S. nearly 20 years ago, has 85 dealers signed up. Most come from Fiat's existing dealer network. Grady said Alfa Romeo will see a judicious expansion over the next 18 months, as the company plans to end up with roughly 300 U.S. dealers.
In addition to the 4C, Alfa Romeo is eyeing the release of a mid-size car late next year and seven new or redesigned cars between 2016 and 2018. Fiat has a five-year target for annual Alfa Romeo sales of 150,000 vehicles in North America and 400,000 globally.
Drury said the 4C provides a solid foundation for Alfa Romeo's success.
"They're basically resurrecting a dormant brand and coming back with a vehicle that is passionate," he remarked. "If you can start with something that consumers can aspire to, it definitely lends itself to a trickle-down effect."
The 4C Launch Edition will have a starting price of $69,695, including the destination charge. A standard 4C, which is due out later, will cost at least $55,195.
A strong dealer presence for Maserati and Alfa Romeo can be the deciding factor in a car purchase. Working in their favor is the existing dealer network for Chrysler and Fiat, which the Italian brands can leverage to find the best-performing areas.
Drury highlighted Tesla Motors (NASDAQ:TSLA) as a brand that developed a "heavy ground game" to support sales and provide confidence in the reliability of its vehicles.
"Once people establish a relationship with a dealer, it's good for both the dealer and the customer," he added.