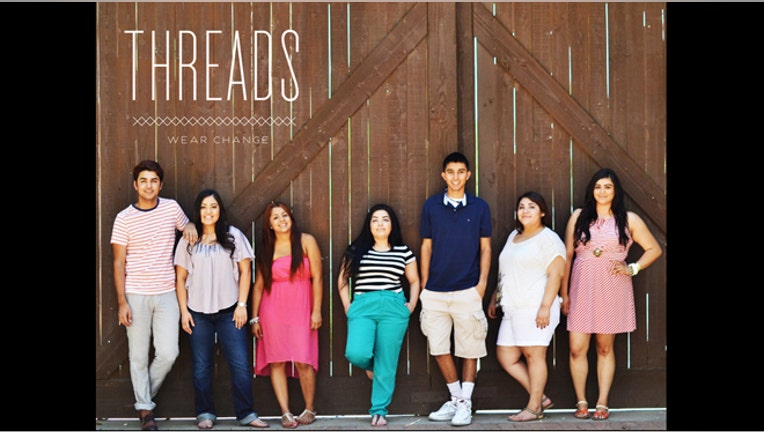 For 18-year-old Francesca Salazar, making bracelets is more than a passion, hobby or part-time job -- it is an opportunity for a better life.
Salazar will be a freshman at Arizona State University in the fall where she will study criminal justice with plans to one day become a lawyer. She is a 2013 recipient of the Shine Project Scholarship, which covers her first-year tuition and is making it possible for her to become the first person in her family to go to college. And for spending money, she'll be creating jewelry for Threads by The Shine Project -- a startup jewelry company that employs low-income, inner-city youth and teaches them business skills while helping them afford college life.
Arizona native Ashley LeMieux is the founder of the jewelry startup, which she launched from her home in Phoenix in July 2012 as an offshoot to the Shine Project Scholarship fund, which she also founded and manages. She says she came up with the idea for the side company when she realized the scholarship money wouldn't be enough for students to cover living expenses.
LeMieux says she believes happiness, success and helping others are directly correlated. And Salazar echoes that sentiment.
"I love the purpose behind [Threads] because you're [helping others benefit] while working and it's amazing knowing that," Salazar says.
LeMieux raised enough money to give out eight scholarships last year ranging from $500 to $2,500. A private donor has pledged to give funding for the scholarship recipients throughout the remaining three years of college.
Threads' 10 student employees are paid an average $16 hourly wage, but have the opportunity to make more. If they produce enough bracelets to exceed the hourly pay, they are then paid extra money per bracelet. LeMieux says this pay rate policy keeps the teens focused and helps account for all the bracelets made.
"It helps us reward them and gives them an opportunity not to hit a payment ceiling," says LeMieux.
Starting Up and Staying Afloat
LeMieux and her husband bootstrapped the entire venture, and she says their limited budget has kept them from growing too quickly. She declined to comment on whether the company has received investment offers.
Susan Schreter, author of "Start On Purpose: Everything You Need to Know and Do to Startup with Strength," agrees that sometimes it is better for a startup to move less aggressively as it picks up speed, but says entrepreneurs shouldn't shy away from investment offers.
"If you don't have capital, you don't get to live out your dream," Schreter says. Investors are focused on the bottom line and are always on the lookout for the next best thing. Investors only step in when the business is "out of control" and "at risk of closing."
Schreter adds that a business is only fully sustainable when it is profitable (when revenues exceed expenses) and the founder has a salary.
Instilling entrepreneurial skills in these students, she says, is a great way to boost their confidence.
"When you teach anyone of any age how to communicate well with prospective customers, it will serve them well in their lifetime in any endeavor," says Schreter.
Currently, Threads products are primarily sold online via the company's ecommerce site, but boutiques in and around Phoenix have also picked up the bracelets. The goal is to have the bracelets sold in stores nationally, says LeMieux.
Georganne Bryant, store owner of Phoenix, AZ-based Frances Vintage, began selling Threads bracelets a little over a year ago, starting with a small order that "flew out of the store." Threads bracelets are one of the shop's top sellers, Bryant says, adding that with a retail price point of $15 to $25 they are very affordable.
"Our customers love the give-back products such as Toms footwear and Falling Whistles, so Threads was a great fit," Bryant says. "We loved that we were helping local kids work and go to college."
In May of this year during its anniversary weekend, the boutique gave 10% of their sales to Threads and raised about $800 to contribute to the Shine Project Scholarship fund.
"What Ashley is doing and her passion, it is infectious and she is truly making a difference in kids' lives," Bryant says.