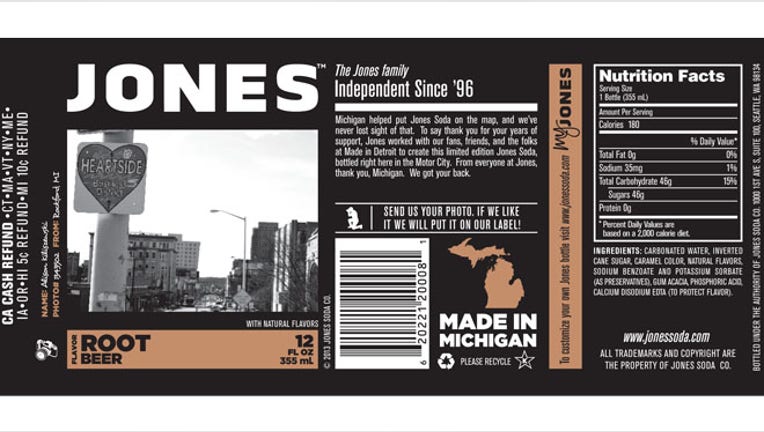 One of Alison Kiliszewki's favorite memories from growing up in Sand Lake, Mich., is walking with her dad to the family-run gas station two miles from home. That's where he would treat her to a bottle of "fizzy, flavorful" Jones Soda.
"He would let me get any pop I wanted, and I would always grab a bottle of Jones Soda because I loved looking at the different pictures," says Kiliszewski, a college sophomore studying education and speech pathology.
Originally founded in Canada in 1987 under a different name, Jones Soda Co. today  is known for its many unique craft flavors and consumer-designed packaging, which features photos sent in by fans on its bottles. The Seattle, Wash.-based company this month launched a "Made in Michigan" collection of Michigan-themed drinks bottled and sold exclusively in the Great Lakes State, to show appreciation for the people "who helped put the company on the map early on."
"From the outset of the launch of our [Jones Soda] brand in 1996 through today, Michigan has been one of our strongest markets," says Jennifer Cue, Jones Soda CEO. "Our Michigan fans and distributors have always been our biggest supporters."
Kiliszewski is one of the fans whose photo will appear on a bottle in the "Made in Michigan" line. It's an image of a "Heartside" sign on Fulton Street looking down into the heart of downtown Grand Rapids.
The soda company partnered with Intrastate Distributors Inc. to have bottles packaged in Detroit, which filed the largest municipal bankruptcy in U.S. history on July 18. The limited edition collection will showcase 40-or-so images of iconic Michigan scenes submitted by customers from the state. The seasonal campaign gave some full-time work to 120 Intrastate Distributors, according to Cue. She says the company's technical workers in Detroit were also able to participate in the job by qualifying the plant for the recent production and hinted at other potential future runs of Jones Soda in the city.
Evolution of an American Product
Jones Soda, not unlike Detroit, has seen its share of financial ups and downs. The company went through a rough patch in 2008, "losing a quite a bit of money" according to Cue, who was hired back as CEO in 2012, after a stint in Europe, to "put together a turn-around plan."
Cue believes the company's fiscal issues went deeper than the recession.
"Focusing on core Jones markets like Michigan is part of our strategy to re-build the brand," she says.
The Seattle-based operation opened its doors in 1996 as an offshoot to Peter van Stolk's Canadian-based distribution business. Jones Soda launched with six flavors, crafting a young, colorful, lively identity early on. Since then the company has branched out into apparel and candy, and in 2000, the company started selling its own energy drink called WhoopAss.
The company prides itself on its consumer-interactive approach and its minimal advertising. The Jones Soda Facebook page -- which currently has more than 1 million fans -- is used by the company to communicate with consumers about new products, such as "Made in Michigan."
"It's these kinds of [initiatives] that are getting us lots of press and aren't costing us a lot of money," Cue says. "You get the buzz and reaction of people saying 'Oh there's Jones Soda at it again!'"
The company has grappled with consumer trends that have impacted their outlook, such as concerns about overly-sugary drinks and obesity, but has faced the issues head on.
"We believe our soda is a treat, we don't expect kids to drink it daily," says Cue, whose favorite flavor switches from the classic Root Beer and the zero-calorie Black Cherry Zilch. "Plus we use pure cane sugar, which we feel is a huge differentiating factor."
Today Jones Soda Co. (TICKER:JSDA) is a publicly traded company with a market cap of $28.62 million, and is currently breaking even, says Cue.
The company's motto is "Run with the little guy… create some change."
And for Kiliszewki and some fellow Michigan natives, the "Made in Michigan" campaign means just that.
"It means a lot more to me … with the bottles being made in Detroit it's giving jobs to people who deserve them and will help a city that needs to get back on its feet."