Long Lines at Northeast Pumps Likely to Dwindle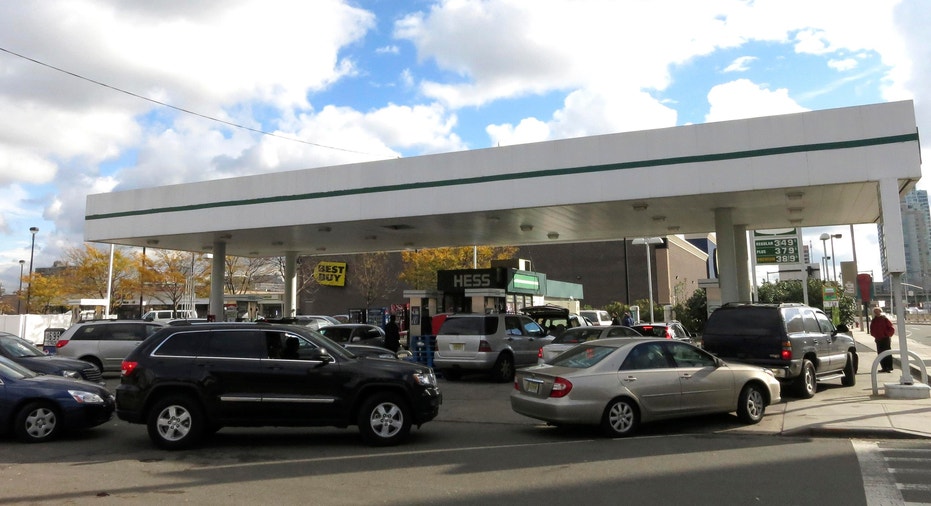 It's been more than two days since Hurricane Sandy made landfall on the Eastern Seaboard, but many in the region are still reeling from her wrath. And as millions of Americans in New York and New Jersey found out Wednesday, even something as simple as getting to work is harder thanks to widespread gas station closures and long lines to fuel up.
More than half of all gas stations in New York and New Jersey were closed Wednesday morning due to widespread power outages which hamper the ability to pump gas, and a dwindling fuel supply. Hundreds of commuters waited, often for hours, in line just for the chance to pull up to a pump. Sal Risalvato, head of the New Jersey Gasoline, Convenience, Automotive Association told Reuters that at 80% of stations in New Jersey, customers were unable to fill their tanks, while stations on Long Island and Staten Island reported shortages and long lines formed in Queens. "It's going to be an ugly few days until we can see both power and supplies restored," he said.
John Kingston, global editorial director of news for Platts Energy, said there likely won't be any long-term affects, which is good news for those looking to fill up their gas tanks in the coming days. "It's a matter of days, not weeks," he said. "We have a couple of short-term problems: The first is that stations don't have power, and the second is that terminals in the New York area and in New Jersey and Staten Island are without power and many are seriously flooded, which means a slowdown on deliveries."
Kensington said even if stations in the area were to have power restored tomorrow, supply is the number one concern – because without a supply, the ability to power the pumps doesn't matter. "The only solution will be if companies take a hit on the economics and transfer oil and gas in by truck into their stations directly from operating terminals (across the country). And there's a history of that – in 2005 when the Southeast colonial pipeline was knocked out from Katrina," Kensington said. On the supply side, refineries started returning operations to normal on Wednesday, as most terminals were reopening.  Of the region's six oil refineries, four were back to full production or increasing run rates Wednesday. Still, the Bayway plant in New Jersey, the second-largest, sat idle due to flood damage. "The big discussion here is the loss of supply from refineries versus the demand destruction," he said. "The Philadelphia refineries are fine, that's the good news, so (stations and consumers) can get the product. Also, the ports do not appear to have been damaged. But how you get the product out to the stations,   that's the struggle." Perhaps one of the biggest questions on many consumers' minds is price. Because of the loss of supply from two big refineries due to flooding, will commuters feel a bigger strain on their pocketbooks as they fill their tanks in the coming days? Kensington said the impact on price will be minimal, if at all. "The only supply getting knocked out here are the two New York refineries," he said. "The Philadelphia ones are going to buy and process crude and run. There's no point in the price going up if you can't get the product. In this case, the product exists. The price won't go up because demand is going down since people can't drive." He said the problem now is working out the logistics of getting product to stations in the northeast, which will likely be solved in the coming days. "It really comes down to what these midstream companies are going to do in terms of taking a financial hit to move from other areas (of the country) to the New York area," he said.