Long Island Summer Outlook: 'No Clue' vs. 'No Vacancies'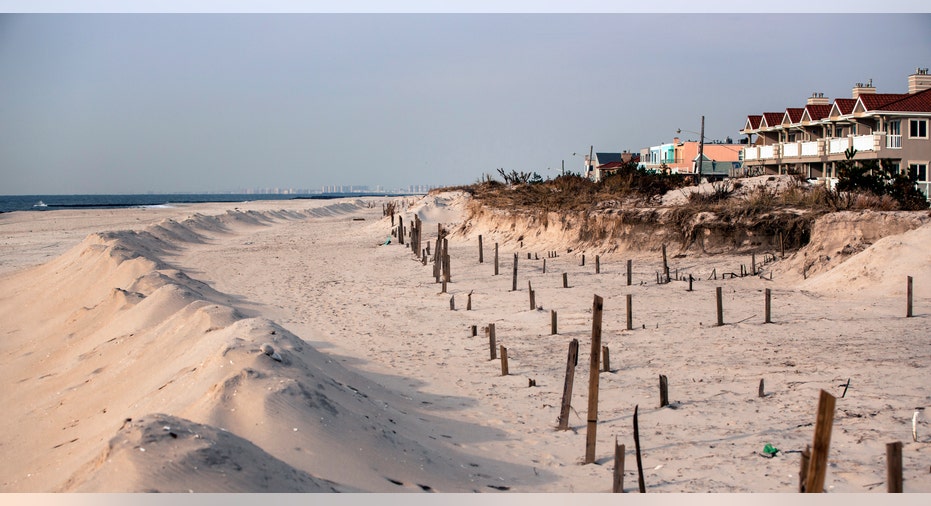 On New York's Long Island, Long Beach businesses struck by Superstorm Sandy say they haven't received loans to rebuild – and the summer season is up in the air.
With Long Beach's iconic boardwalk destroyed by the monster storm, businesses in the Long Island town are worried the summer season won't draw as many visitors.
"The heart and soul of Long Beach is the boardwalk, and it's still not built," says Allegria Hotel general manager Nasser Samman. In late April, the town broke ground on the new boardwalk, but it won't be complete in time for the summer kickoff of Memorial Day weekend.
Storm Cost Businesses Thousands At Billy's Beach Café, owner and native Long Beach resident Billy Romm had to close down for 17 days: "We weren't down long, but it's a long time for everybody who works here."
He says the storm cost him tens of thousands of dollars, but he feels grateful the cost wasn't higher.
"There were a few in town that had hundreds of thousands in damages," Romm says.
Over at the Long Beach Surf Shop, owner Luke Hamlet was hit hard.
"We had three feet of water in the store and were closed for 5 months … we probably lost $50,000 in merchandise," says Hamlet. He adds that the store's floors, walls and point of sale system were all destroyed in the storm.
As with businesses along the Jersey Shore, owners in Long Beach say loans from government agencies didn't come through.
"No FEMA, no SBA – it was not a good experience," says Hamlet.
"It was just like tons of paperwork and then they turned me down – it was a lot of time and sending a lot of paperwork in," Hamlet adds.
In his case, Romm says he dipped into savings to cover the cost of repairs.
At Duke Falcon's, the restaurant's managing partner Charles Christensen says he hears time and again from customers and other business owners that money is not coming in quickly enough.
"They're economically strapped – waiting forever for insurance money and waiting forever for federal aid," says Christensen.
Sales Down, as Residents Continue to Rebuild Long Beach businesses worry seasonal visitors won't turn up this summer as the city continues to rebuild. To make matters worse, some say full-time residents have also been missing from the beach town.
Christensen says as much as 30% of Long Beach residents aren't in town, and the population generally swells by over 15,000 during the summer season.
"I'm not anticipating that this year, though. The rental apartments won't be available, and residents are holding on to them if they are available, while their places are getting fixed," Christensen says.
And he says even the ones who have stayed aren't spending as much.
"Residents here are tapped out – I hear stories every day. They've cashed in savings, 401(k)s, IRAs, everything they had to start rebuilding," says Christensen, who says sales have been down since reopening the restaurant. Generally speaking, he says 75% of the restaurant's sales occur during the summer season.
"None of us have a clue what's going to happen Memorial Day. All we can do is hope for the best," he says.
Romm says Billy's Beach Café isn't as dependent on summer sales, and he's had a "good steady clientele."
"Quite a few restaurants weren't able to reopen, so I was feeding off of their customers," he says. He says the newest businesses were hit harder, because they didn't have as much in savings and didn't have as many devoted customers.
Despite some worries, however, there is optimism among the business community in Long Beach. Looking for a silver lining, Hamlet hopes people who may have lost summer clothing will come into the store to purchase new items.
And at the Allegria Hotel, Samman believes he will be able to attract visitors with new activity packages that will make up for the lack of the boardwalk.
"We call it 'Beauties and the Beach,'" says Samman, who says the offer includes massages.
He says the hotel is sold out for Memorial Day weekend – a good sign for businesses all over town.
"You cannot get a room here!" he adds.