Less Talk, More Action Around Google's Android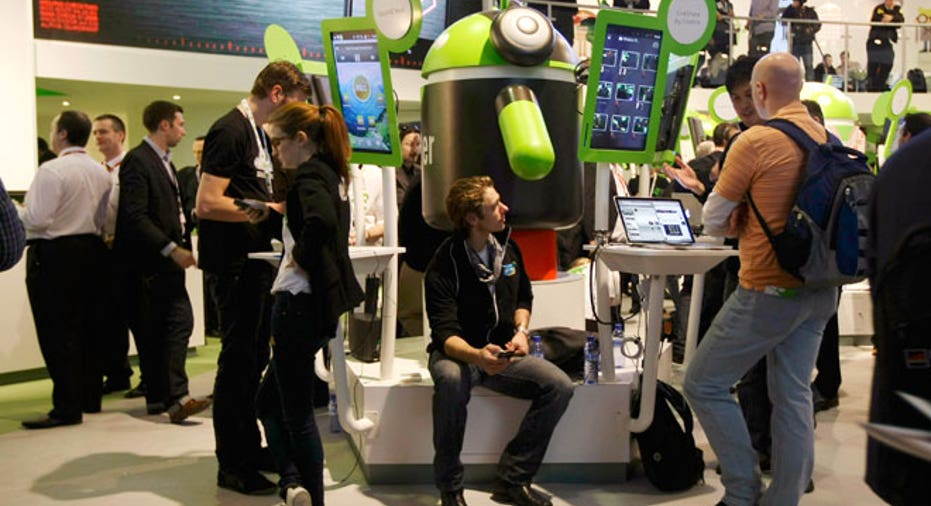 If the talk at this week's Mobile World Congress fair has been dominated by Nokia and Microsoft's new venture, Google's Android has been the center of the action.
As analysts, investors and the press mulled the pros and cons of Nokia and Microsoft merging their smartphone operations, manufacturers were launching Android device after Android device, with Nokia and Microsoft nowhere in sight.
Samsung, HTC and Sony Ericsson put Android at the center of their offerings. Save for a lone tablet PC from Acer based on Microsoft's Windows Phone 7, every new device at the show appeared to be an Android.
The first fruits of the Nokia-Microsoft alliance are expected at the end of 2011 at the earliest.
"Mobile World Congress has merely confirmed that Android is rampant in the mobile industry. The whole show is a sea of green robots," said Ben Wood, lead analyst at UK-based telecoms research firm CCS Insight, referring to Android's logo.
Android's swift rise to power from nowhere in little over two years has given rise to concerns that Google may soon dominate the industry in the way that Microsoft does the PC software industry.
It overtook Nokia's Symbian as the world's most popular smartphone platform in the fourth quarter of last year, taking one-third of the total market.
The attention that Android attracted from software developers -- who are key to enhancing the desirability of smartphones by the apps they create for them -- was a major factor in Nokia's decision to team up with Microsoft.
Nokia's Chief Executive Stephen Elop has even said that he chose Microsoft as a partner rather than Google in order to avoid a duopoly of Apple and Google in smartphone operating systems.
"We wanted to create a challenger," he said in Barcelona on the eve of Mobile World Congress.
The industry has broadly welcomed the alliance as good for competition and innovation, despite stock market disdain for the deal.
OPEN WINS?
But Google argues that Android, which is free to use and modify, has led to a flowering of diversity in smartphones, with 170 different Android devices in the market from 27 vendors.
Chief Executive Eric Schmidt this week rejected comparisons with Microsoft.
"We're run completely differently than Microsoft. The values, the approach -- open source, free -- every aspect of what we're doing is different," he told journalists after a keynote address at the world's biggest wireless fair.
There is no doubt that Android has made features like touch screens ubiquitous among smartphones far faster than handset makers would have managed alone.
It has also been responsible for a remarkable turnaround at the handsets division of Motorola, now Motorola Mobility, which had looked doomed until it launched the hit Droid in 2009 -- and helped the ailing Sony Ericsson maintain some momentum.
Critics say Android has merely raised the bar for smartphone makers while making devices more and more alike, threatening to commodities the industry.
The only true beneficiary is Google, which has gained enormous scale in the distribution of its services like maps and gmail, they say.
Paul Otellini, CEO of the world's biggest chipmaker, Intel, said experience from the computing world showed that the move from closed systems like Apple's to open ones like Android was a natural progression.
"I think we're just seeing a very normal process of development and diffusion of technology," he said during a panel discussion. "Computing is a technology that always starts off closed. The first instantiation of something is someone's idea."
He added: "Some closed models will certainly survive, because you can optimize the experience, but in general, if you harness the ability of all the engineers in the world and the developers in the world, open wins.".