'Lego Batman' Tops Strong Weekend Box Office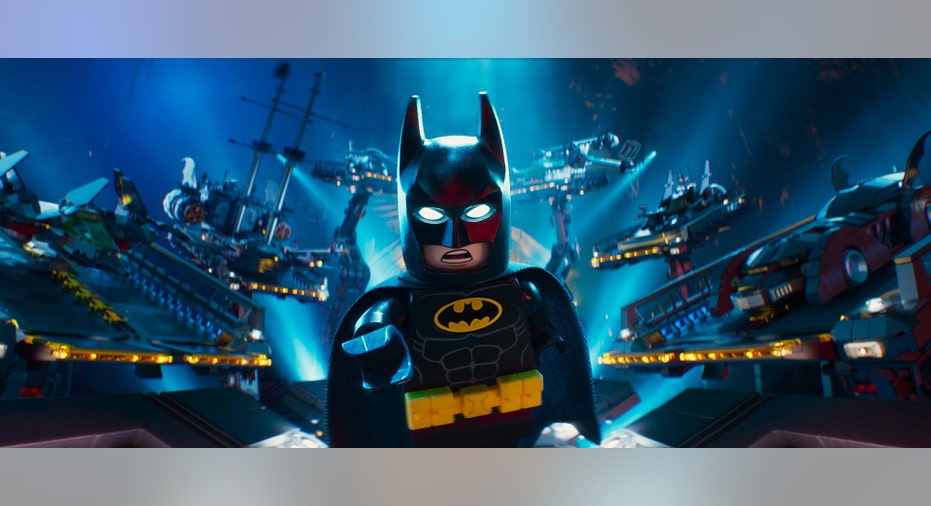 Time Warner Inc.'s Warner Bros. won a crowded and broadly successful weekend at the box office with a new movie featuring Legos, Batman, Robin, Superman, King Kong, villains from "Harry Potter" and "Lord of the Rings," and more.
"The Lego Batman Movie," which made its debut to a healthy $55.6 million in the U.S. and Canada, according to studio estimates, beat the sequels "Fifty Shades Darker," from Comcast Corp.'s Universal Pictures, and "John Wick: Chapter 2" from Lions Gate Entertainment Corp., which also opened well with $46.8 million and $30 million, respectively.
It was the first time in seven years that three movies opened to more than $30 million on the same weekend, according to comScore.
The "Batman" opening was lower than the $69 million start on the same weekend three years ago for the first "Lego Movie," a surprise hit. That film faced weaker competition at the box office, however.
The first "Lego" was a surprise success that grossed $469 million world-wide. Its transformation into one of Warner Bros.' key franchises is an example of how studios pounce on any hit they can to try to give it sequels and spinoffs on the big screen and synergies in other businesses.
Warner already makes a line of "Lego" videogames, and it is releasing toys and other products in partnership with Lego A/S. Warner used Lego-animated versions of some of its television shows like "The Big Bang Theory" to promote the "Batman" release.
One key to its success appears to be the interactions of characters from different franchises, which isn't possible in more traditional films that are respectful of the comic books or novels on which they are based.
Batman was a supporting character in "The Lego Movie" whose popularity earned him a spinoff. His new film features not only friends and enemies from the comic books, but other DC superheroes and villains from the Warner-controlled "Matrix," "Harry Potter" and "Lord of the Rings" -- and "King Kong" and "Doctor Who," made by other companies.
"The idea is to replicate a child's play experience, which means you don't just use a single franchise, but you mix it up," said Dan Lin, a producer of the "Lego" films.
Unlike the serious tone prevalent in many big-budget films, the "Lego" movies are self-aware and silly. Batman, voiced by Will Arnett, is preening and obnoxious to the outside world while secretly lonely. The film mocks previous versions of the character from the 1960s television series through last year's "Batman v Superman: Dawn of Justice."
"This is meant to be an entry for kids to properties that are normally PG-13," said Mr. Lin. "It's not meant to compete with other versions."
"Lego Batman," rated PG, cost $80 million to make.
Another spinoff, "Ninjago," is scheduled for September, and a sequel, "The Lego Movie 2" will come out in two years. Other movies are in development under a partnership between Warner and Lego A/S that allows for at least three more films and possibly more if the series remains successful.
"Lego" has given Warner a foothold in the lucrative animation genre where it has lagged behind competitors for years. The studio had distinct advertising campaigns aimed at children and young adults, in addition to one for general audiences. "These films seem to transcend age and gender," said president of world-wide marketing and distribution Sue Kroll.
Stronger competition was also a factor in a lower start for "Fifty Shades Darker" than its predecessor, "Fifty Shades of Grey," which debuted to $85 million two years ago.
"Fifty Shades Darker" performed better than its animated competition internationally, however, grossing $100 million compared with a $37 million overseas start for "Lego Batman."
The second "John Wick," an action series starring Keanu Reeves, more than doubled the $14.4 million opening of the original in 2014.