L.A. Auto Show Spotlights Booming Crossover Market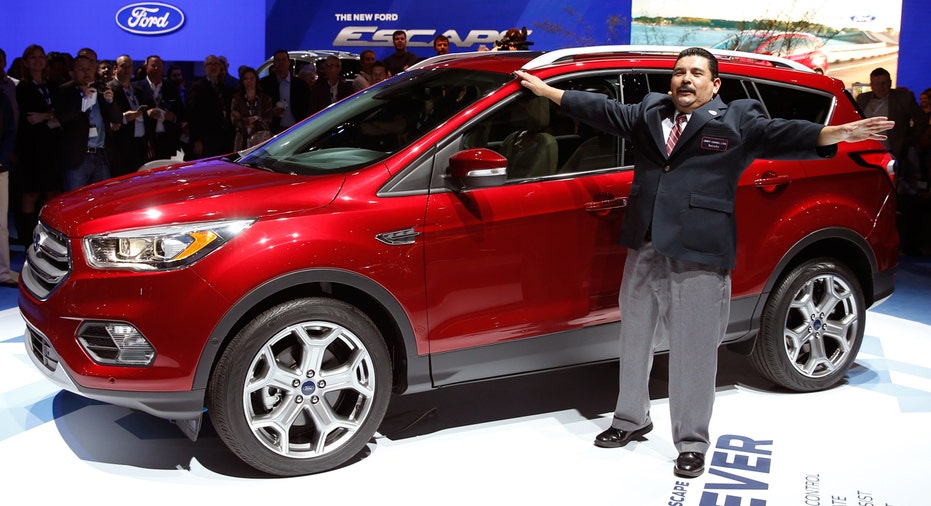 New crossovers and sport-utility vehicles will grace the Los Angeles Auto Show this week as the auto industry's biggest names, including Ford (NYSE:F) and General Motors (NYSE:GM), seek to get the most out of a fast-growing market.
The Los Angeles show, which opens to the public on Nov. 20, features a bevy of new utilities that are set to enter a crowded field. Small crossovers and SUVs are now the most popular type of vehicle sold in the U.S., thanks in part to shifting consumer needs and lower gas prices. Ford believes that by 2020, crossovers and SUVs will account for 40% of all new-vehicle sales in the U.S.
Staying competitive in this segment is huge.
So automakers are moving quickly to meet demand and keep up with rivals in a competitive market. Ford introduced the current generation of its Escape in Los Angeles just four years ago. Now the Detroit car builder is ready with an updated Escape that sports a new look and packs more technology.
Kevin Schad, consumer marketing manager for the Escape, said the company communicated with owners of the existing model to determine what needed to be changed. For instance, some customers wanted more storage space, so Ford added media bins to the center console.
Technology upgrades include an expanded array of driver assists like adaptive cruise control. The 2017 Escape is also the first vehicle with Ford's SYNC Connect, which allows owners to start their car, lock or unlock the doors and check diagnostics through a smartphone app.
Keeping Up With Rivals
Looking at the Escape's sales figures, it does not seem like the small SUV needs much help. Sales of roughly 306,000 in 2014 set a new record, and demand may push the Escape even higher this year. But SUV makers are finding it necessary to roll out big updates in design, features or performance to stay in the spotlight.
"The small utility segment is the largest segment in the industry, and growth hasn't slowed at all this year. The industry is all-in on this," Schad said.
Ford has sold more Escapes this year than any other vehicle aside from F-Series trucks, by far the strongest vehicle line for Ford.
The Escape is America's second best-selling small crossover behind the Honda CR-V, which was redesigned this year. Like Ford, Toyota (NYSE:TM) is refreshing its small crossover, the RAV4, to maintain sales momentum.
"Staying competitive in this segment is huge," Schad added. "We're seeing an expedited update cadence. It's definitely something we're keeping our eye on."
Hot Luxury Market
Luxury brands are busy in Los Angeles, too. GM's Cadillac unveiled an all-new XT5 crossover that will replace the SRX. Tata Motors' (NYSE:TTM) Jaguar Land Rover has several crossovers at the show: the Jaguar F-Pace, Range Rover Sport SVR and Range Rover Evoque convertible. BMW has a new X1 on display, and Infiniti rolled out a new addition to its lineup, the QX30 compact crossover.
Cadillac said the XT5 has the benefit of a lighter construction that increases fuel efficiency and driving performance, while interior space was maximized. The XT5 takes a step forward in technology as well, utilizing Apple (NASDAQ:AAPL) CarPlay, Alphabet's (NASDAQ:GOOGL) Android Auto and a new version of Cadillac's CUE infotainment system.
The 2017 XT5, which will go into production in the spring of 2016, "is a good example that we can keep consistent design to differentiate Cadillac from its competitors," according to Cadillac Chief Marketing Officer Uwe Ellinghaus. He also called the XT5 "unmistakably Cadillac" with edgy styling.
"Some might say it's too aggressive, but I don't mind. There are already enough lukewarm competitors," Ellinghaus added.
The XT5 is the first of four new SUVs from Cadillac, proving that GM's marquee luxury brand is redoubling its efforts to capitalize on the crossover craze. Sales of the SRX, Cadillac's most popular vehicle ahead of the Escalade family of large SUVs, have grown 25% year-over-year through October.
Cadillac believes the XT5 will attract buyers looking for a roomier interior combined with the agility of a smaller SUV. Ellinghaus also said Cadillac has refocused on craftsmanship to separate the brand from its German rivals.
"Luxury SUVs, even from the Germans, tend to cut corners on the interior. Those days are over. Luxury customers want things to be authentic," Ellinghaus explained. "We are taking authenticity so seriously that if it looks like wood, it is wood. If it looks like aluminum, it is aluminum."