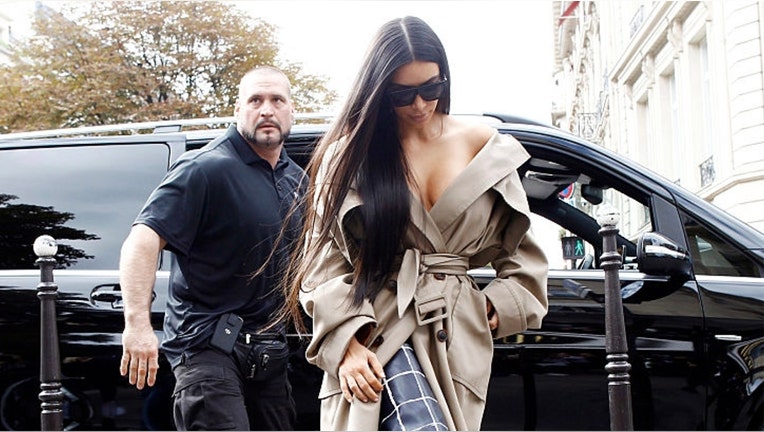 Kim Kardashian West's bodyguard and his company are being sued by the reality star's insurer after she was robbed of more than $11 million worth of jewelry at gunpoint in Paris two years ago.
New York City-based insurer AIG claims Pascal Duvier and his company, Protect Security, "negligently" protected the star when she was tied up and robbed at gunpoint by five thieves during Paris Fashion Week in October 2016.
The thieves dressed as police officers and reportedly stole more than $11 million worth of jewelry from West, including a 20-carat emerald-cut diamond ring —reportedly valued at $4 million.
AIG is suing Duvier and Protect Security for $6.1 million, which is the amount the company paid out to West for the stolen jewelry. The lawsuit claims several security breaches allowed the masked gunmen to enter the private hotel suite and make their way up to the reality star's suite.
Duvier reportedly left West alone in her hotel room, while he went with her sisters, Kourtney Kardashian and Kendall Jenner, to a nearby club. The lawsuit alleges that Duvier should have flagged many breaches before leaving, including a missing lock on the front gate of the hotel and a non-functioning intercom to the door.
The suit also blasts the concierge at the hotel for not having any formal security training, but neither he nor the hotel are being sued.
The lawsuit was first reported by TMZ. A spokesperson for AIG and Protect Security did not immediately respond to FOX Business' request for comment.
According to TMZ, West herself is not suing her bodyguard over the incident.