Key Part of Drug-Counterfeiting Bill Dies in Congress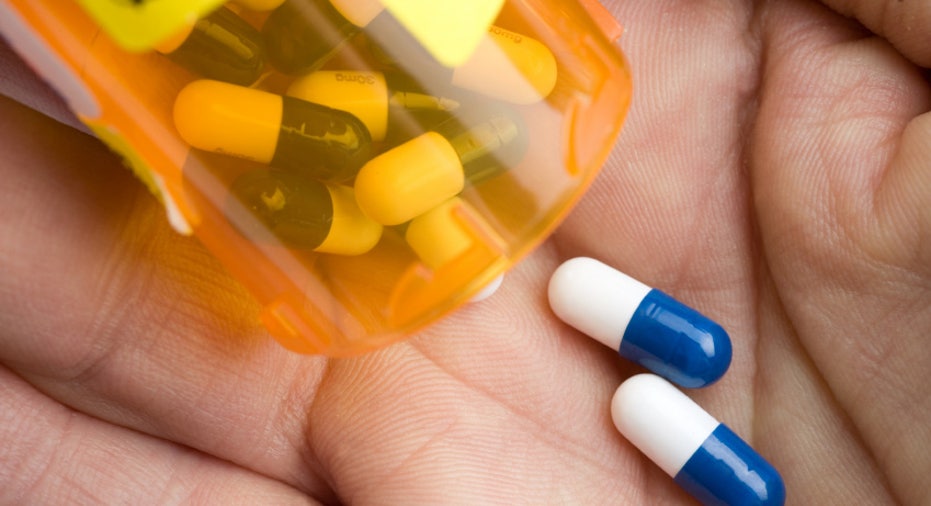 A key provision in a bill designed to track medication and protect the country's supply chain from the threat of fake or stolen drugs was killed this week in Congress. Instead, House and Senate lawmakers agreed on a watered-down version that creates penalties against drug counterfeiters but does not include the track-and-trace system the U.S. Food and Drug Administration says is needed to stop dangerous -- sometimes lethal -- drugs from reaching Americans.
"It's unfortunate that the process is moving forward without track-and-trace at this point," said Sen. Michael Bennet, D-Colo., adding that both Democrats and Republicans came close to a consensus during the conference process but ultimately could not reach a compromise.
Public health advocates and the FDA have pushed for a system that tracks each individual drug bottle through the supply chain using electronic barcodes. The system is already being used in Belgium and Sweden. Lawmakers said Tuesday they were unable to bridge disagreements over the system and instead dropped the provision.
While industry groups say they will continue their fight for a federal track-and-trace program, realistically it's unlikely to happen anytime soon. Trying to resurrect the measure as a stand-alone bill later this year would face big hurdles in both chambers.
The risks and realities of counterfeit drugs were highlighted earlier this year when the FDA reported two separate batches of a fake cancer drug making its way into doctors' offices in the U.S.
In April, a new batch of counterfeit cancer drug Avastin was discovered. The 120 phony vials were purchased in Turkey under the name Alzutan and shipped through Britain by U.K.-based middlemen in a strikingly similar shipment pattern as the fakes that first hit U.S. doctors' offices in February.
The repetition of the crime exposes vulnerabilities in the global medicine supply chain and the need to track medicine coming into the country.
Big profits and low penalties have made the drug counterfeit industry attractive for criminals in the U.S. and abroad. Current penalties for peddling fake prescription pills are about the same as selling knockoff Prada bags on the street.
Once relegated to poor countries with weak regulations, the industry has turned into a multi-billion dollar one. According to The Center for Medicine in the Public Interest, activities related to counterfeit drugs generated about $80 billion in 2011. Former FDA Associate Commissioner Peter Pitts tells FOX Business that number could reach the $100 billion mark in the next decade.
So what are counterfeit drugs and how are regulators trying to stamp out the trade?
Simply put, a counterfeit drug is fake medicine. It may be contaminated, contain the wrong active ingredient, a toxic ingredient, or none at all. Or it could have the right ingredient but the wrong dose. Either way, the result poses both a direct and indirect threat to public health.
The drug counterfeiting industry has grown globally at a break-neck pace as pharmaceutical supply chains stretch across continents with the help of the Internet. In some countries, counterfeit prescription drugs make up 70% of the drug supply and are linked to thousands of deaths. The problem also extends to non-pharmaceutical medical products like faulty electronic medical equipment and syringes. In places like India and China, fake drugs have crowded out real drugs in marketplaces.
Massive free trade zones have also been used by counterfeiters to create toxic pipelines that enable middlemen to smuggle fakes into the country. In 2007, a sting operation revealed that large amounts of counterfeit drugs were supplied through a complex six-country arrangement using a free-trade zone in Jebel Ali, Dubai. The drugs were manufactured in China, sent through Hong Kong to the free-trade zone in Dubai to Britain then the Bahamas and back to Britain where the products were mailed to customers with United Kingdom postage.
They were then sold on a website that made American customers believe they were buying medicine from a Canadian website.
The incident illustrated how counterfeit drugs moved in a global economy and the difficulties behind regulation.
Here at home, the pharmaceutical industry has shifted a large part of its manufacturing operations and supply sourcing overseas. Nearly 40% of the drugs Americans take are imported and nearly 80% of the active ingredients in the drugs on the American market come from overseas sources.
The proliferation of additional handlers, suppliers and middlemen creates "new entry points through which contaminated, adulterated and counterfeit products can infiltrate the drug supply," said FDA Commissioner Margaret Hamburg at the Partnership for Safe Medicines Interchange annual conference. "As a result, the supply chain – from raw material to finished product – has become more complex and mysterious involving a web of repackagers and distributors in a variety of locations."
Prosecuting cases, which has been slow in the past, is finally gaining traction.
Last year, Manuel Calvelo, a Belgian citizen, was sentenced to 48 months in federal prison on charges of operating an Internet pharmacy that sold $1.4 million worth of misbranded and counterfeit drugs as well as controlled substances. Calvelo, who was extradited from Costa Rica to Kansas, admitted to setting up web-based pharmacies, including allcheapdrugs.com, allcheappills.com, allnaturalpharmacy.com.
Calvelo operated a customer service call center in the Philippines and issued payments to employees through wire transfers via Western Union in the Philippines, Costa Rica and the United States.
Calvelo's sites, which operated from 2005 to 2008, offered more than 40 prescription drugs including brand names Zoloft, Lipitor and Viagra. Controlled substances for sale included Alprazolam (sold under the brand name Xanax), Lorazapam (Ativan) and Clonazepam (Klonopin).
Calvelo's alleged co-conspirator, Canadian citizen Jeffrey Westmoreland, remains on the lam.
In February 2011, a federal jury in North Carolina convicted Awni Shauaib Zayyad on five counts related to the sale and possession of counterfeit Viagra and Cialis pills. Zayyad sold more than 500 counterfeit Viagra pills at a Charlotte, N.C., convenience store that was being investigated by law enforcement.
And in Denver, Shenyang Zhou, a Chinese national, was sentenced to 7 years in prison on charges of trafficking and attempting to smuggle in counterfeit versions of the weight-loss drug known as "Alli."