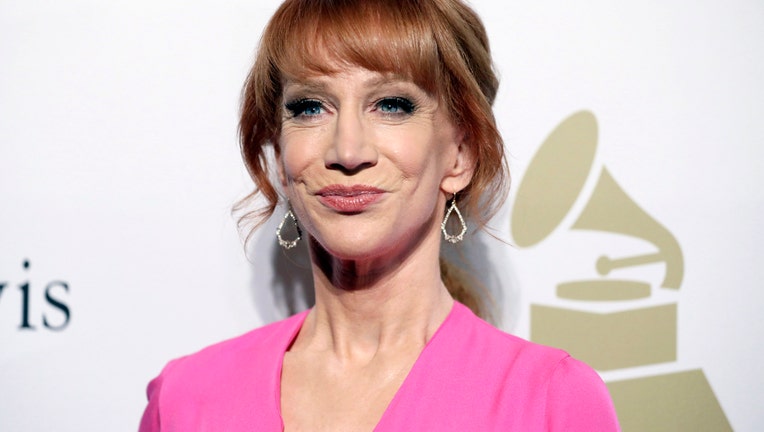 Comedian Kathy Griffin's brand could be in jeopardy following outrage over a photo shoot where she is seen holding a bloody mask representing President Donald Trump.
"A brand depends very strongly on what an audience cares about. It depends more on the audience of the brand than the brand itself. So it depends who her brand resonates with," said Bruce Turkel, a branding expert and CEO of Turkel Brands.
So far, Griffin has already lost two gigs—hosting CNN's New Year's Eve program and a performance at the Route 66 Casino Hotel in New Mexico. On Wednesday, Squatty Potty, a company which recently signed the comedian to star in new ads, said it would cut ties with Griffin over the controversy. The question remains, however, about the long-term effect on Griffin's career.
CNN has terminated our agreement with Kathy Griffin to appear on our New Year's Eve program.

— CNN Communications (@CNNPR) May 31, 2017
"Short-term, yeah, people would have some pressure to do something. But on a longer-term basis, she's been doing this [comedic career] a long time," said Van Conway, CEO of Van Conway and Partners, adding that the swift move by the companies and venue to dissociate with Griffin was the correct business decision.
After receiving backlash from many, including her New Year's Eve co-host Anderson Cooper, Griffin quickly went online and posted a video, saying she "went too far." The key, according to both Turkel and Conway, was the expediency of her apology.
For the record, I am appalled by the photo shoot Kathy Griffin took part in. It is clearly disgusting and completely inappropriate.

— Anderson Cooper (@andersoncooper) May 31, 2017
"Americans are very, very receptive to a sincere apology…people will accept sincere apologies, at least the first time," Conway said.
On Monday, another celebrity, professional golfer Tiger Woods, was arrested on a charge of driving under the influence. The difference between the controversies of Griffin and Woods, Turkel said, was the type of apology issued.
"He's not saying 'that was really stupid of me, I'm sorry. I embarrassed my fan base, my family, I embarrassed myself'…he said 'no, it wasn't drinking it was pharmaceutical drugs' — he's explaining it. The old line is 'when you're explaining, you're losing.' So she handled it properly," he explained.