Kasich Can't Win Over Steve Wynn, Yet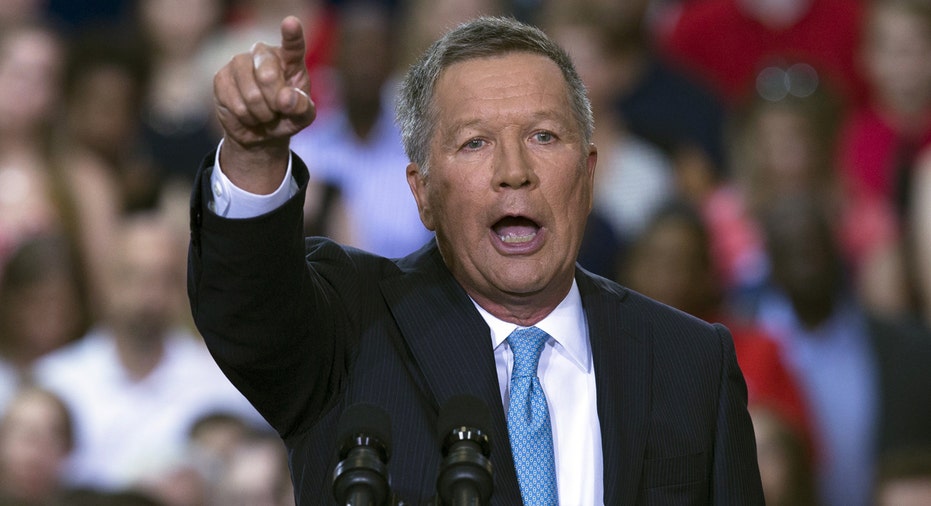 Ohio Governor John Kasich is the latest 2016 GOP presidential contender to attempt to woo, and at least so far, be rebuffed by casino magnate Steve Wynn, the FOX Business Network has learned.
Kasich met with Wynn in Las Vegas on Tuesday, the same day as the GOP debate in that city, in an attempt to garner support from the billionaire casino operator and possibly jump-start his campaign, which is trailing most of the crowded Republican field in national polls.
During his long career, Wynn has supported both Democrats and Republicans, but recently has been critical of the Democratic Party and its leftward tilt under President Obama. With that, many of the GOP presidential contenders have been eyeing both his endorsement and financial support.
Wynn has already met with former Florida Governor Jeb Bush, and U.S. Senator Marco Rubio, people at these campaigns say. As FOX Business has reported, billionaire real estate developer Donald Trump has consulted with Wynn about his insurgent campaign, in which polls show him leading the GOP race.
At least so far however, Wynn has remained neutral, even suggesting at one point that he might still support Democratic front-runner Hillary Clinton, a move that has frustrated Republican Party operatives.
Details of the Kasich-Wynn meeting first emerged Wednesday morning at the private jet terminal at Atlantic Aviation LAS in Las Vegas. Several Kasich aides were waiting to board a private jet with the governor and were overheard discussing the Wynn meeting, which took place Tuesday evening just after the debate, according to a person who overheard the discussion. The governor, this person said, soon joined the conversation even as it shifted to other topics
This person, a public affairs executive who regularly contributes to Republican candidates but is so far unaffiliated with any campaign, said the Kasich people appeared somewhat "frustrated" about their meeting with Wynn.
A spokesman for the Kasich campaign confirmed that Kasich had a conference with Wynn seeking an endorsement in what he described as a "good, very positive" meeting. In terms of conversation the next day at the airport, he said "there was no frustration…it was a very positive conversation about meeting the night before with Mr. Wynn."
The spokesman, Rob Nichols, said Kasich, "said nothing about Mr. Wynn and then got on the plane."
A spokesman for Wynn said: "Mr. Wynn has met with many of the candidates on a variety of topics. He has not endorsed any candidate."
Kasich has been Ohio's governor since 2011, after a long and largely distinguished career in the U.S. House of Representatives where he served as chairman of  the House Budget Committee in the mid-1990s through 2001 -- a period of time of rapid economic growth and balanced budgets. Ohio is considered a swing state, and a must-win for any GOP presidential candidate.
Given Kasich's success at both cutting taxes and balancing the state's finances, he was considered a strong candidate for the Republican 2016 presidential nomination. But so far, his campaign has floundered, and political analysts gave his most recent debate performance middling grades, despite stepping up attacks against front runner Trump as being unprepared to be president.
So far, Kasich has spent nearly $10 million on ads, but he remains mired in the single digits in most polls. The recent Monmouth University poll has him tied nationally with Bush at 3%, compared to Trump with 41%. Texas Senator Ted Cruz came in second with 14%, followed by Rubio and retired neurosurgeon Ben Carson with 10% and 9%, respectively.
Many political analysts say Kasich has a better chance as being named vice president given his strong record as governor, and Ohio's electoral college importance.
"He comes from an important state and he has been a successful governor, but Kasich should save his money and buy a house and hope to be vice president because he's not going to be president of the U.S.," said veteran political consultant Hank Sheinkopf.