Juice manufacturers agree with juice ban in kids under 1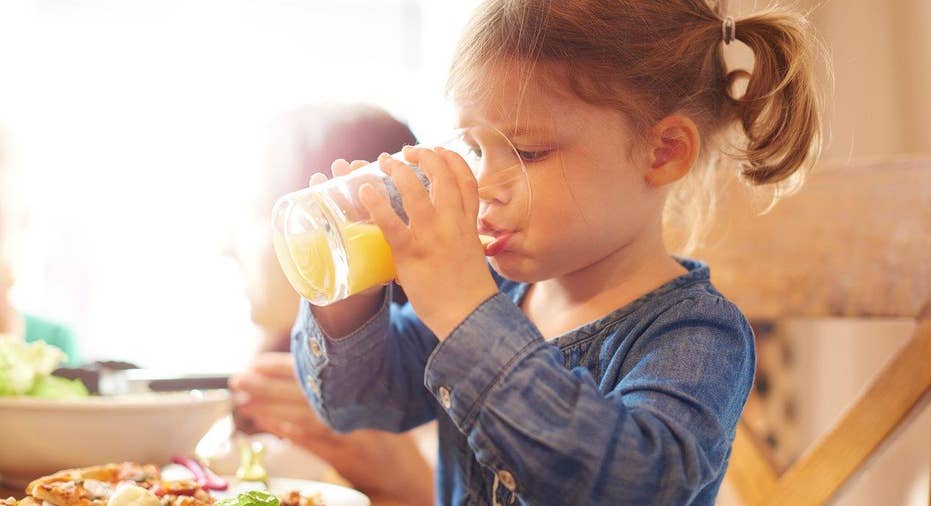 Pediatricians are sending a warning to parents to avoid giving fruit juice to their children until they're at least a year old, according to new guidelines from the American Academy of Pediatrics, published Monday.
In the report, doctors say the new recommendation is based on rising rates of obesity and concerns about tooth decay in kids. Instead, they recommend parents offer whole fruits, which contain fiber that slows down the absorption of sugar in the body and make kids feel fuller than juice.
"Parents may perceive fruit juice as healthy, but it is not a good substitute for fresh fruit and just packs in more sugar and calories," said Melvin B. Heyman, M.D., and fellow of the American Academy of Pediatrics (FAAP), who co-authored the statement.
"Small amounts in moderation are fine for older kids, but are absolutely unnecessary for children under 1," he adds.
This isn't the first time the Academy sent a warning about fruit juice. Previously in 2001, the AAP advised parents to wait until a child reached at least six months old to give them juice, but has since decided to bump up the age due to growing health concerns in younger kids.
"We couldn't really see any reason why juice was still part of the potential recommendation for 6- to 12-month-old kids," said Dr. Steven A. Abrams, chairman of the Department of Pediatrics at the Dell Medical School at the University of Texas, and co-author of the policy statement. "We recommend breastfeeding or formula in that age group, and there really isn't any need or beneficial role for juice, so we kind of made that adjustment."
The Juice Products Association tells FOX Business that they also agree with new guidelines and "juice manufacturers are aligned with AAP's recommendations regarding fruit juice consumption by infants."
However Carol Freysinger, executive director of Juice Products Association, does say that children who drink fruit juice actually end up eating more whole fruit than children who don't.
"Additional research shows that the average child does not over consume juice and that children who drink juice have better overall diet quality. The U.S. Dietary Guidelines for Americans classify one serving of 100% fruit juice as equivalent to one serving of whole fruit. One-hundred-percent fruit juice is a nutrient dense beverage, and when incorporated as a complement to whole fruit in the diet for children older than one year, helps to improve fruit intake, especially among populations with limited access to fresh fruit," Freysinger says.
In terms of portion, the new guidelines advise that toddlers ages 1-3 should only have up to a half-cup per day (4oz), and children ages 4-6 up to three-quarters cup per day (6oz). Additionally, children and teens ages 7-18 should only drink one cup per day (8oz).
According to data from the Centers for Disease Control and Prevention, between 2003 and 2010, only 40% of kids were getting their recommended daily servings of fruits per day, which is one to two cups, depending on age, gender and level of activity.