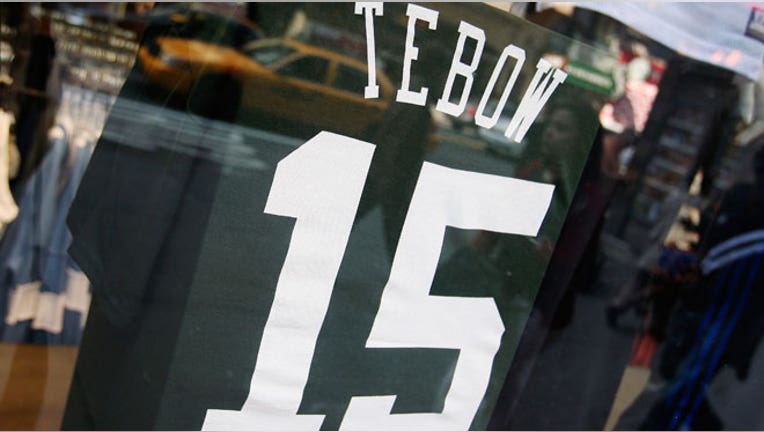 A federal judge ordered Reebok on Thursday to temporarily stop manufacturing "unauthorized" Tim Tebow apparel after Nike (NYSE:NKE) sued the Adidas unit earlier this week.
Reebok has also been ordered by U.S. District Judge P. Kevin Castel to recall all unauthorized Tebow apparel already in the company's distribution channels and stop accepting Tebow-related orders.
Nike filed suit on Tuesday in U.S. District Court in New York accusing Reebok of improperly using the name and presumed number of the New York Jets quarterback, who was traded from the Broncos last week. The company fears the moves will eat into its ability to capitalize on the huge public demand for anything Tebow related.
Nike claims Reebok is selling Tebow-related apparel even though Reebok's exclusive deal with the NFL Players Association to produce such apparel expired before March 1.
Further, Nike said its efforts to sell Tebow-apparel to retailers have been rejected because they have pending orders with Reebok that they want to unload first.
As Reebok's 10-year, $250 million apparel deal with the NFL expires, it paves the way for Nike's five-year exclusive deal that is reportedly worth $1.1 billion.
It's easy to see why Nike has become territorial over Tebow, who is one of the most popular players in the NFL and had the No. 2 selling jersey last season. Jersey and other Tebow-related apparel are likely to bring in a serious stream of revenue for Nike and the Jets.
"Reebok has sought to take advantage of this unique, short-lived opportunity by supplying, without authorization or license, Tebow-identified New York Jets apparel to retailers in New York and elsewhere around the country," the lawsuit said.
The federal judge granted Nike a temporary restraining over in the Tebow dispute on Thursday and set a hearing for April 4 on the matter.
Reebok didn't immediately respond to a request for comment.
Tebow signed an endorsement deal with Nike in 2010 that reportedly pays the former Heisman Trophy winner a minimum of just under $300,000 a year.
"Tebow's high-profile trade to the New York Jets has garnered around-the-clock national news media coverage, and generated an immediate and short-lived intense consumer demand for" Tebow-branded Jets apparel, the lawsuit said.
Shares of Nike were recently off 0.65% to $106.55, mirroring a 0.71% decline on the broad S&P 500.