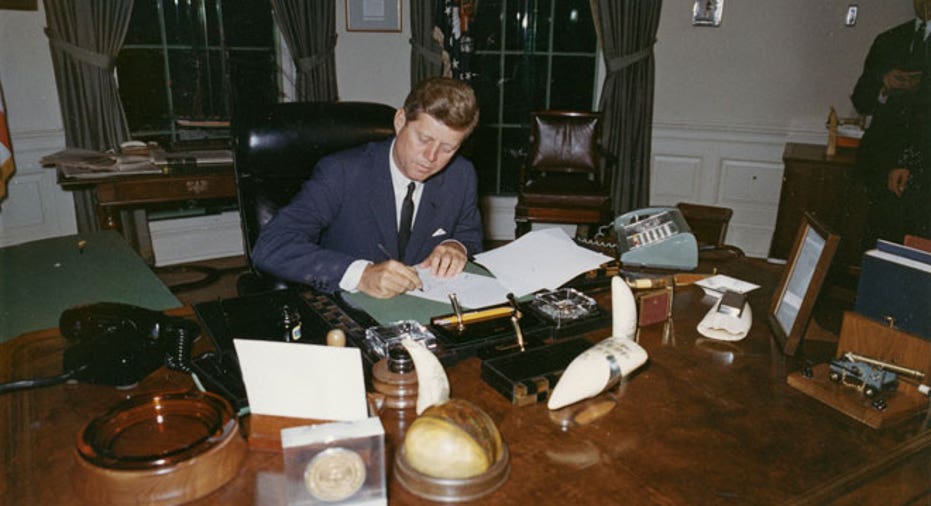 This week America reflects on the assassination of John F. Kennedy, a president whose positive outlook, youth and charisma inspired a nation.
As the Democratic candidate in 1960, the young senator from Massachusetts said, "America can afford the initiative, the energy, and the work to bring the country's small businesses back to sound health, to bring the economy as a whole back to healthy growth on a widely diversified, competitive base."
He also realized the importance of making credit available to aspiring small business owners: "We must expand the sources of long-term credit necessary to establish the foundations of truly sound economic development," he said.
These words still ring true today.
The Small Business Administration (SBA) was established on July 30, 1953, during President Eisenhower's second term in office to "aid, counsel, assist and protect the interests of small business concerns".  Since then, it has facilitated loans, and made loan guarantees that help entrepreneurs receive startup and expansion capital, provided counseling and mentorship, and helped small businesses establish contracts.
Over the years, as even during the Kennedy Administration, there have been attempts to dismantle the agency. President Kennedy, received a memo on February 24, 1961, regarding  efforts to eliminate the SBA as an independent agency. At the time, the agency was described as a "one-stop service facility for 4-and-a-half million small business firms."
Ultimately, the SBA was not wrapped into the Department of Commerce and, in my opinion, has remained a vital resource for America's 23 million small businesses, which account for 54% of all U.S. sales, according to SBA.gov.  Further, small businesses provide 55% of all jobs and two-thirds of all new jobs since the 1970s.
In 1964, after President Kennedy's death, the SBA began to attack poverty through the Equal Opportunity Loan (EOL) Program. The Program relaxed the credit and collateral requirements for applicants living below the poverty level in an effort to encourage new businesses that had been unable to attract financial backing, but were nevertheless sound commercial initiatives. The agency has expanded its efforts to help entrepreneurs and offers programs tailored to encourage small enterprises launched by women, minorities and veterans. Further, SBA offers loans to victims of natural disasters, as well as assistance in setting up international trade.
Today, as corporate downsizing has become commonplace and resulted in declining employee loyalty, entrepreneurship thrives and the small business economy continues to grow significantly. In fact, the SBA reports that the number of small businesses in the U.S. has increased nearly 50% since 1982.  The U.S. has always been a country with an entrepreneurial spirit.  This dates back to the nation's founding.
The SBA Office of Advocacy's Research and Statistics, reports that firms with fewer than 500 employees:
represent 99% of all employer firms,
provide jobs for over half of the nation's private work force, and
pay 44% of total U.S. private payroll.
Most importantly, the SBA offers important loan programs, including:
SBA 7(a) Loans: loans that go up to $150,000 available to startups or expanding companies. The government backs 75% of the loan, which makes it an attractive option for banks to offer. The popular 7(a) program also has special funding options for businesses that export to foreign countries or that operate in rural areas.
SBA Express and Pilot Loans: funding available to active duty military personnel, veterans, and borrowers from distressed communities. SBA Express funding, which comes in loan amounts from $10,000 - $350,000, offers a 50% guarantee on loans, which can help mitigate credit issues such as insufficient collateral or low credit ratings.
SBA CDC/504 Lending Program: a long-term financing option designed to encourage economic development in a community. It provides funding ranging from $1.5 million to $4 million when meeting job creation criteria or a community development goal.  CDC/504 funding is used for fixed asset projects, such as purchasing land and/or buildings, making capital improvements, modernizing or constructing new facilities, or buying long-term machinery and equipment.
SBA Microloans: short-term loans of less than $50,000 to startups, growing small businesses, and some not-for-profit organizations.
SBA Disaster Loans: low-interest, long-term loans for physical and economic damage caused by a declared disaster.
In 2012, an election year, President Obama elevated the administrator of the Small Business Administration to a cabinet level position. One cannot underestimate the importance of small business in America. It is a powerful engine for opportunity and economic growth, and the SBA plays a vital role in the success of small companies. I believe the SBA is the most effective government agency, and it embodies the hope that President Kennedy instilled among Baby Boomers and subsequent generations.
Rohit Arora is co-founder and CEO of Biz2Credit
, an online credit marketplace that connects small- and medium-sized businesses with a network of 1,200+ lenders, service providers, and complementary business tools. Having arranged  more than $1 billion in funding, Biz2Credit is a leading resource for loans
, lines of credit, working capital and more.  Follow Rohit on Twitter @Biz2Credit and on Facebook
.