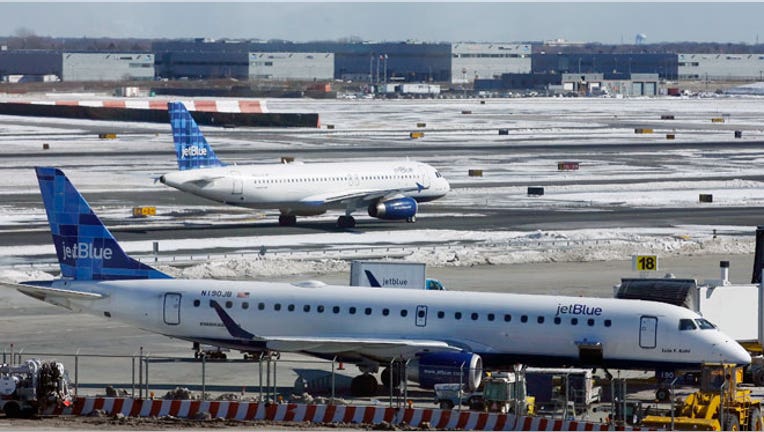 JetBlue Airways (NASDAQ:JBLU) is looking to ease the pain for unhappy Americans on Nov.7 -- the day after the presidential election. The discount airliner is offering 1,006 round-trip certificates or 2012 free seats to consumers whose candidate didn't win the White House.
The "Live Free or Fly" contest requires people to complete a registration form, select their desired presidential candidate and an international destination. All entries are due by 11:59p.m. on Nov. 5, and contestants who picked the losing candidate will then become entered into the sweepstakes. Winners will be selected around Nov. 7.
With a little more than a month away from Election Day, the airline's poll shows President Obama with a solid lead — 59% to 41% over Republican candidate Mitt Romney.
The four most popular destinations were Costa Rica, the Bahamas, Turks and Caicos, St. Maarten and St. Lucia. Allison Steinberg, a company spokesperson, said it doesn't have exact figures for the number of submissions so far, but that they are "extremely pleased with the initial engagement and are excited to see how it develops between now and election day."
"We decided to bring some humor into the election season to both sides of the aisle. We thought Election Protection is the perfect way to encourage people to exercise their right to vote and highlight our 21 beautiful international destinations," she said in an e-mail to FOX Business.
John Jantch, CEO of Duct Tape Marketing, called JetBlue's Election Protection 2012 campaign "clever" but noted election marketing is nothing new.
"These political things have been around forever, companies need an event between Halloween and Thanksgiving, and this is it. This is an event everyone is talking about and this is an easy way to get your message in."
He also said that there are risks and challenges when marketing in the political arena, but JetBlue is covering its bases by staying neutral in the process, and promoting people to vote.
"They are staying in the middle and promoting the positive message to vote," Jantch said. "The only thing that could backfire here is that some people view moving to Canada or a different country as un-American."