Is Ford Firing Up F-150 Discounts?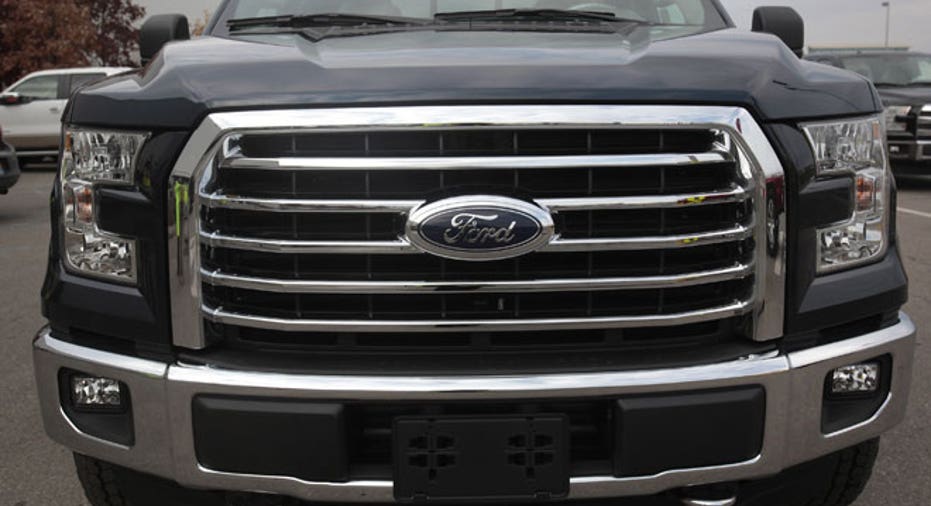 A report that Ford Motor Co. (NYSE:F) is firing up incentives on its new F-150 pickup trucks caught Wall Street's attention on Thursday, yet analysts say it is too early to sound the alarm over Ford's most important vehicle.
As part of Ford's Summer Sales Event, truck shoppers can receive up to $7,050 in discounts off a 2015 F-150 XLT SuperCab or SuperCrew model. The rebates are contingent on certain criteria, such as financing through Ford Credit and choosing an exterior appearance package.
Dealers in some areas are even advertising their own package of rebates, bringing the total cash offer to between $10,000 and $12,000.
However, a search of dealer inventory in the New York area produced a small number of eligible trucks with price tags well above $40,000. Using Ford's "build and price" Web tool, a two-wheel drive XLT SuperCab with the optional chrome package has a starting price of around $38,500. SuperCrew four-door models and trucks with four-wheel drive cost more.
Ford shares dropped 1.4% to $14.55, recovering from a session low of $14.45.
Eric Lyman, Vice President of Industry Insights at TrueCar (NASDAQ:TRUE), said buyers in the highly profitable truck segment are accustomed to seeing incentives, and manufacturers often use ads to lure customers to dealers.
By offering discounts on a hard-to-find, pricier model, Ford can boost showroom traffic with minimal risk to profit margins.
"I think that while this particular level of incentive is very surprising given all the other metrics," including higher F-150 transaction prices and limited supply, "this looks like more of a marketing effort," Lyman explained.
Ford said the average transaction price for an F-Series truck, after incentives, is $44,100, the highest in the segment and an all-time record for Ford's pickups. The company's overall incentive spending is down year-over-year.
"Incentives and rebates are a normal part of the competitive environment," Ford said in a statement. "Some incentives encourage customers to purchase better equipped trucks while others reward our customers for their loyalty or financing through Ford Credit."
Other F-150 models are eligible for smaller discounts of up to $2,500 in cash back, according to Ford's website. That is on par with competing brands.
Ram is offering $2,500 in discounts for various trims. The highest rebate available for most Chevrolet Silverado 1500 trucks is a $3,500 cash allowance. During Chevrolet's Summer Bonus Tag sale, select models in stock have incentive packages that total up to $10,000.
Chevrolet is not advertising discounts on the 2015 Colorado, its new midsize truck.
Analysts at Citigroup suggested the Bloomberg article that first highlighted the hefty F-150 XLT discounts reflects select marketing campaigns, and an uptick in incentive spending could be expected given the increase in Ford's transaction prices.
"In our view, assessing broad pricing trends based on select regional offers [and] marketing campaigns can be very misleading," the Citigroup analysts wrote in a note to clients.
Based on TrueCar data, F-Series trucks posted an average incentive per unit of $1,373 in June, less than half year-ago levels.
Ford has cautioned that truck sales would be strained until two factories completed their transition to build the aluminum-bodied 2015 F-150. Those plants are now at full production, but the company does not expect to reach a level of full supply until late in the third quarter.
Ford dealers began June with half their normal F-150 inventory. As a result, Ford has lost ground to its chief rivals even though its trucks are selling twice as fast as the segment average.
Sales of all F-Series trucks, including heavy-duty models, were down 2.4% during the first half of 2015. Meanwhile, General Motors (NYSE:GM) delivered 12.8% more Chevrolet Silverado and GMC Sierra trucks, outselling F-Series by approximately 19,500 units. Fiat Chrysler Automobiles' (NYSE:FCAU) Ram pickups were up 4%.
In its July auto sales report, GM said its retail share of the full-size truck segment has grown 0.9 percentage points since 2013 to 38%. The Silverado and Sierra were redesigned for model-year 2014. GM revealed updated exterior designs for both trucks earlier this week, a move aimed at maintaining sales momentum.
GM also turned to discounts not long after the Silverado and Sierra launched in late 2013. Like Ford, GM's trucks were generating higher prices amid low inventory. The new pickups still got off to a slow start, so GM added rebates and raised sticker prices to make up the difference.
"The level of incentives was so high for so long, it's basically an expectation for consumers," Lyman said.