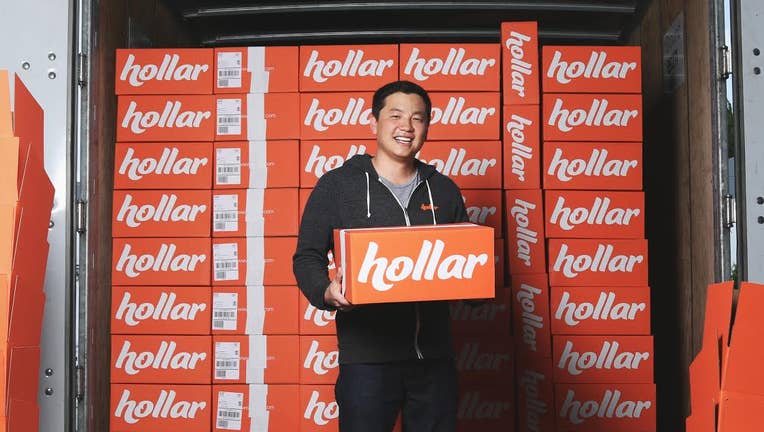 Dollar stores are a $50 billion industry and they're expanding every year as the fastest growing sector of retail; Dollar General (NYSE:DG) has plans to open 2,000 stores this year. But the digital presence and e-commerce platforms for dollar stores have always been limited.
That's where Hollar.com steps in. Hollar, billing itself as the first digital dollar store, launched in November 2015.
Since opening its digital doors, Hollar has seen 50% month-over-month growth, hitting $1 million in sales in April and predicting over $1.5 million for May. And the Santa Monica-based startup is attracting the attention of investors, having raised $17.5 million so far.
"Who doesn't love the dollar store? 80 million people shop in it every year" says David Yeom, a co-founder and the CEO of Hollar, tells FOXBusiness.com. Yeom was formerly the vice president of marketing at Jessica Alba's The Honest Company, which has come under fire recently for alleged faulty products including sunscreen, infant formula and laundry detergent. Yeom's fellow co-founder Brian Lee, a serial entrepreneur, also co-founded The Honest Company, ShoeDazzle.com with reality television star Kim Kardashian and LegalZoom.com with OJ Simpson's former lawyer, Robert Shapiro.
"In this massive $50 billion space, nothing was addressing the online commerce niche" says Yeom.
And when customers visit Hollar.com, they're stocking up, with the average cart containing $30 worth of merchandise. Tapping into the digital mindset, 80% of Hollar's traffic comes from mobile devices.
Yeom and Lee also wanted Hollar to be for the masses, not just focused on the coasts. "A lot of startups have San Francisco, L.A. and New York in mind, but there's a lot more people outside of those regions." Indeed, Hollar says that over 80% of their orders come from non-coastal regions.
Now, Hollar is expanding and getting into manufacturing its own products. Yeom cites that the margins are much better when you own all of the supply chain. Manufacturing for Hollar branded products will start out with partners in China. Currently, many non-Hollar products are made both in the U.S. and overseas, according to the company.
Yeom says that Hollar's primary customer is the millennial mom, with 85% of their shoppers fitting this category. "Moms are definitely our champions" says Yeom. In fact, Hollar's best selling product is the Light-Up Jumbo Unicorn Pillow Pet (a popular kid's toy), selling over 1,000 a day.
One hump though that Hollar had to get over was the stigma of the dollar store. "In the world of social media, have you ever seen someone take a selfie at a dollar store?" says Yeom. He says that there's a reason why they didn't name the brand the "two-dollar.com business." With a sleek digital presence and flashy Facebook (NASDAQ:FB) page, the brand has differentiated itself from the typical dollar store.