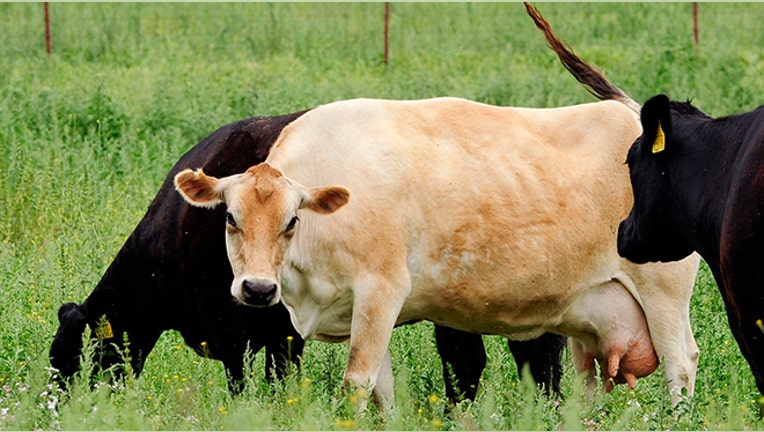 For California meat exporter James Geller, it's just business as usual one day after the first case of mad cow disease in six years was confirmed in the United States.
For Geller, president of Geller International in Burlingame, California, that means putting together an order of choice grade beef for customers in Hong Kong.
"My customers do not need reassurance. They know the food is safe," said Geller, who just returned from a business trip to Singapore and Hong Kong and handles meat and seafood imports for hotels and restaurants in Asia.
"The chilled beef will be air flown," said Geller of the beef heading to Hong Kong.
The situation is a far cry from the millions of dollars worth of beef that were stranded at U.S. customs storage facilities in 2004 after the first case of mad cow disease was discovered in a cattle in December 2003.
Beef exports plunged $3 billion in 2004 as consumer sentiment soured and top importing nations like Japan and South Korea tightened import restrictions, choking the multi-billion-dollar meat industry in the United States.
Government and meat industry leaders, as well commodity investors, are confident such reactions to the disease are a thing of the past. These leaders say the world has become better informed about the disease, surveillance of cattle herds has improved and beef production has changed to ensure infected parts stay out of the food supply.
The fourth case of the brain-wasting mad cow disease, or bovine spongiform encephalopathy (BSE), was detected in a dairy cow in California but Agriculture Secretary Tom Vilsack assured domestic and global consumers that it posed "no risk to the food supply or to human health."
This week top importers of U.S. beef like Mexico, Canada and Japan said they will continue buying, giving the industry considerable assurance that U.S. beef exports will remain strong.
U.S. beef exports in 2011 topped the pre-mad cow export pace for the first time, an eight-year recovery.
However, two major South Korean retailers on Tuesday did halt sales of beef from the United States because of the California case.
'BUSINESS AS USUAL'
Agribusiness giant Cargill Inc., in reply to a question on the status of its beef exports following the latest mad cow case, said: "Business as usual."
"...much information, as well as communications channels, has been developed to keep international customers and foreign governments apprised of progress," it said in an email.
JBS USA, a unit of the world's largest beef producer JBS.SA , told Reuters on Tuesday that the company was confident that U.S. beef exports, which last year finally topped the record set in 2003, would not be affected by the latest case of mad cow disease.
In a sign of confidence, live cattle futures at the Chicago Mercantile Exchange rebounded on Wednesday from the worst one-day loss in seven months a day earlier as investors returned to trading on market fundamentals.
Jim Robb, an economist with the Livestock Marketing Information Center, said the latest case of BSE could slow down the process of Japan relaxing its rules on U.S. beef imports.
Japan only imports beef from cattle that are 20 months and younger, but is considering expanding that limit to cattle that are 30 months old -- which forms the bulk of U.S. cattle supply.
"They could slow the process due to political pressure from within," said Robb, whose organization is involved in market analysis and research and supplies the data to members that include universities, trade associations and the USDA.
Dennis Gartman, commodities investor and editor of The Gartman letter, said countries like Japan and Mexico would have "no choice" but to continue importing beef from the United States due to a lack of major alternative suppliers.
"They've their fingers crossed that nothing more happens," he said, adding that any investor who trades the cattle markets bullish or bearishly based on the BSE case is foolish.
"Until this is definitively put to bed or worsen, I would absolutely not bet on the market," he added.
Analysts Steve Meyer and Len Steiner wrote in their daily CME livestock report that the mad cow case's impact on exports would be limited.
"Beef exports in April and May 2006, the two months following the last U.S. BSE case, actually rose 84 percent from the previous year," they wrote.
They, however, added that at that time, Mexico and Canada were the top export markets and shipments to Asia and Russia were very limited.
Russia has not ruled out temporary restrictions on meat imports from the United States, according to its animal and plant health watchdog Rosselkhoznadzor.