iCampus 2.0: A Sneak Peek of Apple's New HQ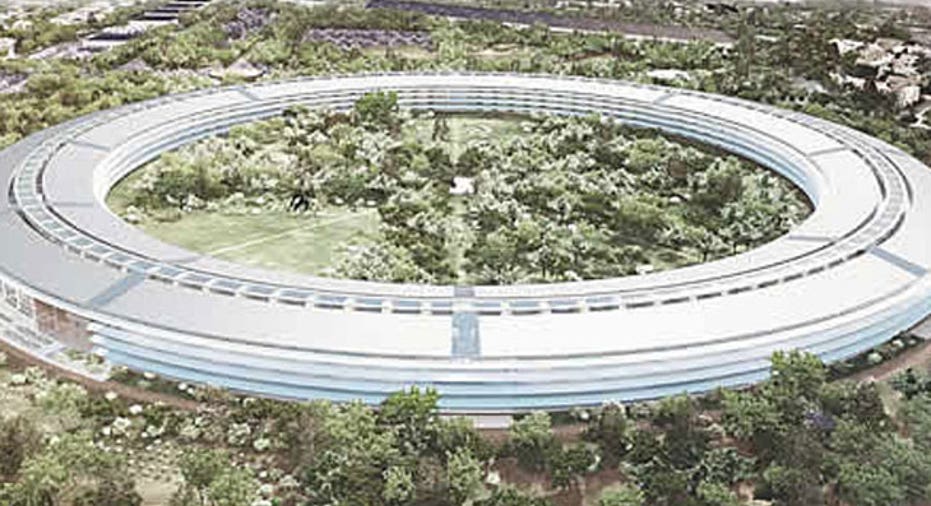 Apple is ramping up plans to replace its headquarters with an enormous, ultra-modern fortress, that, like its products, pushes the boundaries of modern design.
The crown jewel of the iPad makers new home will be a four-story 2.8 million square-foot glass-enclosed spaceship-like building that will be nestled in a veritable forest of 6,000 trees. To make such a large, curved building, Apple plans on crafting the largest piece of glass ever created, Apple chief executive Steve Jobs said in a statement to the Cupertino city council.
The building will sit on a 175-acre property in Cupertino, Calif., which is a short ride down Interstate 280 away from Apples famed 1 Infinite Loop headquarters that was completed in 1993.
The new campus will host 13,000 employees, up 40% from the 9,500 Apple says it supports in a host of buildings across Cupertino. In addition to office space and research facilities, the building will have what Apple calls a striking cafe, and a large courtyard.
There are also several auxiliary buildings across the sprawling property. A low-carbon central plant, Apple says, will provide the majority of the power needed to run the campus. There is also a 300,000 square-foot research facility and an underground and above ground parking facility that is expected to reduce surface parking by 90%, in support of Apples aesthetics.
The planned 1,000-seat auditorium, which is offset from the main buildings, appears likely to replace the companys very cramped Town Hall auditorium, where it holds many events presently. A fitness center and a ganglion of public and private walking paths round out the proposal.
Apple, a company whose success hinges on confidentiality, hopes the streamlined campus will enhance its overall security by providing a higher degree of perimeter protection and far fewer access points.
The worlds biggest publicly-traded technology company plans to move in by 2015.
Source: Cupertino.org