Huge Construction Crane Collapses in Manhattan, Kills One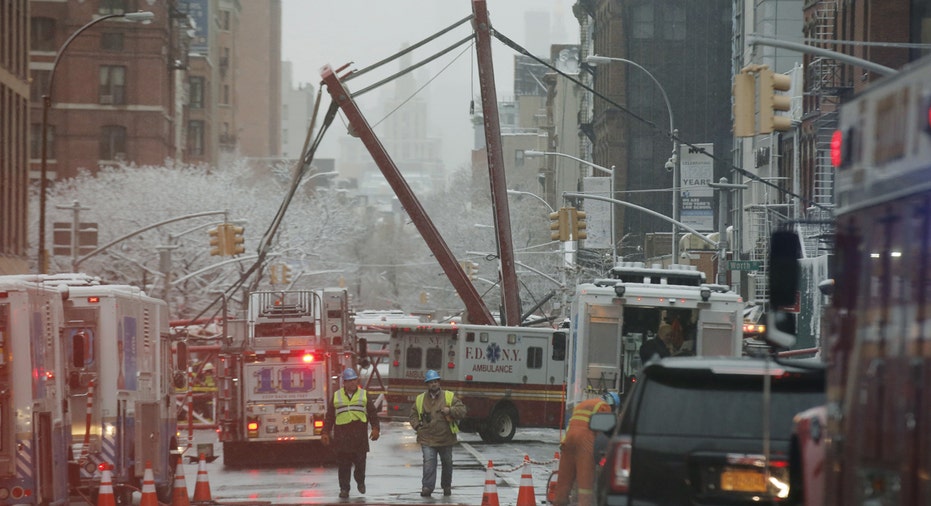 A massive construction crane collapsed in downtown Manhattan during the busy morning rush on Friday, killing at least one person and crushing a line of parked cars, officials said.
Workers were lowering the crane intending to secure it as winds approached of 25 miles per hour when it collapsed, New York City Mayor Bill de Blasio said.
Hundreds of firefighters and other emergency responders rushed to the scene after the cranefell just before 8:30 a.m. EST during a swirling snowstorm. It flipped upside down and stretched nearly two city blocks.
Two people suffered serious injuries and were transported to a local hospital, officials said. A third person suffered a minor injury.
De Blasio said at a press conference that an investigation was underway and that the craneoperator was being interviewed.
One person, who was not immediately identified, was crushed to death while sitting in a parked car, de Blasio said.
The "crawler crane" is one of 376 of this type that dot the city's skyline, performing work on the city's towers. The crane's maximum length is 565 feet.
"Thank God it was not worse," de Blasio said, noting that construction workers had cleared the street before beginning to try to lower the crane.
It was not immediately clear whether the winds played a role in the collapse.
Following the collapse, city officials ordered all cranes, including 43 taller tower cranes, to be secured due to the winds.
Nicholi White, 20, who works for online grocer Fresh Direct, said he was waiting to deliver boxes when he saw the crane fall.
"When the crane hit the ground, I heard a loud bang, it sounded like a bomb," he said. "One of the loudest sounds I heard in my life."
The machine bore the words "Bay Crane" on one side. A person answering the phone at the office of Bay Crane in the borough of Queens would not discuss the accident or confirm that the crane belonged to the company.
The crane had been working at the structure, the former Western Union building, a New York City landmark, since Jan. 30. Workers were replacing generators and air conditioning equipment on the roof, officials said.
The building houses data centers and is considered an important U.S. telecommunications hub for high-speed connections to Wall Street and the Internet.
De Blasio said the incident was the first crane collapse since 2008.
In 2012, a construction crane partially collapsed on top of a nearly completed, 90-story luxury apartment building during high winds brought by Superstorm Sandy, prompting fears it would crash to the ground.
Last May, a cable on a construction crane also owned by Bay Crane snapped at a high-rise office building in midtown Manhattan as it lifted an air conditioning unit. The unit plunged nearly 30 stories, injuring ten people, including two construction workers.
(By Gina Cherelus; Writing by Joseph Ax; Additional reporting by Herb Lash, Scott Malone, Dan Burns and Suzannah Gonzales; Editing by Jeffrey Benkoe)