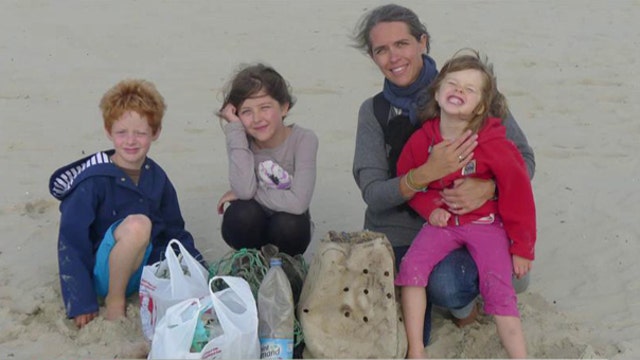 Today's Salute to American Success goes to a mom who created an organic-baby product business – called Zoë b Organic -- that's making green from being green.
Meet Valerie Lecoeur from Winston-Salem, North Carolina. Lecoeur is a southern belle by way of France. She came to the United States in 1994 to study abroad as a college student – but ended up staying longer than planned.
"I thought I was going to be here 6 months, and I've been here 20 years," said Lecoeur.
Check out the Salute to American Success series on Making Money with Charles Payne, weekdays 6-7 PM/ET on the FOX Business Network.
Lecoeur moved to North Carolina after her husband, John, accepted a job offer. She says she always knew she would be an entrepreneur, she just didn't know how. It hit her in 2005 after she gave birth to her first child, Zoe. Lecoeur says Zoe was so well-behaved and easy-going, she thought, "What else can I do?"
So she created a line of maternity clothes, and opened Zoe (named after her daughter, of course).
"Back then 12 years ago in the states maternity wear was not what it was in Europe, there was nothing fun or cool," Lecoeur said. "My business evolved from there."
She expanded to carry baby products and changed the name to Zoe b Organic in 2007, after making a commitment to carry only organic products. She says sales at the time were "alright," but that was about to change real fast.
"At first it was really a hobby, but then things happen," Lecoeur said.
In 2007, there was a nation-wide recall on pacifiers containing Bisphenol A – the chemical found in certain plastics that, according to medical research, may cause neurological disorders. As luck would have it, Lecoeur had just started carrying organic pacifiers that didn't contain BPA.
She says her pacifiers were soon flying off the shelves, until one day Baby's R Us called and placed a giant order.
"I almost fell out of my chair," Lecoeur said.
At that time, Lecoeur realized she didn't want her sales to be limited to pacifiers, she wanted to grow and expand, but didn't know how. Again, she drew her inspiration from her children, after helping clean a local beach that was littered with broken beach toys.
"We saw so many handles from buckets and shovels that break the first time you use them," Lecoeur said. "I decided then to make beach toys that were bio-degradable and last longer."
She hired a designing graduate student from the University of Chicago to help bring her beach toy ideas to life. Today, she's expanded her line to include beach toys, pacifiers and children's biodegradable dishes.
According to Lecoeur, Zoë b Organic so far has sold about 40,000 beach toys and dishes, about 500,000 pacifiers -- and more than 300 retailers carry her products. The company doubled its profits last year, she says, and is on track to double it again this year, possibly making it to the million-dollar mark.
"It feels great! It's a constant challenge to grow, and when the business goes down you have to find ways to rearrange and realign and refocus," Lecoeur said. "What's been wonderful here is the American dream of being able to start something small and work very hard and make it happen."