How to Get a Refund if Your Airfare Drops After You Buy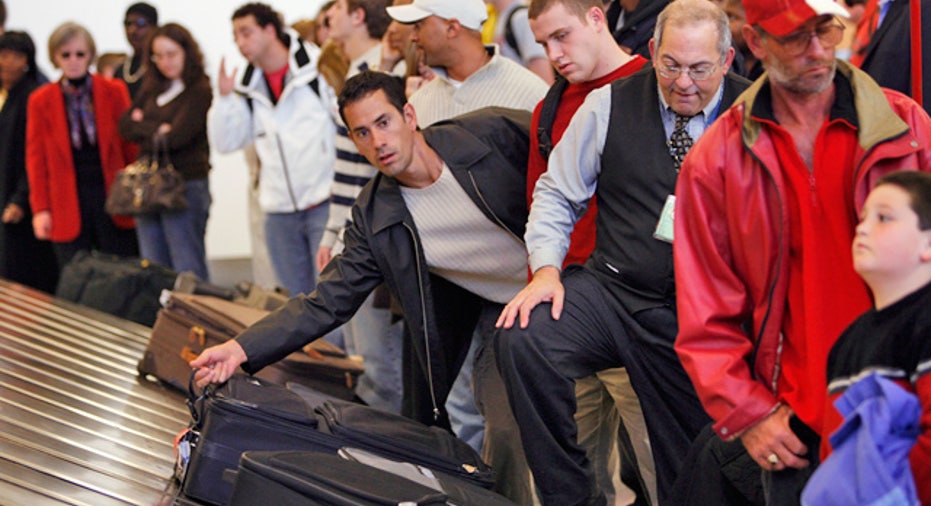 You book your flight early, carefully comparing prices, and the next week the price plummets. Did you know that you may be able to recoup at least some of the cost difference in the form of a voucher for a future flight?
If not, you're not alone. A recent survey by MasterCard found that 71% of people hunting for airfares weren't aware such vouchers existed and 10% knew of them but didn't know how to use them, a MasterCard spokeswoman says.
"I don't think they know (about the refunds)," said Tom Parsons, CEO of BestFares.com, a site that offers travel discounts and vacation packages. "It's in the contract of carriage. But how many people read that? It's a bunch of gobbledygook."
With that in mind, fare-tracking services have sprung up to make the job easier on consumers. In a variety of ways, they track fares and alert consumers when their price drops to help fliers know that they have the lowest possible price on an airfare.
How it works Vouchers after price drops on nonrefundable tickets have been available for decades, but because most people don't read the fine print or don't have the time or energy to track the price fluctuations, getting a refund hasn't been on their radar.
To get a refund, you have to keep checking the price of your flights after your purchase and then pounce if you see that your trip is available for less. Fares change by the day and even by the hour, so you have to request a refund from the airline before the price goes up again.
To do that, follow these three steps:
*Give the customer service agent your name and confirmation code or flight information.
*Explain that you purchased a ticket and that a new fare is available on the Web.
*Ask them to please issue a refund in the amount of the difference.
"If, despite these instructions, it turns out that you get a customer service representative who is not familiar with their own policy -- which is rare, but it can still happen -- hang up and call again or ask to speak to a manager," says Jeff Pecor, a spokesman for the fare-tracking service Yapta.com.
However, a few caveats apply, including:
Change fees are likely: Even though you may be taking the exact same flight at the exact same time as you originally planned -- with only the cost having changed -- most airlines view the refund request as a ticketing change and will charge you their standard change fees. Those fees will then be subtracted from any possible refund. For domestic fares, that fee can be as high as $150. For international fares, fees can go up to $250. So the price drop has to exceed the fee to make the fare eligible for a refund.
You must buy directly from airlines: Getting a voucher doesn't work if you bought the tickets through a travel agent or through Orbitz, Expedia or Travelocity, for instance.
But if your fare does qualify, you could recoup cash for a future trip. And your chances for this may be higher than you think. Even though industry experts expect airfares to go up an average 15% this summer from last summer with rising fuel prices, there are wide swings, especially on international flights, Parsons says.
He says tickets to European countries purchased in January of this year to be used this August or later "have dropped a minimum -- almost anywhere in Europe -- of 600 to 700 bucks."
What are your odds? Those who benefit the most from refunds book the farthest ahead, says Pecor.
"According to our data, a traveler who books at least 60 days in advance of their flight is eligible for a refund about 11% of the time, so if you can hit that 60-day window you have a pretty good chance of seeing some price volatility that you can take advantage of," he says.
About 13% of fares Yapta tracked from January to March of this year were eligible for a refund, Pecor says. The average voucher amount was $125 in that period.
With Yapta's service, you can register for free online and if your particular flight drops in price, you get an email or Twitter alert. Yapta takes the change fees into account and sends alerts only when a price drop exceeds the amount of the change fee. Yapta tracks 11 U.S.-based airlines for price drops. Once you get the alert, you can contact the airline and claim a refund.
For a $19.95 fee per itinerary, you can have someone follow up with an airline for you to get the refund. Yapta in May teamed up with MasterCard to form PriceAssure, which will automatically enter your flight information when you buy the ticket with your MasterCard and start tracking it. If your flight becomes eligible for a refund, the service will deal with the airlines for you and get you a voucher, which is especially handy for business travelers.
Other fare-tracking operations include:
*Orbitz Price Assurance. It starts tracking your itinerary after your purchase. If another customer books the same itinerary at a lower price, you will automatically get a refund in the mail between $5 and $250 per traveler for airlines and $5 to $500 on hotel rooms. The catch is that it has to be the exact same itinerary -- the same flight numbers and dates and class and restrictions.
*Travelocity Price and Service Guarantee. Under this program, you get a guarantee that if you find a better price for the same trip, the service will match it, refund you the difference up to $500 and give you $50 toward your next trip. But you have to do the watching. Its FareWatcher Plus service will watch when prices drop for up to 10 destinations of your choosing and send you alerts.
Help with finding lower fares Of course, if you book a low fare to begin with, you can avoid the hassle of any refund.
Several websites can help with that. Here are a few:
*Farecompare.com offers historical information on what prices have been for trips to various cities in the past 12 months.
*Travelzoo and Airfarewatchdog.com will let you see promotions not advertised elsewhere.
*The InvisibleHand browser extension lets you download a finder tool that automatically displays lower prices in a drop-down bar as you compare airfares.
Just knowing that fares fluctuate wildly may reduce consumers' urge to lock in too far in advance and avoid having to worry about a change fee at all, BestFares.com's Parsons says.
He gives this example: "I wouldn't touch an airfare to Europe for January, February or March with a 10-foot pole right now. The pattern's been there every single month. We've seen price drops."
More from CreditCards.com: