How to Drum up Interest Outside NYC Fashion Week Tents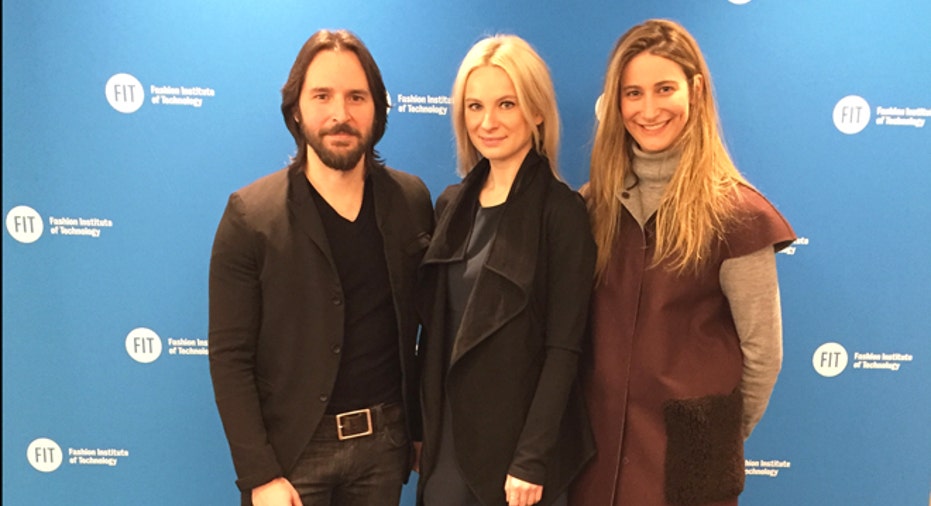 You can show at New York Fashion Week (NYFW), but it'll cost you — hundreds of thousands of dollars to be more precise. Or, you can hold off until your second or third, or even fourth season, and make your money work for you.
That's just one strategy JoBeth Tananbaum, vice president at Capital Business Credit (CBC) and director of the NYC Fashion Production Fund, suggests to young designers contemplating a Fashion Week showing.
"The costs of showing at Fashion Week are tremendous," Tananbaum tells FOXBusiness.com. "And the opportunity to drum up interest can take place outside of that one day of the year, that show."
Tananbaum learned about what it takes to help finance designers at an early age. Her father, Andrew Tananbaum, is CBC's chairman and part-owner, where she now works. For her, working for her father has been both eye-opening and fun. CBC has a long history of working with well-established global fashion brands. She now focuses on the emerging talent space at CBC.
"The deal is, out of ten or twenty [new designers] you get one hit," she says.
Last spring, CBC teamed up with the New York City Economic Development Corporation in a $2 million joint initiative (the NYC Fashion Production Fund) to give emerging designers who are based and manufacture in New York help through production financing at below-market value. Tananbaum, who has worked at CBC since March 2013, joined the Fund as director last April.
Tananbaum has five smart-spending tips for all upstart designers to put their money to work for them — and still turn heads among the fashion elite.
1. Hold Off That First Season, Drum Up Interest Outside the Tents
According to the fashion financier, knowing when to show and when not to show is based on the state of the designer's business. However, in her experience, for designers to show, it's more beneficial "when you really have an audience built up;" meaning, holding off that first season. Venues at Lincoln Center, where NYFW has been held since 2010, can range on average from $15,000 to $60,000, and that's not including the added costs of hiring models, stylists, hair and makeup artists and a production crew, according to Fashionista.
"If it's your first season, investing in a good production team is more important than putting on a big show, because the point is to get your clothes purchased and featured, but you want them to do the speaking for you," Tananbaum says.
2. Invest In the Quality of Your Work
"The idea is to make a splash without making too much noise," Tananbaum says.
What designers should focus the majority of their time, energy and funding toward early on is production, on putting out a fully polished product.
"Having a strong PR team is really important, but it doesn't matter how good a PR team you have, if you aren't getting your collection out on time or fully made," Tananbaum says. "What does matter [to investors, buyers, editors] is the quality of your work."
One option is to apply for a loan through the Fashion Production Fund. If eligible, recipients are awarded from $50,000 to $300,000 to cover production costs and raw materials. The Fund, however, requires that designers have three seasons under their belts before applying.
3. Look for Sponsorships
Once designers get to a point in their second, third or even fourth seasons where their collections are in solid shape, and they're ready to put on a show, Tananbaum suggests they look for sponsors to help pay out half of the expenses.
One thing she says some of "the more efficient and well-run businesses" talk about often is the amount of sponsorship opportunities available. For example, last fall teen designer Isabella Rose Taylor secured a sponsorship deal with Dell when she made her New York Fashion Week debut. Other notable corporate sponsors include Samsung, Maybelline New York, eBay, TRESemme and of course, Mercedes-Benz USA, which is the main sponsor for the event.
"Outsourcing some of the costs is a great way to save," she says. "There's a world of money out there to help pad [the cost of shows]."
4. Know Your Cash Flow
"Starting a fashion business, you really have to spend a lot of money to make it work, so not really being cash positive isn't necessarily a negative thing, but you have to be able to justify your spend," Tananbaum says.
Just to throw it out there, she explains, one way to minimize costs if a designer is going to show is by minimizing the production. For example, opting for a presentation rather than a full runway show. Presentations, which are like cocktail party meets static runway show, are usually less expensive than runway shows and allow emerging designers to gain more exposure since guests (think editors, investors, buyers, photographers, bloggers) can view the looks up close. Instead of walking down a runway at a set time, designers open up a space during a specific time frame and models wearing the designs mingle with the crowd or stand in place.
If you cut the cost of a show by opting for a presentation, designers have more room to spend on stylists (top-tier stylists charge as much as $8,000 per day, according to Fashionista), hair and makeup artists and models.
Another option for designers is to put together a strong set of photographs and pitching it to a style website with an expansive audience, Tananbaum offers.
5. Capitalize On Free Exposure
In the past couple years, the increase of cameras in the hands of audience members, coupled with greater access to social media, has resulted in more digitized and more instantly available shows. Anyone can view entire collections on Twitter or Instagram in real-time from the comfort of their laptops, tablets and phones.
"If you're in a position [to snap photos] or have friends that can help with social media, 'street style' posts really legitimize your brand," Tananbaum says, adding that another way for young designers on a budget to cut costs is to have friends model their garments.
Livestreaming shows, runway or presentation, is a trend that has recently started cropping up. According to Mashable, livestreams for shows at venues like Lincoln Center are typically included in the overall cost, but streaming itself only costs about $12,000 for those hosting off-site shows.
"If you can get exposed to a larger audience at no cost at all, that's hugely beneficial to a young designers' growth," Tananbaum says.